UK Kitchen Trends in 2024: What's In and What's Out
Have you been wondering what the top UK kitchen trends in 2024 will be? The world of kitchen design is constantly evolving, with trends that were previously popular falling out of favour, and kitchen looks from years past coming back into style. When planning a new kitchen design, it can be difficult to determine which colours and styles are currently trending, and which should rather be avoided. Not to worry! Our expert team at My Kitchen Specialist is here to give you a comprehensive guide to the top 2024 kitchen trends for UK homes, allowing you to make informed decisions when choosing your ideal design.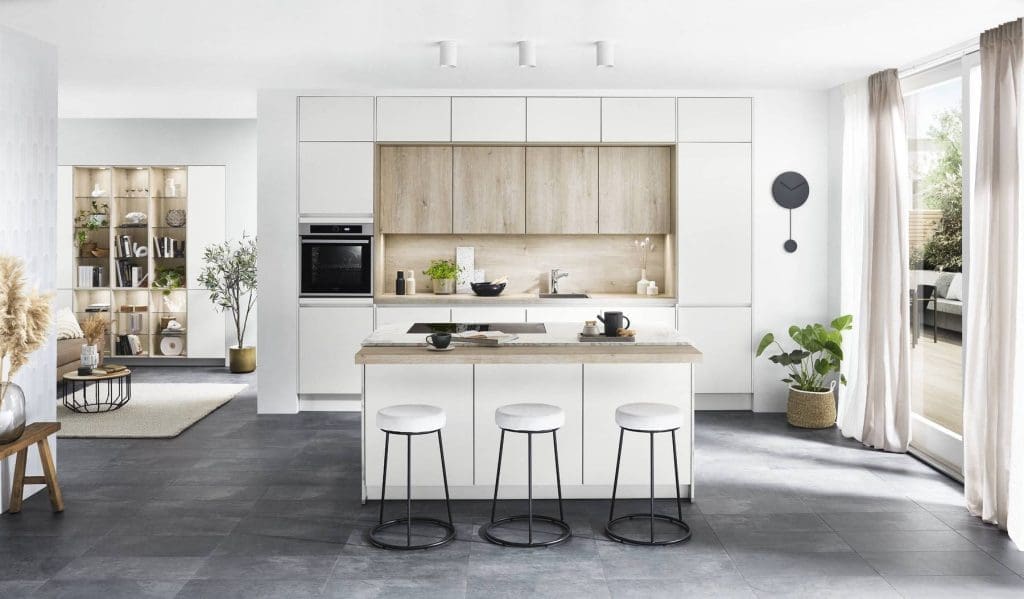 UK Kitchen Trends in 2024: Personalised Design
As kitchen design has evolved over recent years, it's become more and more customary to create a design that resonates with your individual tastes and reflects your personality. This trend will likely be stronger than ever in 2024, with an increase in unique kitchen designs that incorporate distinct features reflective of the homeowner's style. Leading this trend are more unconventional materials like raw wood and natural stone, acting as focal points that help your kitchen stand apart from the rest.
Additionally, a rising UK kitchen trend in 2024 is the integration of eye-catching hardware details and unique decorative touches to tailor a space to the homeowner's taste. To break the monotony of a muted colour palette, introducing vibrant taps or uniquely shaped handles on cabinets and drawers is becoming the norm.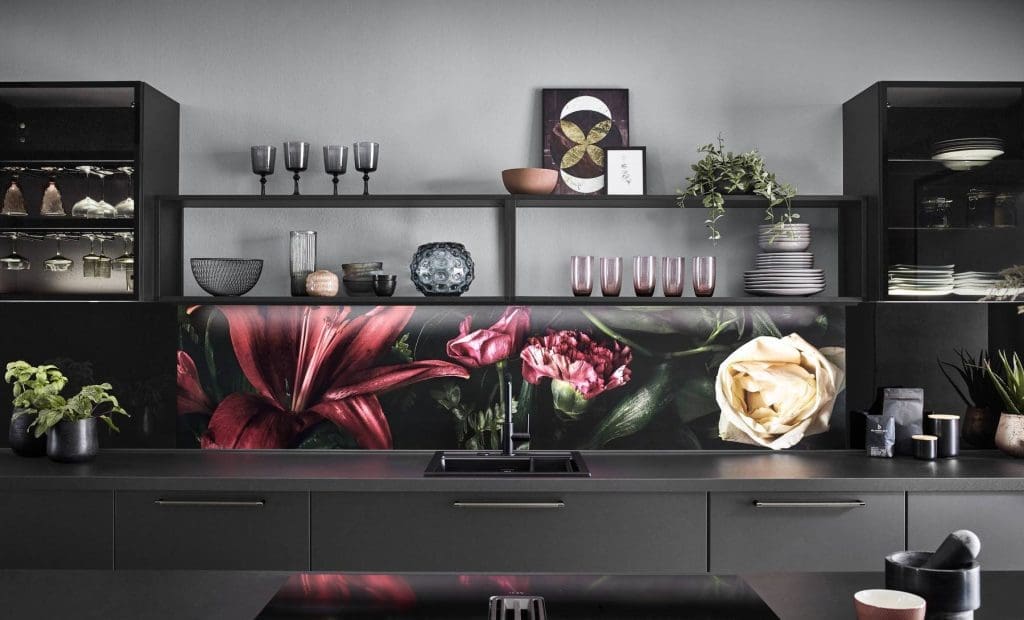 Biophilic and Eco-Friendly Designs
The momentum for eco-conscious living in kitchen design has only grown in recent years, a trend set to dominate 2024. Kitchens will lean towards sustainably sourced materials coupled with appliances that prioritise energy efficiency to create a more sustainable living space. Popular materials for this trend include textures found in nature, such as natural stone or textured wood surfaces. This also includes embracing green trends such as recycling and composting, with many kitchens having specific features for these activities.
Speaking of green, another 2024 kitchen trend that's emerging alongside a nature-inspired design is the addition of greenery in the form of plants and small trees. Adding potted plants and succulents has long been an easy way to liven up your interior space, and it's a great way to feel closer to nature while in your kitchen. This trend is projected to gain in popularity in the following years, reflecting a current desire to incorporate natural elements throughout interior designs.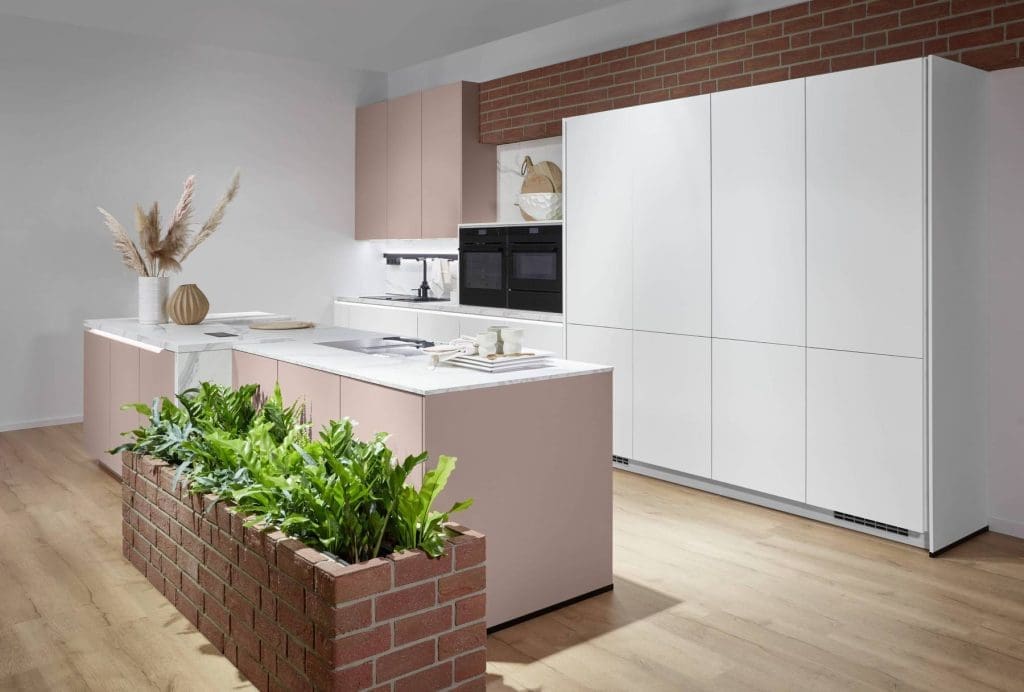 The Rise of Smart Appliances
The realm of kitchen design is constantly evolving to match the needs of the modern user, reflected in one of the most significant kitchen trends in 2024: the integration of Smart technology. For some time now, we've seen an increase in Smart appliances, from remote-controlled ovens to integrated mood lighting systems that can be activated with the touch of a button.
Going into 2024, most modern kitchens will feature Smart technology that alleviates daily tasks and makes your time in the kitchen more efficient. For example, having the ability to manage your oven or cooker from a distance can be immensely beneficial for efficient meal preparation. These Smart devices also often prioritise energy efficiency, promoting an environmentally conscious kitchen.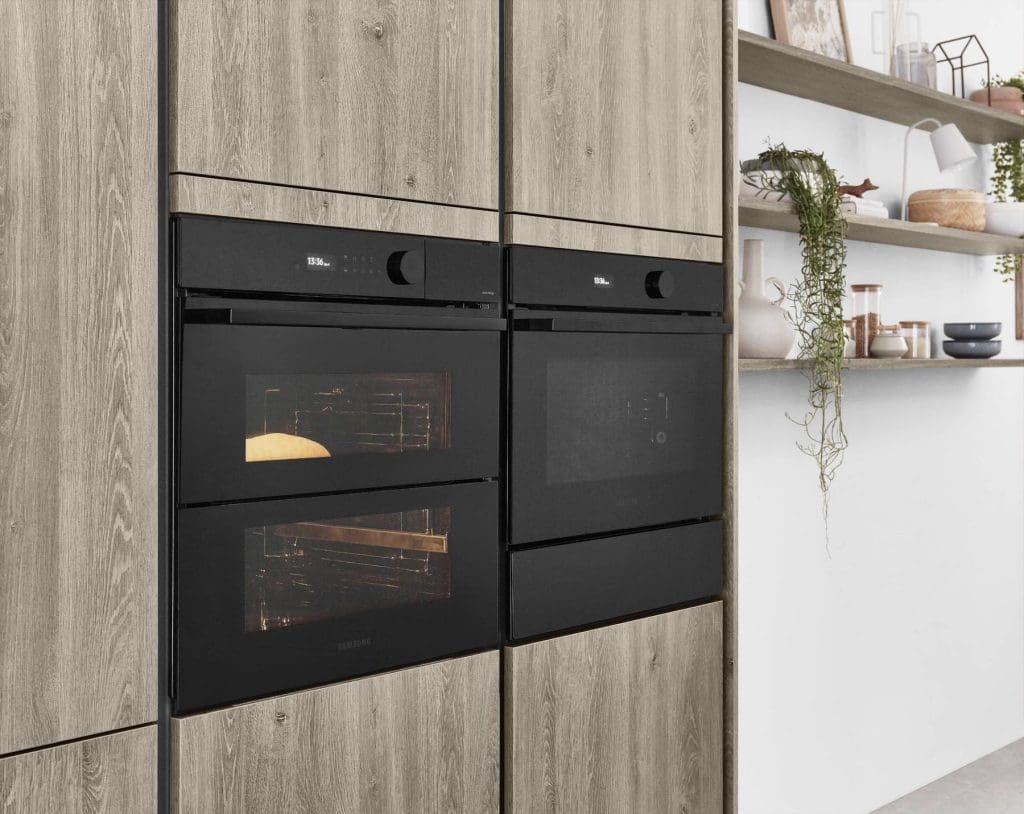 Black and White Remain Timeless
When it comes to kitchen colours, beloved kitchen colour schemes such as a pristine white palette or striking dark tones are still very much in style, as this trend shows no signs of fading in 2024. An unadorned white kitchen has been synonymous with a modern style for years, and it's still an ideal way to achieve a sleek and uncluttered kitchen look. It also helps create a bright atmosphere, especially when accompanied by large windows that let in as much natural light as possible.
Kitchen schemes consisting of dark colours such as black, charcoal grey or dark woods equally remain as popular as ever, giving off a particularly luxurious atmosphere. Combining the two colours will likely remain a popular choice in 2024, allowing you to create a striking contrast in your kitchen, or otherwise a more neutral design with various shades of grey.
Embrace Calm and Earthy Colours
Aside from the appeal of classic black or white, the presence of more neutral and earthy tones throughout the design is emerging as one of the top kitchen trends in 2024, evoking a sense of calm and harmony. This trend goes hand in hand with the rise of sustainable and nature-inspired kitchens, with earthy tones that complement natural woods quickly gaining popularity.
There's also a noticeable movement towards pastel versions of traditionally vibrant kitchen colours. Think along the lines of terracotta and muted sage, rather than glaring, vivid accent walls. More subtle pops of colour combined with neutral beiges and greys make for a stylish yet subtle and elegant kitchen design that's perfect for the modern homeowner. However, it should be noted that bright shades haven't been completely left behind. It will still be customary to sprinkle dashes of bold colours throughout your kitchen to add some warmth and vibrancy to the space.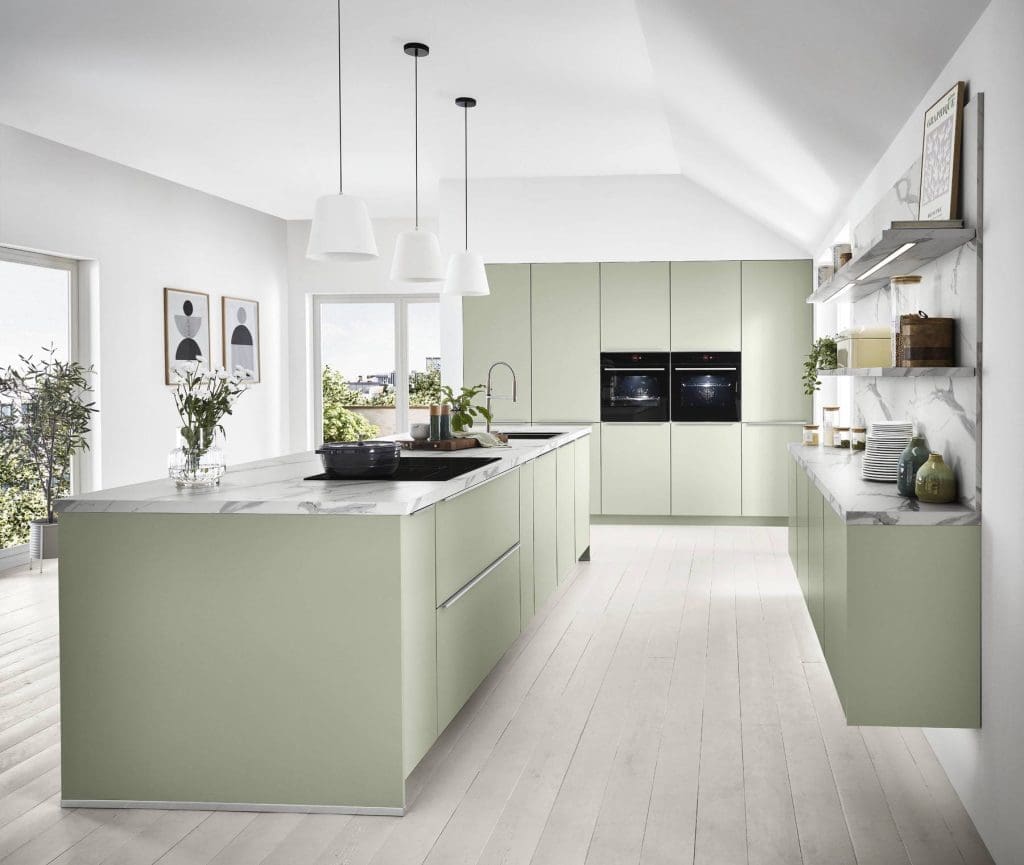 Sleek and Ultra-Modern
One of the most definitive UK kitchen trends in 2024 when it comes to style and layout is the smooth and contemporary kitchen style. This trend has been gaining traction for some years now, aligning with the desire to have a kitchen space that is both efficient and stylish. Characterised by smooth lines and integrated appliances that remain unseen when not in use, this style strives to reduce clutter, presenting a clean and modern kitchen atmosphere. Within this trend, there's also a tendency among homeowners towards rounded edges on kitchen islands and worksurfaces rather than harsh angles, ensuring a softer and more cohesive space.
Alongside this, there's a growing appreciation for Scandinavian-inspired kitchen designs, which predominantly employ whites and soft wood hues, keeping embellishments to a minimum.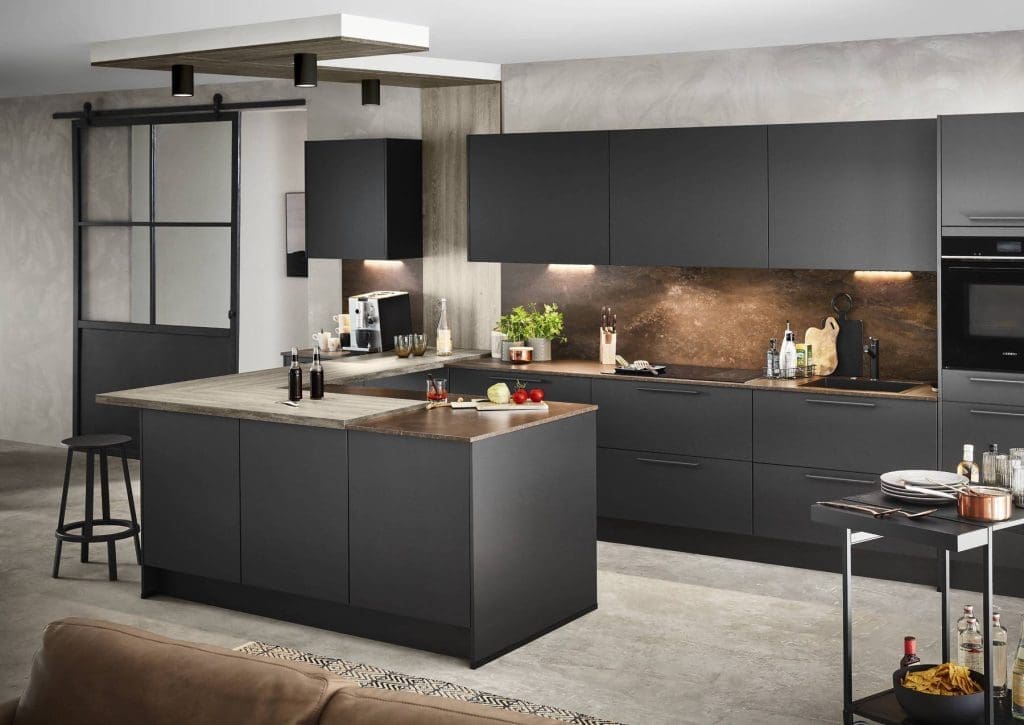 Striking Splashbacks
For those looking to infuse a touch of vibrancy or a unique feature into their kitchen, vivid and eye-catching splashbacks are likely to be a key kitchen trend in 2024. Such a splashback can become the centrepiece of your kitchen, seamlessly bridging the gap between your chosen colours and finishes, giving your kitchen a harmonious and polished feel.
Splashbacks offer a great opportunity to be more creative in your kitchen, as you can add bold colours and loud patterns to your splashback without overshadowing the overall design. Paired with the trend of a simple white or neutral colour scheme, a colourful splashback can be made into the focal point of your kitchen and serve as a reflection of your personality.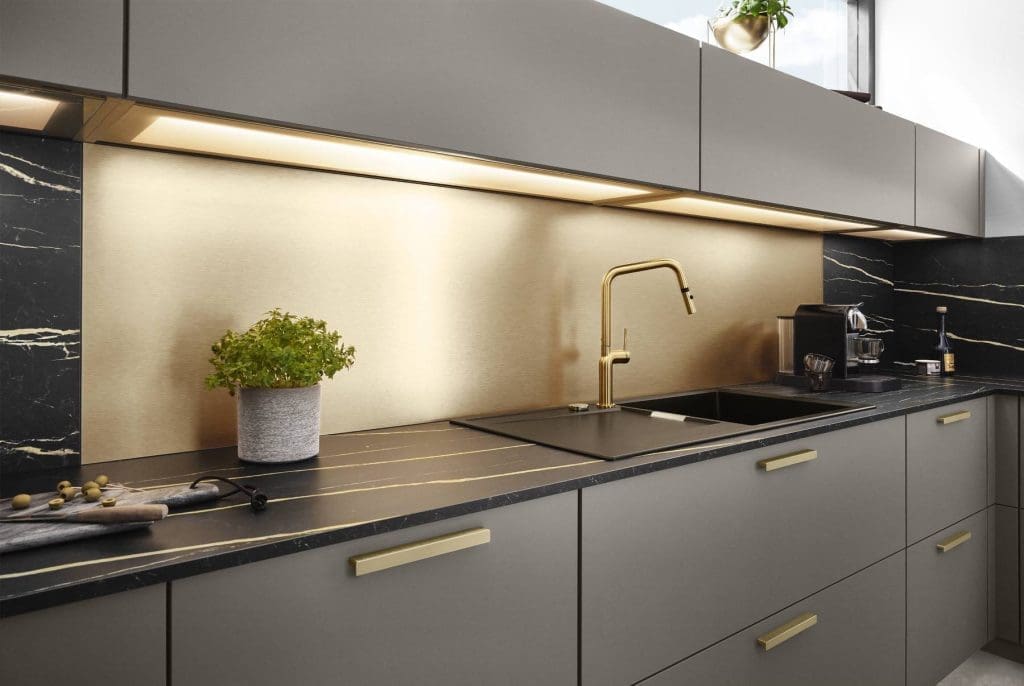 Conclusion
Hopefully you've picked up some ideas on how to stay on-trend when designing your new kitchen! Staying ahead of popular kitchen trends in 2024 ensures your new kitchen will reflect not only your personality but also the latest advancements in kitchen design and technology! As seen in the list above, you'll have many options to choose from if you want to achieve a trendy kitchen setup, from simple black-and-white colour schemes to bold accents and nature-inspired kitchens.
For help finding the ideal kitchen design for your unique space and lifestyle, reach out to one of our seasoned Kitchen Specialists today!