How to choose the right lighting for your kitchen?
A kitchen is a place in your home where the whole family comes together to enjoy their meals and make beautiful memories. This is why kitchen lighting should always be perfect to match the vibe of your home. Read on to learn about the different types of lighting for your kitchen, how the lighting influences your kitchen's look and how to ensure suitable lighting choices…
What are the different types of lighting you need in a kitchen?
Proper kitchen lighting will improve the appearance of your room but also make it easier for you to execute all your cooking activities. Unlike most other rooms in your house, a single light fixture will not suffice to meet all your kitchen's lighting requirements. Various types of kitchen lighting with varying brightness and shades are required for a well-balanced, easily usable room space.
Some types of lighting that can add five stars to your kitchen may include the following:
General lighting
General lighting is a must-have. These lights illuminate the entire kitchen, no matter how big or small the space is. In previous eras, you may have relied on a trusty fluorescent tube light, but the possibilities are considerably more advanced now- and also more stylish too! General kitchen light fixtures should be recessed in the ceiling with no obstructing objects in their radius, such as a fan, pendant lights, or above the storage. If you don't have a false ceiling or bulkhead, use wall-mounted light fixtures to ensure that light is distributed evenly across the kitchen space.
Task Lighting
Task lighting provides additional lighting for specific tasks in a room with ambient light. It focuses light onto a specific area such as the worktop where you will cut and prepare food, and through doing so makes such tasks safer, and also prevents eyestrain. Install them in the kitchen below the overhead storage so that the internal wiring is hidden, and the switches are close to the light.
The following are examples of standard task lighting fixtures:
Pendant lighting
Under-cabinet lighting
Portable or desk lamp
Recessed fixture
Ambient lighting
Ambient lighting, as the name implies, creates a welcoming and creative atmosphere in a kitchen space. These can be used in conjunction with natural lighting or in place of it. Ambient kitchen lighting comes in a variety of styles including:-
Flush Mount Kitchen Ceiling Lights
Flush mount ceiling lights are sufficient for small to medium kitchens. The better illumination you will achieve, the higher and brighter you go. Flush or semi-flush mount lights, often dome-shaped, provide adequate lighting for small to midsize kitchens. A single or two flush mount kitchen lights are usually sufficient.

Recessed kitchen lights
Recessed kitchen ceiling lights are hidden and blend in with the ceiling. These are the holy grail for providing ambient lighting in kitchens, especially if you don't like hanging lights. These are built into your ceiling and appear incredibly stylish while also delivering plenty of light. Three to six recessed lights can be installed in a medium-sized kitchen. Just make sure they're arranged in a pleasing pattern, and which allows good coverage of light.
Accent lights
Accent lighting complements the rest of the room's design but focuses on particular features by putting light directly on them. This might be architectural details, or artwork, to which accent lights bring a welcome touch of drama! Accent lights don't usually brighten your space but are mainly used for decorative purposes. Depending on where it's situated, accent lighting can also serve as task lighting. Accent lightings include:-
Wall sconces
Wall sconces are a lovely accent to standard kitchen lighting. Wall sconces are similar to flush mount lights in style but differ only in placement. Wall sconces are installed on the wall, whereas flush mounts are installed on the ceiling.

Pendant lights
These are great for kitchen island overhead lighting. These ceiling-mounted kitchen lighting fixtures come in a range of designs and sizes. Ensure the gap between the upper edge of the worktop and the bottom of the light is at least 30-32 inches.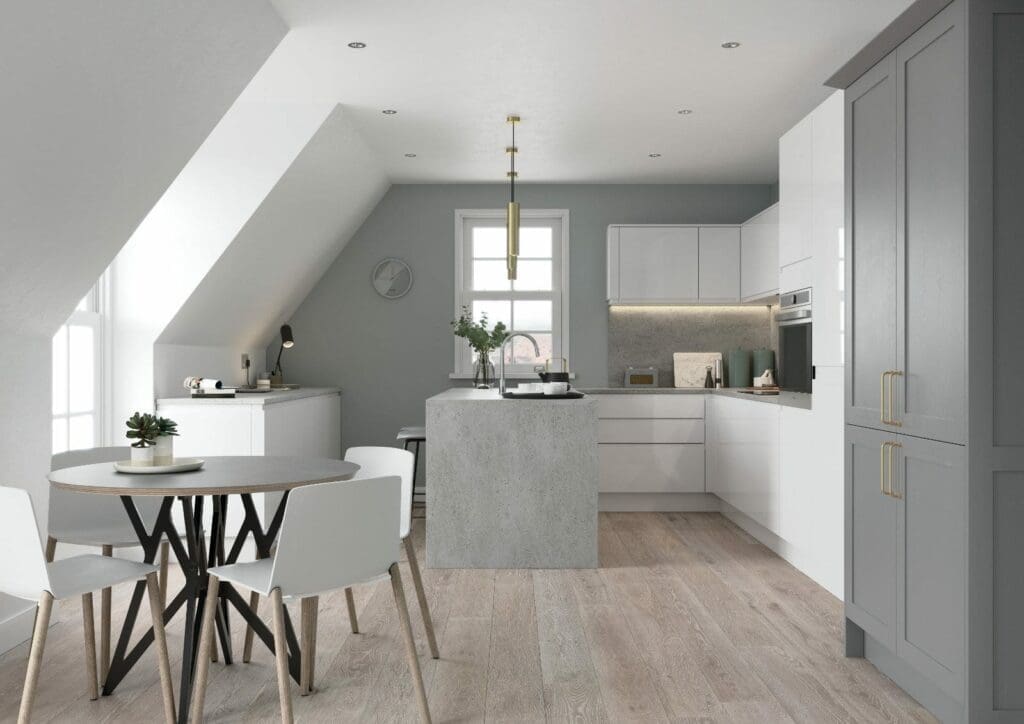 Are LED lights best for kitchens?
For various reasons LED lighting is the talk of the town in the modern kitchen. Kitchen LED lighting is far more energy-efficient than other types of lighting, making it a green and cost-effective alternative for a place that requires a lot of light. LED lighting also generates a higher-quality light that dissipates heat and better shows colour, which is vital for kitchen task lighting. Furthermore, LED kitchen lighting is more durable and lasts longer than traditional lighting, so you won't have to worry about changing bulbs often.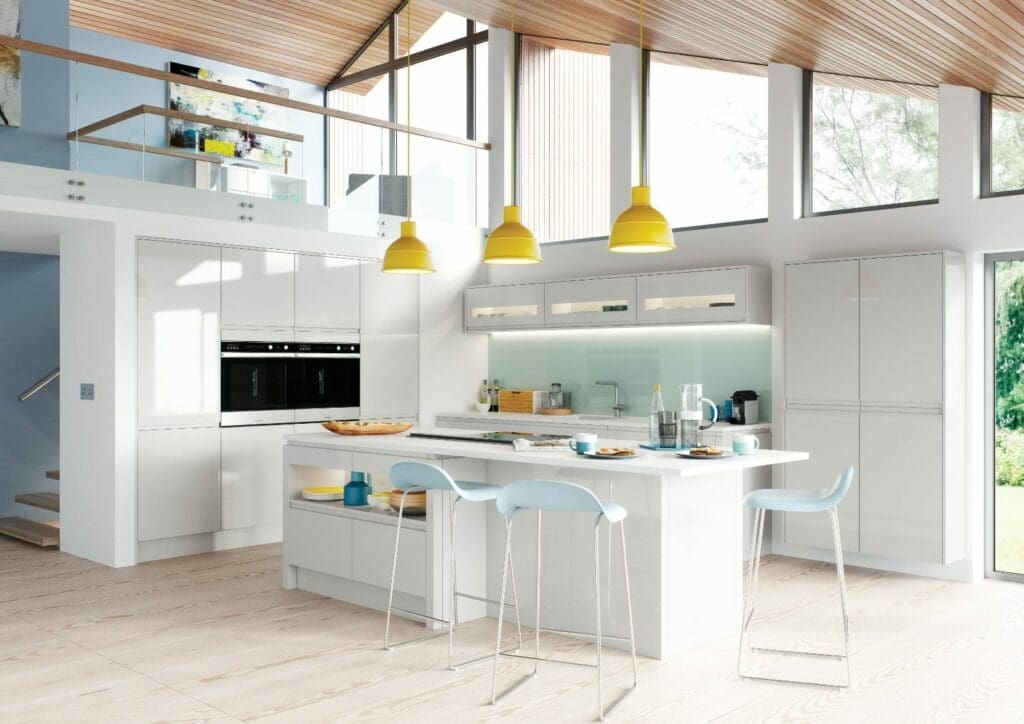 How does kitchen lighting influence your kitchen's look?
Every space needs light, but good kitchen lighting is about far more than just plugging in a few bulbs! More than just making a room less gloomy so you can see, lighting impacts largely on how you experience your space.
Kitchen lighting is essential because you work with heat, water, and sharp utensils when preparing food. The kitchen is frequently a multipurpose space that is used for considerably more than just food preparation. Consider whether your kitchen will be required for work, study, entertaining, eating, or any other activity. How you want to use your kitchen will help you determine how much lighting you'll need for each operation or activity and where in the kitchen lights will be most beneficial.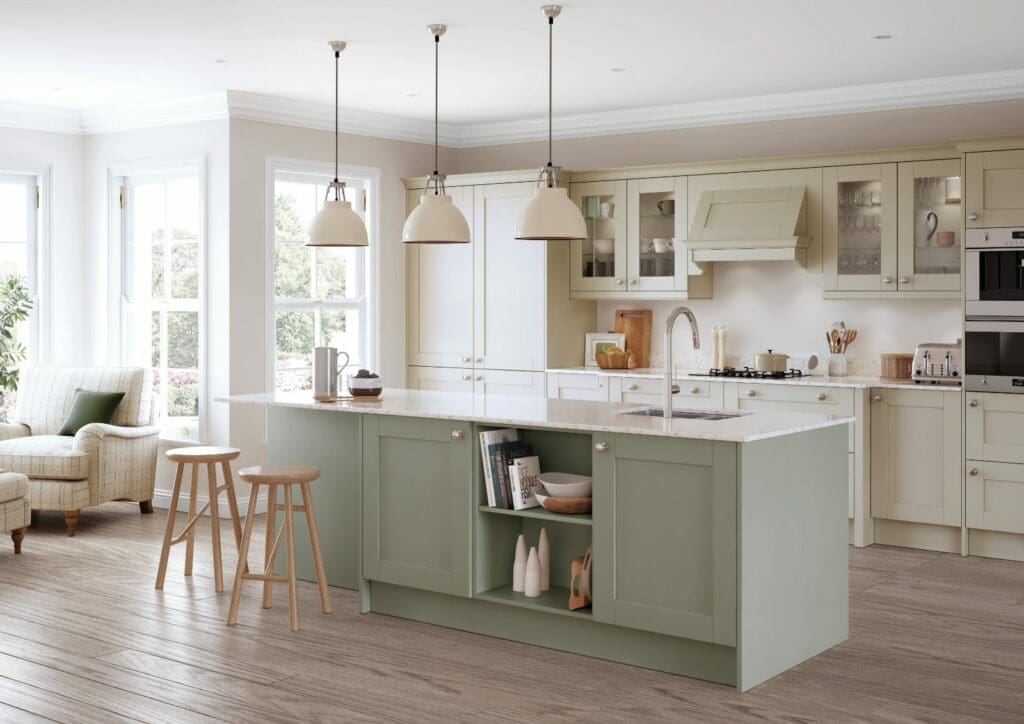 How to ensure good lighting for your kitchen
If possible, ensure your kitchen receives a good amount of natural sunlight with adequate windows for ventilation. Apart from this you can start to layer your kitchen lighting options—choosing ambient lights for general illumination, task lights for concentrated duties, and accent lights for style and flair— and this is the key to getting it right!
Think about your kitchen's decor and choose the right lighting to complement it, and from here you are good to go!
Subscribe To Our Blog
Use the form below to subscribe to our kitchen blog for expert tips and buying guides direct to your inbox.