Shaker Kitchens
Introducing the Popular Shaker kitchens 
Shaker kitchens have always been a popular choice for homeowners because of their clean, simple and timeless kitchen look. But what exactly is a shaker kitchen? And why are they so popular? Here, we will discuss the history of the Shaker kitchen, as well as the many benefits of choosing this style for your home. We will also provide some tips on how to create the perfect shaker look according to what you want and your individual needs.
History of the Shaker Kitchen
The shaker kitchen style gets its name from the Shakers, a religious group that originated in England in the 18th century. The Shakers were known for their simple and functional designs, which they applied to everything from furniture to architecture. When it comes to shaker kitchens, this means high-quality cabinets with clean lines and minimal ornamentation, which in turn achieves a lasting look. Traditional Shaker kitchens were also made with natural materials, typically unpainted wood, which gives them a naturally warm and inviting feel. 
What is a Shaker Kitchen?
A shaker kitchen is a style of cabinetry that features doors with a flat, recessed panel in the centre, and surrounded by square edges. Usually with appealing symmetry, yet devoid of decoration, the shaker kitchen door is characterized by its simplicity and functionality, which is why it has been so popular for centuries. Shaker kitchens are typically made with high-quality materials, such as solid wood or plywood, and they can be customized to suit your specific needs and preferences.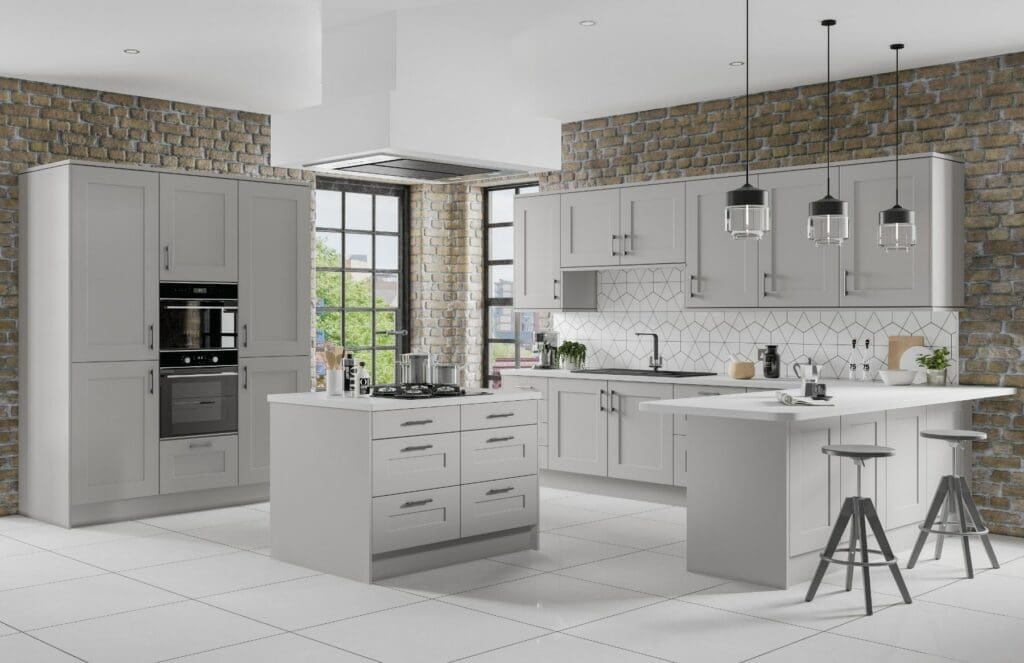 Practical Benefits of a Shaker kitchen
There are many reasons why shaker kitchens have become so popular in recent years and this is typically due to the benefits that come with choosing a shaker kitchen for your home.  As mentioned, they are classic and timeless- perfect for those who want a kitchen that will stand the test of time. Another benefit is they are very well-made and durable, and also easy to keep clean and maintain; this makes them an excellent choice for busy families. They are also easily customisable, purposely designed and manufactured to fit your specific needs and individual taste.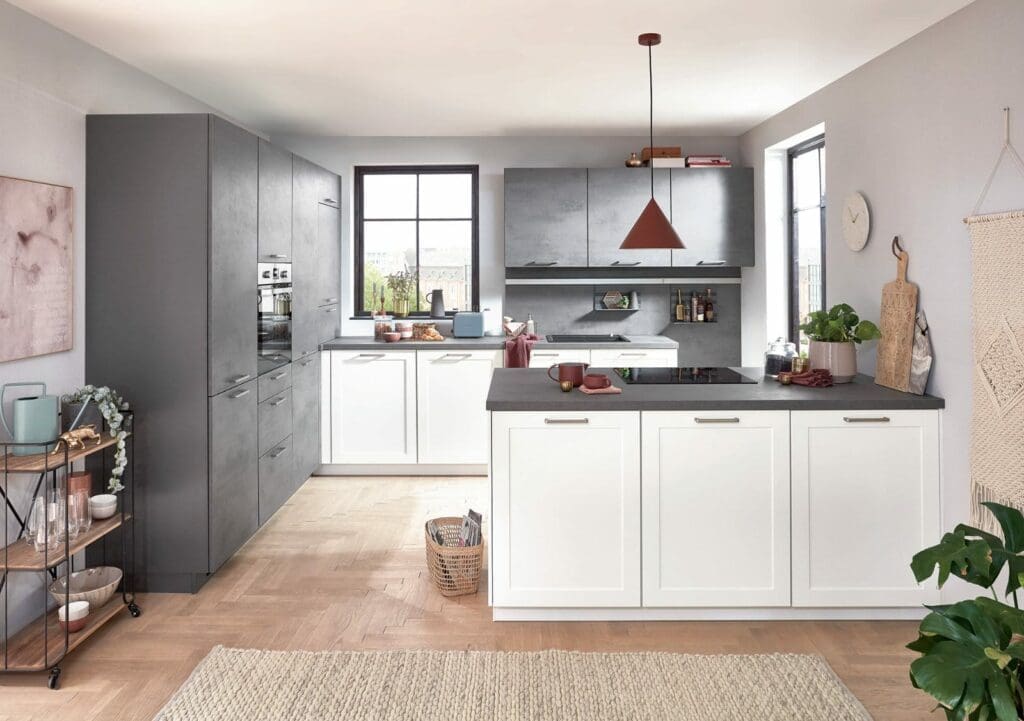 Aesthetic Benefits of a Shaker kitchen
Shaker kitchens also benefit because they are a very versatile style and can work well in both traditional and contemporary homes.  They are available in an extensive choice of colours, materials and finishes to suit your specific needs and tastes.  This includes many doors which have moved away from the traditional pared-back shaker look to shaker doors with a variety of rail widths, beading, deep textures, gloss, matt, smooth or even modern handleless shaker kitchen doors.  
With this variety, Shaker cabinets also have the ability to blend well with other kitchen styles. This makes them perfect for homeowners who want a kitchen that is a stylish reflection of their own personality and taste.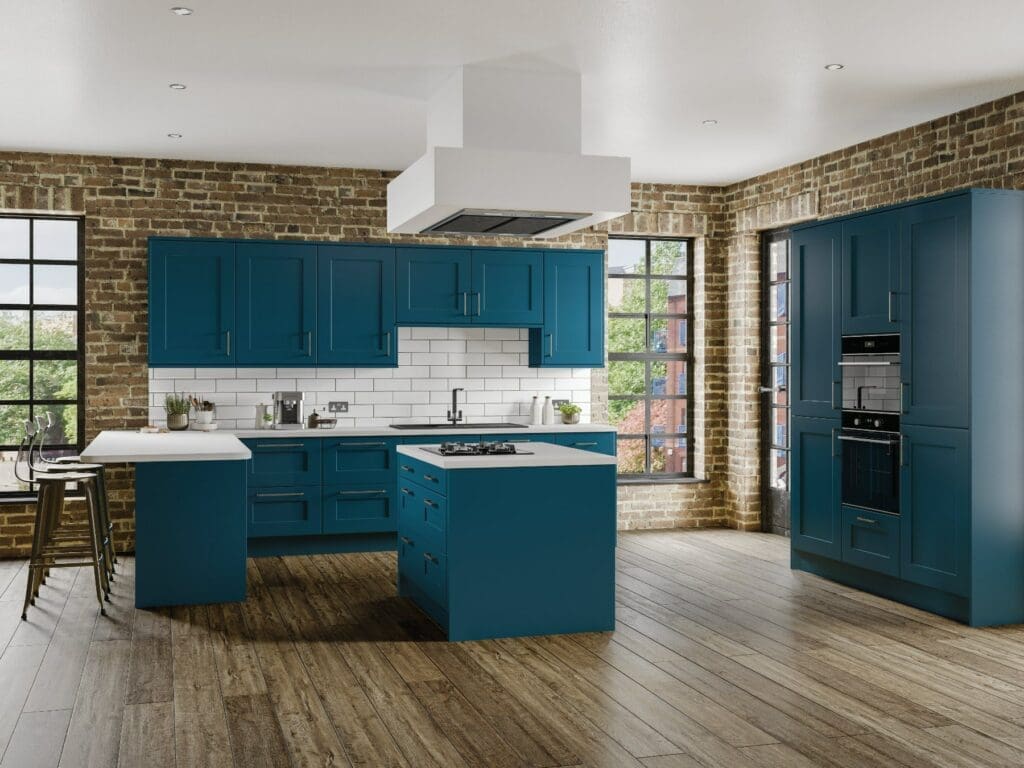 Popular Shaker kitchen Colours
Popular shaker kitchen colours include white, cream and grey, which tend to be the preference for a more traditional shaker kitchen look. Alternatively, if you want to achieve a more modern aesthetic for your shaker kitchen, consider using dark shades such as black and grey, or lasting, on-trend colours including Navy blue and Forest Green. Pastel tones also work well for shaker kitchens, and with such an extensive colour palette to choose from you can even find shaker doors in vibrant tones such as light blue, teal or red- perfect for drawing attention to kitchen features such as an oversized island, or eye-catching appliance bank!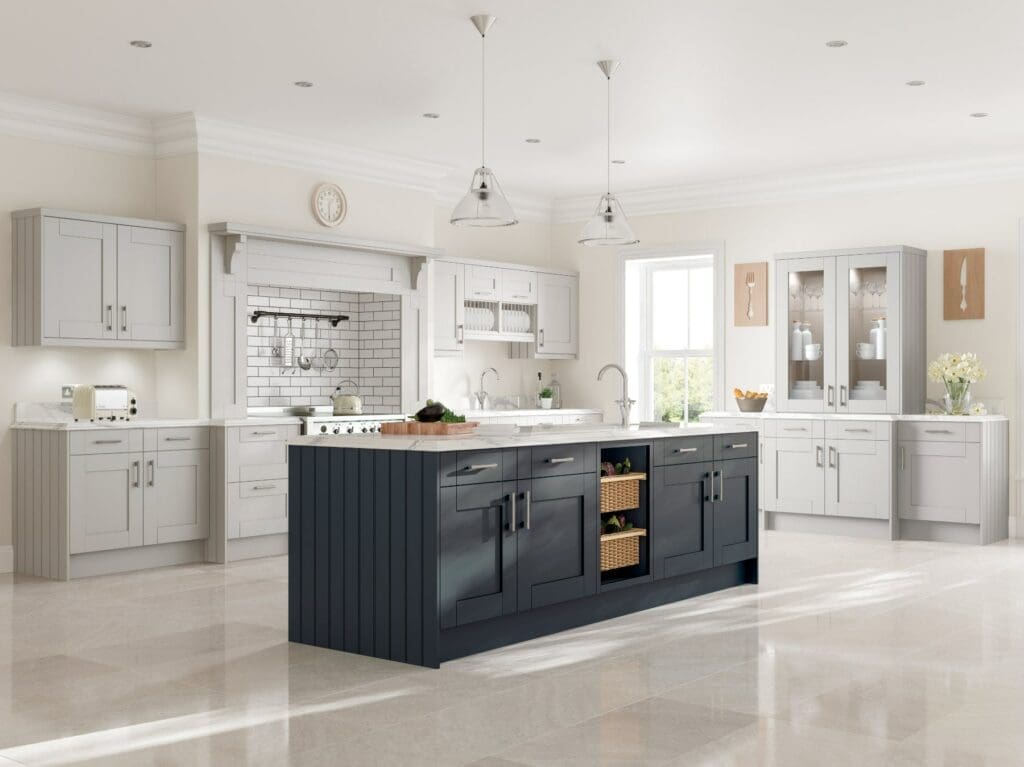 Shaker Kitchen Handles
When it comes to choosing shaker kitchen handles, there are a few things to keep in mind. Firstly, if you want to keep with the shaker philosophy of 'form following function' then the best choice is Shaker kitchen handles which are simple and understated, rather than anything too ornate or flashy. This is especially key for smaller kitchen spaces where a more discreet or streamlined handle will help maximise space and reduce the likelihood of you snagging your clothing on the handles.
In any case, you should choose kitchen handles that complement the overall look of your shaker kitchen. I.e., for a more traditional look, choose brass or bronze hardware; or for a modern look, choose stainless steel or chrome. For dark and contemporary shaker kitchen doors, luxury metals such as gold are the perfect statement handle, bringing an easy touch of glamour to your Shaker kitchen's look!
Tips for Creating the Perfect Shaker Kitchen:-
If you're thinking of incorporating a shaker kitchen into your home, there are several things to keep in mind to ensure you achieve your perfect shaker aesthetic. First, and as with any style of kitchen you need to think about what kind of layout would work best for your space. Shakers are known for their simple and efficient designs, so it's important to consider how you want your shaker kitchen to flow. Shaker kitchens can be designed to fit any size or shape of room but it's important to have an idea of what will work best in your home before getting started.
Along with this, you also need to consider the overall look and feel you want to achieve in your kitchen and how a shaker will fit with that notion. Do you want a traditional shaker kitchen with unpainted wood cabinets? Or do you prefer a more contemporary shaker look with painted cabinets? As well as colour, the style of shaker door and finish you choose will also influence the overall look, whether gloss, matt, wood, or even glass shaker doors.  

Don't forget to factor in your budget.  Shaker kitchens are available in a wide range of finishes, but this also means they can cater for a wide range of budgets.  It's important to have an idea of what you can afford before beginning your project. If you're working with a tight budget, consider using lower-cost materials like laminate countertops or painted cabinets. Alternatively, if you have a bit more to spend, consider investing in higher-quality materials like granite countertops or custom-made shaker cabinets. No matter what your budget is, and whatever your taste, there's a shaker kitchen out there that's perfect for you! 

Finally, don't forget to add some personal touches to really make your shaker kitchen your own!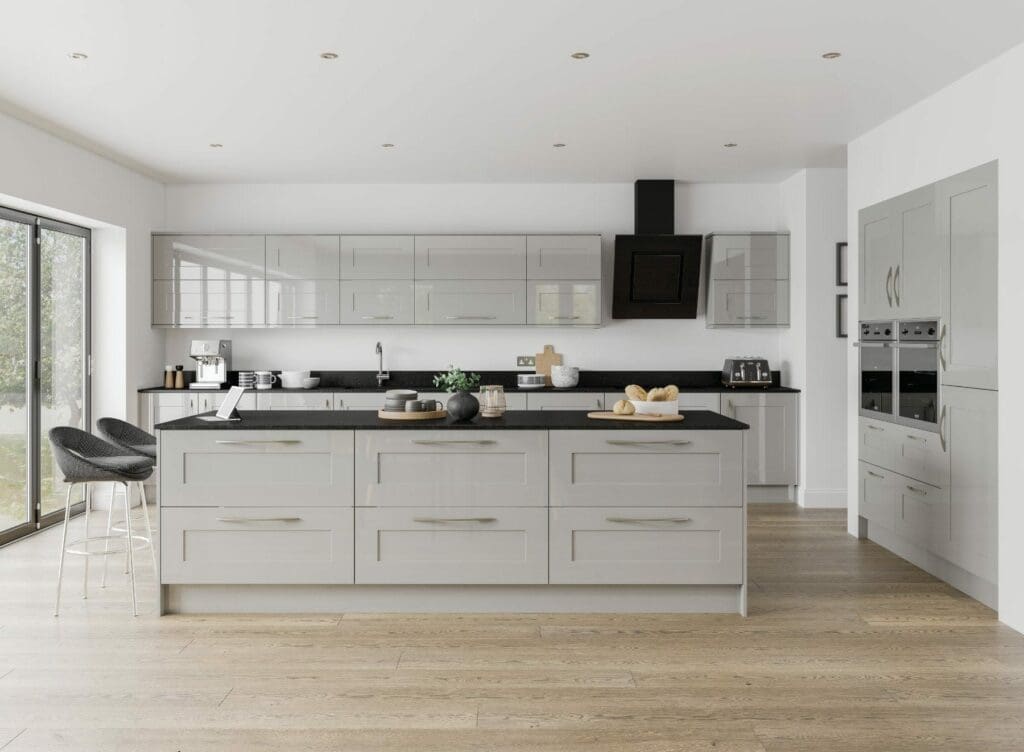 Get a Lasting Shaker Kitchen You'll Love!
By keeping these tips in mind, you can be sure that your shaker kitchen will be everything you've ever wanted and more So what are you waiting for? Contact your nearest Kitchen Specialist today and start planning your perfect shaker kitchen, a style you're certain to enjoy for many years to come!