German Kitchens
Are German Kitchens Expensive And Why Should You Choose Them?
German kitchen styles are popular world-wide due to their precision engineering and modern design. Just like German cars, German kitchens are also one of a kind and will help you achieve your dream kitchen. Read on to know more about bespoke German kitchens, what makes them different and if they are the right choice for you.
What Is A german kitchen?
Well known for their aesthetics, German kitchens are innovative, ultra-modern, and use the best technology. A true representation of modern kitchens, German kitchens use clean lines and bright backgrounds, which give the kitchen an elegant look. Crafted using German engineering, the kitchens are trusted across the globe and can easily withstand everyday hassle. German kitchens have a strong history and offer a range of functional design features, making working in the kitchen a dream. The surfaces of these kitchens are durable, and storage spaces are smart and ergonomic. A custom German kitchen design can fulfil your needs and preferences, thus giving you the kitchen of your dreams.
Why Are German Kitchens So Good?
German kitchens are good because they are modular, accurately engineered units, popular for attractive, functional design, beautiful worktops and pure grace. More than aesthetics, these kitchens are very efficient, making it fun rather than a chore to work in the kitchen. These kitchens are superbly engineered, made with high-quality materials and built with tremendous attention to detail. The manufacturers stress quality control, and the kitchen has a long life, thus making it an excellent investment. Regarding German kitchens, every inch of space would be utilised. These kitchens are designed to meet your needs; everything can be customised according to your preferences.
Moreover, the materials used in most German kitchens are sustainable. They have resistant qualities like bacteria, fire and heat-resistance, as well as scratch and abrasion-resistance. Together, this greatly increases the life of your kitchen. A work of art, these kitchens are perfect for your house and will change the look of your home. Moreover, having a German modular kitchen will instantly raise the prices of your house if you plan to sell your property.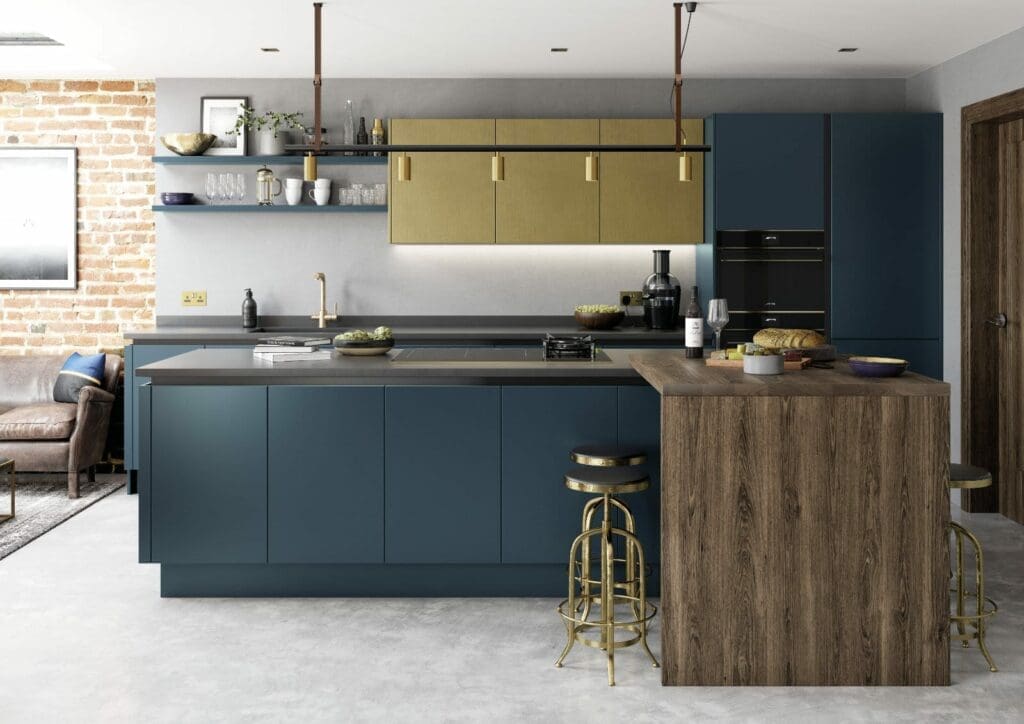 Why Choose A German Kitchen?
When opting for a German modular kitchen design, you can be sure that the design will be contemporary, fresh, and uncluttered. These designs will look modern as German manufacturers are known for their innovative approach, always keen to try something new and better related to material or style. Despite focusing on durability and functionality, German kitchens never compromise on the design, and customers get various designs to choose from. These kitchens are made to fit, and attention is paid to every detail to ensure you get an elegant and sophisticated kitchen.
The superior engineering and top-quality materials used in German Kitchens make them long-lasting, high-quality, durable and reliable. They undergo meticulous testing under pressure to ensure they will survive the needs and hassles of a modern family. Built to last, the German Kitchens remain in the best shape for years, thus giving you the best value for money.
German kitchens are known for their fine functionality, working effectively and seamlessly. Not only are they visually appealing, but these kitchens are also customer-centric and designed to allow for the best usage of available space. Stamp of authenticity, push to open cabinets, sliding doors, and handle-less storage space are just some of the winning features of a modern German kitchen.
German kitchens are aesthetically appealing too and offer a wide variety of options when it comes to different styles, colours and materials. No matter what your type of property is or in which continent you are situated, German kitchens will be a great choice for you, and with so many choices, available there is definitely something for everyone.
Quality is synonymous with German kitchen designs. Most kitchen brands have been in the business since at least the 1950s, and the businesses have been passed down generation after generation, meaning manufacturers have years of experience creating quality, lasting kitchens.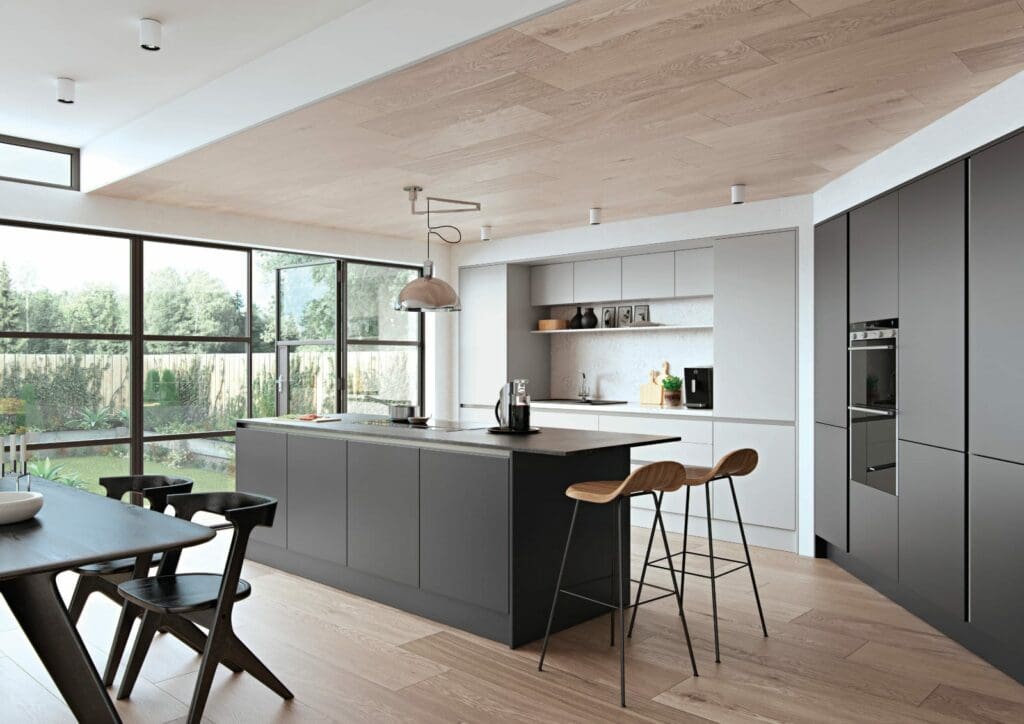 Are German Kitchens Expensive?
Due to their high quality and popularity, many believe that German kitchens are expensive compared to other kitchens. However, this is not always the case, as the prices depend on various factors, like quality, design, functions, and much more. While natural stone or wood finishes can be expensive, other high-quality finishes are more affordable. New functional appliances including smart appliances often accompany these kitchens designed to enhance usability and lifestyle; however, there is always a multitude of choice depending on your needs and budget.
Although German kitchens are a more expensive compared to flat pack and entry level kitchens, they won't burn a hole in your pockets. Moreover, in the long run, German kitchens will last a long time, offering value for money as well as an investment that can add value to your home.
Which are the best german kitchen brands?
Due to their high quality, durability and functionality, German kitchens are popular not only in the domestic market but also in the global market. Regarding German kitchen brands, users have various options ranging from entry-level to premium products. When it comes to mid-high end, popular and winning brands include Bauformat, Ballerina, Beckermann, Brigitte, KH System Mobel, Nobilia, Nolte and Stormer. With massive experience in the kitchen industry, these German kitchen brands provide clean and high-quality kitchens, which enhance the look of your house. They invented the notion of the fitted kitchen as far back as the 1950s and have been boosting their standing for quality and durability with modern design, advanced technology, and accurate workmanship ever since.
If you are looking for beautiful, reliable, durable and functional kitchens, German kitchens are the right choice for you!
Subscribe to our blog for regular kitchen inspiration