Handleless Kitchen
Why Choose A Handleless Kitchen?
Your kitchen sees a lot of foot traffic throughout its lifetime. From family members rushing to eat breakfast, running around after forgetting something important, or simply wandering from the couch to the fridge and back again! With so many people coming and going, it is essential to keep your kitchen looking stylish and feeling safe. And, with this in mind we have a stylish solution that will add a new level of minimalistic design and safety to your kitchen. Allow us to introduce you to handleless kitchens! Continue reading to discover what handleless kitchens are, how your home can greatly benefit from this contemporary design, and discover answers to the most commonly asked questions about handleless kitchens.
What Is A Modern Handleless Kitchen?
You might imagine cabinets and drawers with silver knobs, large cabinet bar pulls, or cup pull handles when you think of a kitchen. While these choices are popular, they can be seen as clunky, especially if you are trying to achieve a minimalist and sleek appearance. Instead, a handleless kitchen design offers a beautiful yet functional solution if you are looking for a contemporary look that incorporates safety and style.
What Exactly Is a modern handleless kitchen
Well, a handleless kitchen is exactly as it is described; it is a style of kitchen that does not have any protruding knobs or handles on your kitchen doors, drawers and sometimes cabinets. But, don't worry; you will still be able to get into your cupboards with a handleless solution.
There are different handleless options you can choose from, including a J-pull handle, which is an integrated handle that is hidden from view.
This option will allow you to put your hand in the gap to easily access the hidden handle, and many people opt for this design due to its smooth surface.
Another handleless option which is a rising favourite amongst homeowners is the push open handles, which feature a mechanism where all you have to do is push the door, and the spring will open the door for you. This mechanism is extremely beneficial if you find yourself with your hands too full to open a drawer with a round handle, for example.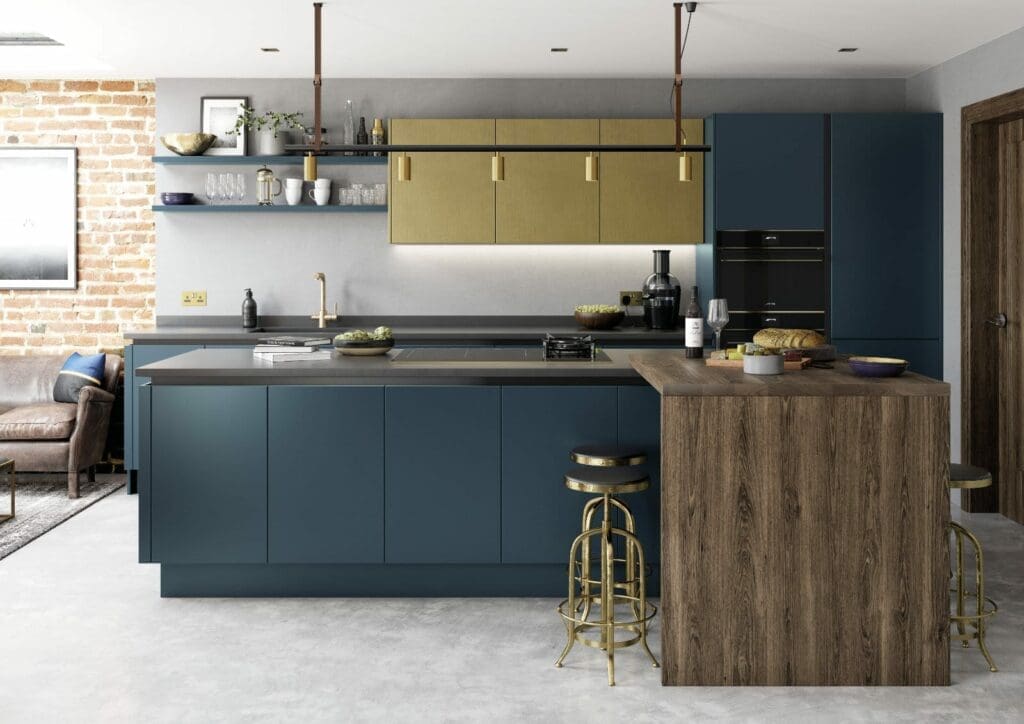 Why are handleless kitchens so popular
There is something modern and elegant about handleless kitchens. The style looks sleek and clean while adding a level of warmth and sophistication to your home. But, there are many more reasons why this kitchen design is so popular amongst homeowners, especially families.
The resurgence in this trend is due to homeowners wanting to obtain smooth, modern and sleek looking interiors which are still fully functional. If you are after an effortlessly smooth aesthetic with clean lines and an elegant finish, a handleless kitchen might be perfect for you and your needs.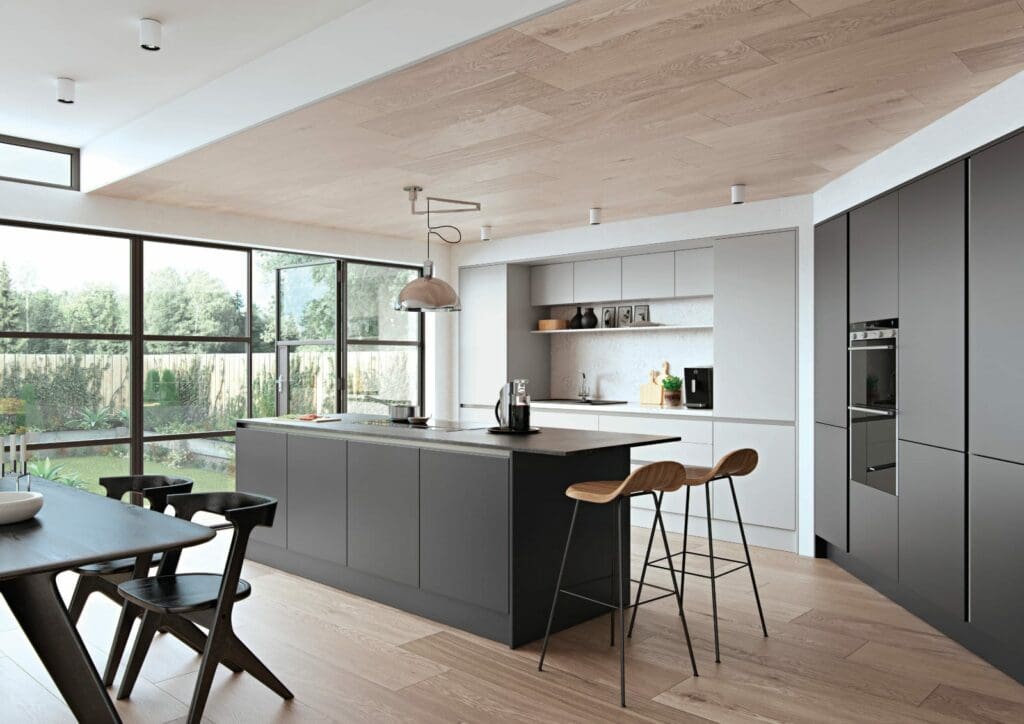 What are the benefits of a handleless kitchen
Handleless kitchens are also becoming more and more popular in recent years because of the benefits they can bring to your home. While specific benefits depend on person to person, depending on your needs, there are still universal benefits you could take advantage of with this style:-
Timeless
In years to come, you will be able to look at your handleless kitchen, knowing it is still a timeless and lasting kitchen style. A handleless kitchen is a simple and elegant choice, which is a design investment you will be thankful for, even when other areas of your house may change.
Easy to clean
Aside from the oven, kitchen handles are one of the most annoying things to keep clean, as they get used so often! A handleless kitchen, especially those with push to open cabinets, is easy to clean. No twisting behind pull bar handles is required to remove stubborn food stains, as in most cases, all you have to do is wipe down the cabinet surface.
Safety
How often have you had a bad day, and it's gotten worse because a piece of clothing has snagged on a cabinet handle? Or how many times has your child come crying because they accidentally ran into a protruding kitchen door handle? Too many times to count. One of the key benefits that busy households, especially those with kids, love is that handleless kitchens offer an additional level of safety. Many kitchen cabinet handles are on eye level with toddlers, which makes them a hazard and a point of intrigue for curious minds to pull on, even when they shouldn't.
There are already many dangerous elements to consider in your kitchen, and a handleless kitchen easily takes away some of those worries with its unobtrusive style.
Selection
If you have a set style preference already in mind for your kitchen design, you will be happy to hear that handleless kitchen options are available in most door colours and finishes. This wide selection means you can select the one that is perfect for your kitchen to continue with a sleek and modern appearance.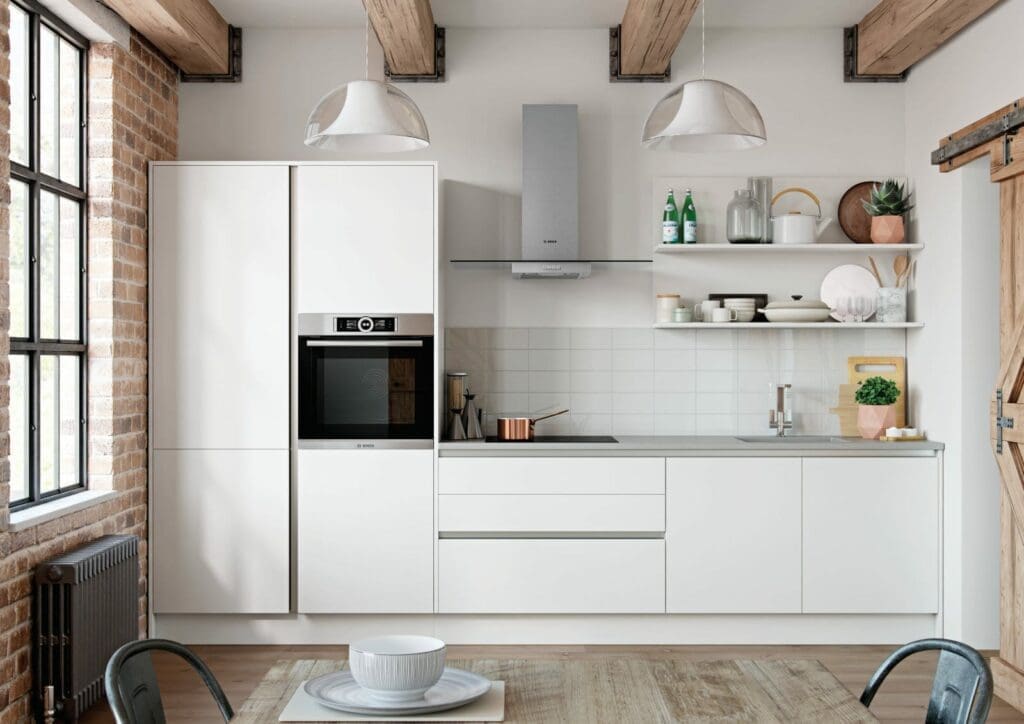 What is a true handleless kitchen?
A true handleless kitchen has no built-in handle; instead, this contemporary design uses a top rail, or continuous channel, behind the drawers or cabinets, which has enough space for you to slot your finger to pull the kitchen cabinet or drawer open.
Various colours and finishes aren't the only style options for true handleless kitchens. They are also available in horizontal and vertical planes, which offer a seamless and modern look throughout your kitchen.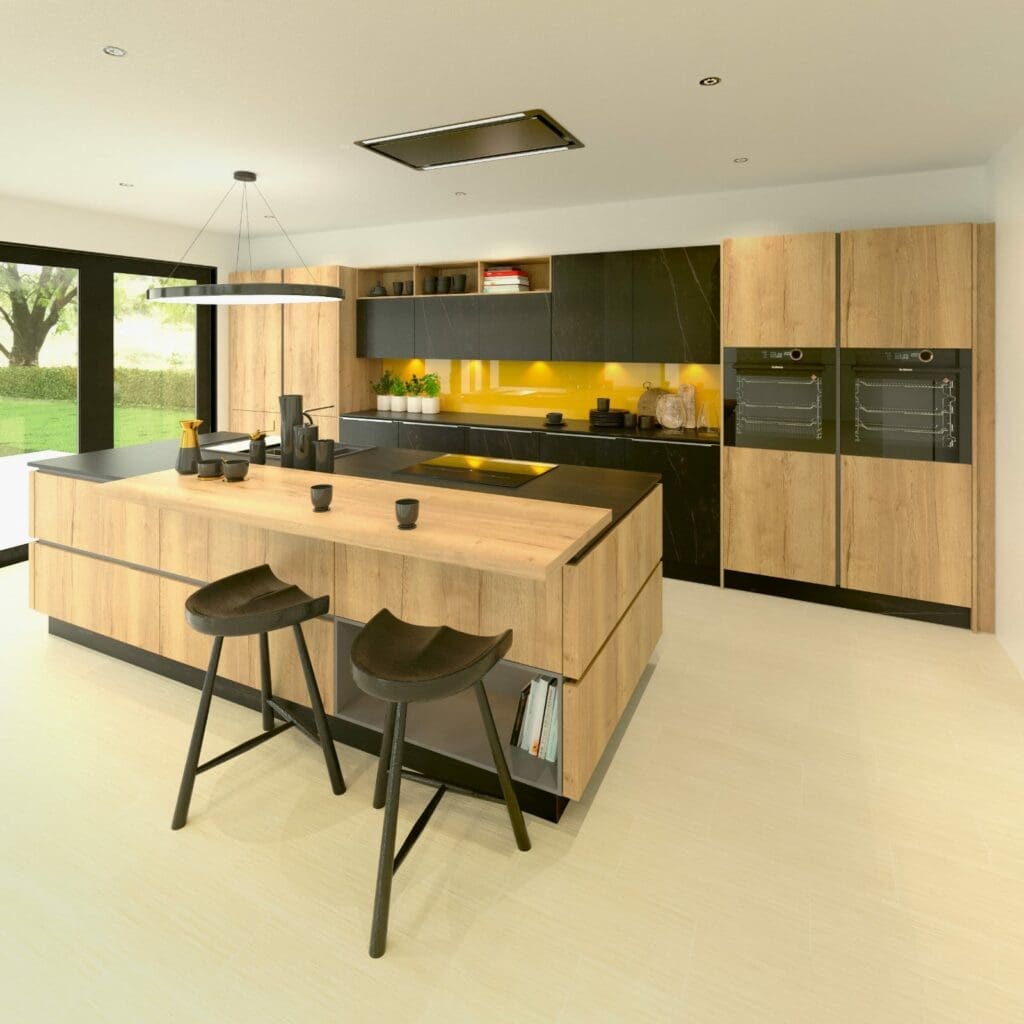 Are Handleless Kitchens More Expensive?
Due to the fact that handleless kitchens are a premium feature, they do cost more. This is because the manufacturing process is a lot more technical because they want to get a smooth and fully functional handleless solution. With this high level of specialist craftsmanship and expert installation, the cost may be approx 10-15% higher, but the finished appearance is always worth it!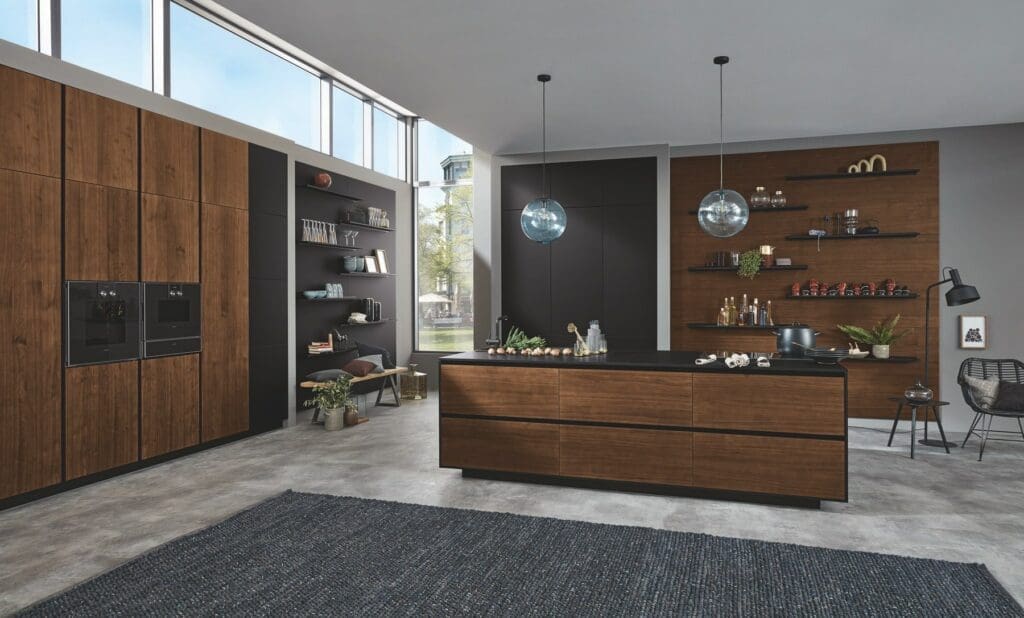 White Handleless kitchens
If you want one of the most popular and timeless kitchen designs, you should consider the enduring appeal of the white handleless kitchen design. White handleless kitchens are extremely popular because they are so versatile. Perfect as an all white kitchen, or else you can add splashes of colour in the form of a black or wood worktop or choose an elegant and sophisticated vibe by incorporating a marble kitchen island. The possibilities are endless, as you have complete freedom over the type of white handleless cabinetry you install and what you combine those features with to create your dream kitchen.
What is the handleless shaker kitchen
While white handleless kitchens have stayed around for years and will continue to stand the test of time, one design option that is making a dramatic entrance in the market is the handleless shaker kitchen style. A handleless shaker kitchen will bring a modern appeal to a traditional style. The sleek, clean lines and the handleless feature will make your kitchen feel welcoming and balanced.
This kitchen style is great for anyone looking for a traditional style with modern features that will create a timeless appearance.
Thanks to the sleek lines and elegant design, the handleless feature and shaker style naturally complement one another.
Not only will a handleless shaker kitchen look good, but it also provides your kitchen with more space, which is ideal if you have a small kitchen. There will be no protruding cabinet handles to get in your way as you cook and prepare your food. Your kitchen will generally feel more open and welcoming, as there will be no clunky handles to break the balanced appearance.
For those looking for elegance and safety, handleless kitchens will be a popular trend for years to come. The decision of whether or not you want this modern style in your home is entirely up to you. You know your space, how family and friends use your kitchen, and what type of handles would be safe yet functional for everyone concerned. The entire point of designing your kitchen is that you can pick the elements that work well for you and your household. Think about what would make your life easier and what function a handleless kitchen will serve.
Take the next step towards elegance and safety with a luxury handleless kitchen.
Subscribe to our blog for regular kitchen inspiration