Gloss Kitchens
Why Choose A Gloss Kitchen?
When designing your kitchen, you have to consider the layout, style, design and countless other factors. After all, you want it to be perfect since you and your family spend so much time preparing food, entertaining guests and enjoying your day-to-day life in the kitchen. One key factor you should consider for your kitchen is the type of cabinet finish you want, as this will complete your home's entire look and feel.
With so many decisions to make, we thought we would help by providing all you need to know about gloss kitchens. Here, you will discover precisely what a gloss kitchen is, the different types of gloss kitchen finish and the relevant benefits for you and your family.
Read on to discover everything you need to know about a gloss kitchen finish….
What is a gloss kitchen?
A gloss kitchen finish provides a shiny, lustrous finish to your kitchen cabinets and drawers to create a polished surface finish. Available in a variety of finishes, many homeowners opt for a gloss kitchen finish as it helps with the longevity of their cabinets and creates a mirror-like reflective finish which enhances the feeling of space within the kitchen.
What are the different types of gloss kitchen finishes?
There are various types of gloss kitchen finishes you can choose from, and they all vary in price, durability and quality. The type of gloss kitchen finish you pick depends entirely on the look and functionality you want to achieve. Your independent kitchen specialist will recommend what style they believe is right for you and your space, but the final decision should be based on what you think looks best- and of course on your budget too!
An example of a gloss kitchen finish includes a high gloss lacquered kitchen, which is typically available in a wide variety of colours, such as grey, white, taupe, and blue.
This clear shine will make your kitchen cabinets gleam in your home and make your cabinets more resistant to damage, which is beneficial for hectic households looking for some added kitchen protection.
Another kitchen finish option that is highly popular is a high gloss laminate finish. This shiny finish can bring a sense of brightness to your kitchen, positively affecting your mood. Similarly, to a high gloss lacquered kitchen but at a lower cost, laminate gloss kitchen doors are not only attractive but also very durable.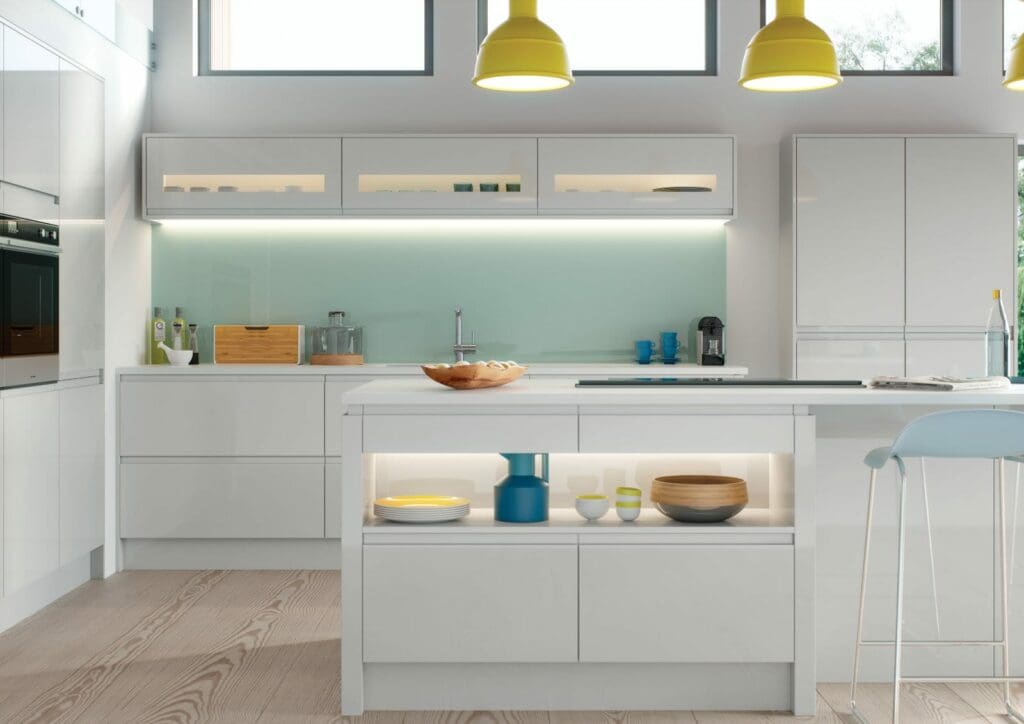 What are the benefits of a gloss kitchen
You might be blown away by the appearance of a gloss kitchen but thinking, what are the actual benefits of a gloss kitchen? We are here to share with you some benefits of this finish and how it can improve the appearance of your kitchen overall.
A Timeless Gloss Kitchen Look
We want to start with an advantage that will benefit you in the long run, which is that gloss kitchens are timeless. This timeless appeal means that your kitchen will still be in style over time; therefore, you might not need to reinvest a large amount of money into redesigning it, as it will already remain looking trendy and current.
Brighter
If you have a small kitchen space, a gloss kitchen finish was made for you! A gloss kitchen finish will make any space feel brighter and bigger, thanks to light reflection from its surfaces. The dramatic appeal of gloss only makes your room look more spacious and more appealing!
Luxurious appearance
A gloss kitchen offers many benefits, but many homeowners choose this look as it has a luxurious appearance, ensuring you will love spending time in your kitchen. The sleek countertops, combined with the gloss kitchen cabinets, will not only impress you but visitors as well. Imagine welcoming friends and family into your luxurious looking kitchen with a sleek and modern gloss finish!
Easy to clean
If you have a hectic household with children running around or guests visiting for evening gatherings, you will know how hard it is to keep a kitchen clean! In a busy household, you will clean the kitchen, and the moment you turn around, it will revert back to chaos. That is why it is so helpful to have a gloss kitchen finish, as it makes it easier to clean.
The shiny surface is low maintenance, meaning all you have to do is use a cloth and water to remove day-to-day smudges. Think of the time you could save simply by having a gloss finish to swiftly and easily wipe clean!
Various colour options
Besides being easy to clean and luxurious, a gloss kitchen finish is also available in various shades and colours. The benefit of so many options is that you can find one that suits your kitchen colour scheme. Your independent kitchen specialist can even suggest which gloss would complement your design, layout and colour scheme.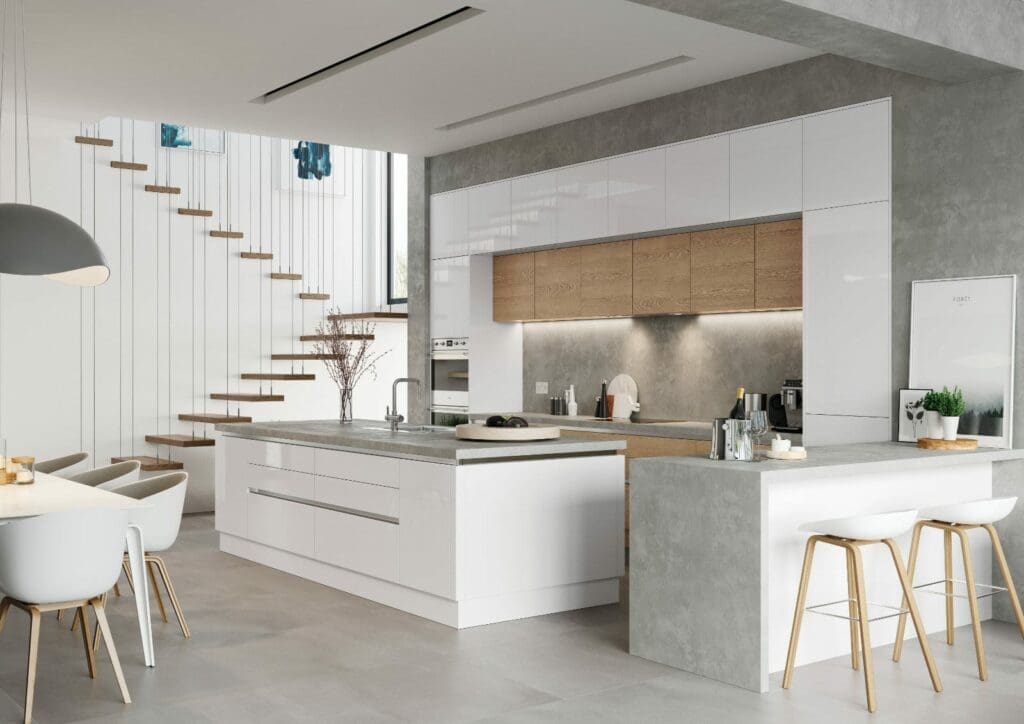 White Gloss Kitchens
For all the homeowners with small kitchens, the white gloss kitchen is the best finish for you! White is not only a timeless kitchen colour; it also helps make small spaces feel airy, bright and spacious. A white gloss finish will add to this, as the glossy surface will help reflect light, enhancing the feeling of space while making your kitchen feel welcoming and warm.
White is a timeless and lasting kitchen colour that offers versatility and style to any home. The versatility aspect of a white kitchen allows you to combine it with different elements to make it more of a personalised kitchen. For example, you could combine a predominately white kitchen with a colourful backsplash or statement appliances, such as a blue toaster, or go for a sharper contrast with all black appliances.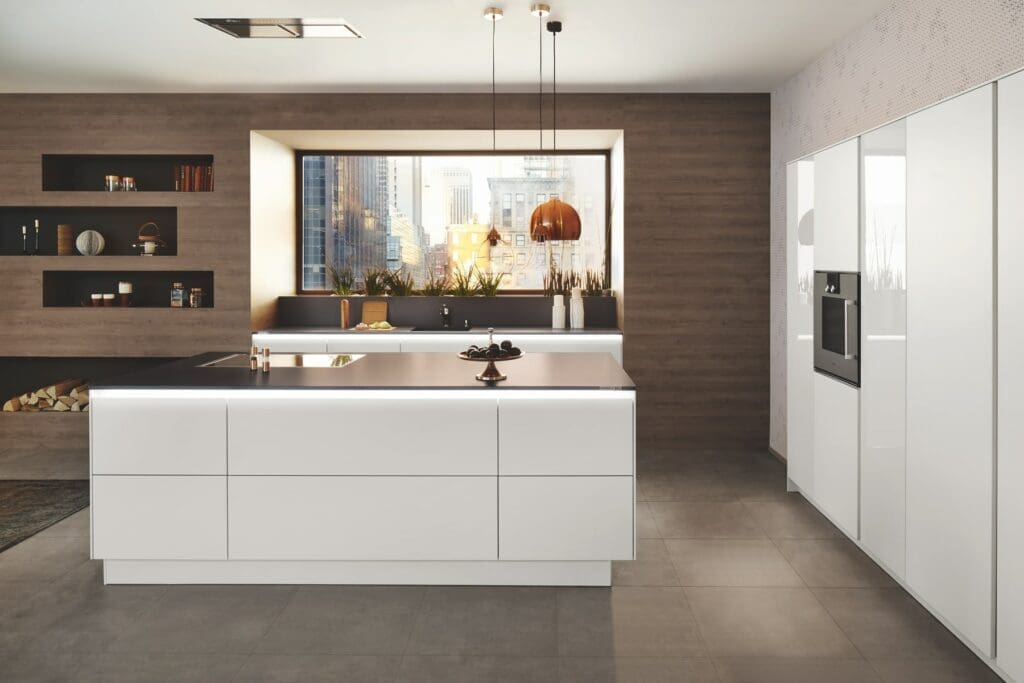 Are Gloss kitchens Hard wearing?
Gloss kitchens don't only look good; they are also long-lasting, which means your kitchen cabinets will be standing for years to come. We know that kitchens can become hectic, especially if you have children running around and guests over for dining parties, which is why a gloss kitchen finish is such a vital component of any kitchen. The hard-wearing quality of a gloss kitchen finish will protect your cabinets from unavoidable wear and tear.
The Difference between a matt and gloss kitchen finish
The kitchen's finish will have a huge impact on the appearance of your kitchen design, but which do you pick, gloss or matt? One of the main reasons homeowners opt for a gloss kitchen finish is that it reflects light so well, which makes your kitchen feel brighter and bigger.
On the other hand, a matt finish offers a flat surface that absorbs light instead, helping make your surfaces look more solid, no matter the angle you observe it from in your kitchen.
Both finishes have certain beneficial qualities, and so the final decision depends entirely on which style you prefer. You should be happy with how your kitchen looks, so select the one that you like the look of the most.
When you walk into your kitchen in the morning or after a long day of work, you want to feel at ease. A gloss kitchen can make you feel at home, as the light and glossy surface will elevate your room and make it feel brighter. We are sure that coming home to a gloss kitchen each day is a feat to make you smile.
Finally, the most important factor you should take away from this is that you have different options to choose from, as we understand that everyone has different needs and expectations. Discuss your set needs with your independent kitchen specialist, as they will suggest the right gloss kitchen design options for you and for your kitchen space too.
Upgrade your kitchen space today by selecting the right high gloss kitchen finish.
Subscribe to our blog for regular kitchen inspiration