Green Shaker Kitchens
Everything You Need To Know About The Green Shaker Kitchen Trend
Considering a green shaker kitchen? You're onto a good thing! …Choosing a green shaker kitchen is the ultimate way to bring the warmth and freshness of nature and greenery into your home. It is also undeniable that the colour of your kitchen can have an impact on your mood, with green known for evoking a sense of calm and zen. Of course, green looks good too! And you would be surprised at how much a colour change can refresh the entire aesthetic of your kitchen. The ultimate power move, read on to discover if the green shaker kitchen trend is right for you!
What are green shaker kitchens?
Everyone will recognise the striking beauty of a shaker kitchen, as the front panels of the drawers and cabinets are too eye-catching to ignore. This style features a flat panel in the centre, with square edges that enhance a stylish aesthetic. The clean lines of the flat panel create a balanced yet chic appearance. However, with the resurgence of this trend in recent years, shaker kitchens are being adapted to suit current styles, including the emergence of a wider colour palette, which includes green in a broad spectrum of tones.
Are green shaker kitchens on-trend?
Whilst the concept of a shaker kitchen originates from the 18th century, they are hugely popular for modern homes. The striking beauty and ability to complement various kitchen styles make shaker kitchens an in-demand option, and homeowners can make this style their own by being bold with colour choice and kitchen accessories.
For example, rich, dark greens, like forest green, pair well with carefully placed gold accessories, such as pendants over an island or metallic gold wire chairs; the resulting contrast creates a sophisticated and modern tone for the space.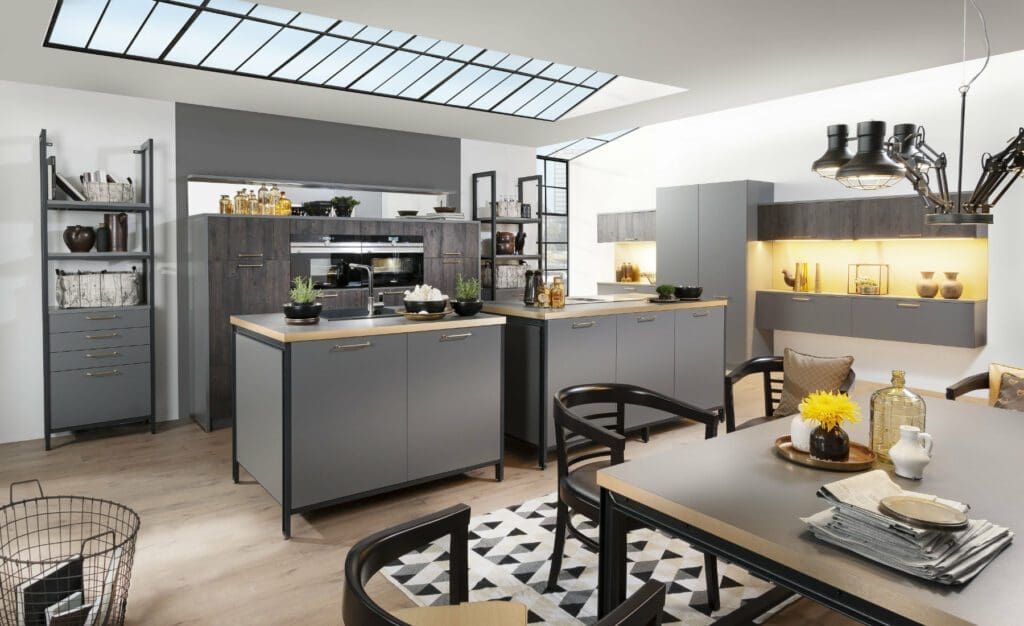 What shade of green is good for a shaker kitchen?
Picking the perfect shade of green for your shaker kitchen can be a monumental task, especially since there are so many colour combinations to choose from. But the process of picking the colour scheme for your kitchen is important, as it can drastically change the entire aesthetic of your home. For example, some shades of green evoke feelings of freshness and harmony, helping you feel relaxed, while others offer a sense of energy and can revitalise you, which is needed after a long work day. Similarly some green shaker shades are modern, whilst others are better for a traditional aesthetic.
Isn't it amazing how different shades of green influence your mood? Popular shades of green for use in the kitchen include: Sage, Olive, Forest green, Moss, Emerald, Pistachio and Teal. Once you have selected the green shade of your shaker kitchen, you should consider whether you want subtle touches of green or go bold and brave with an all-green kitchen style.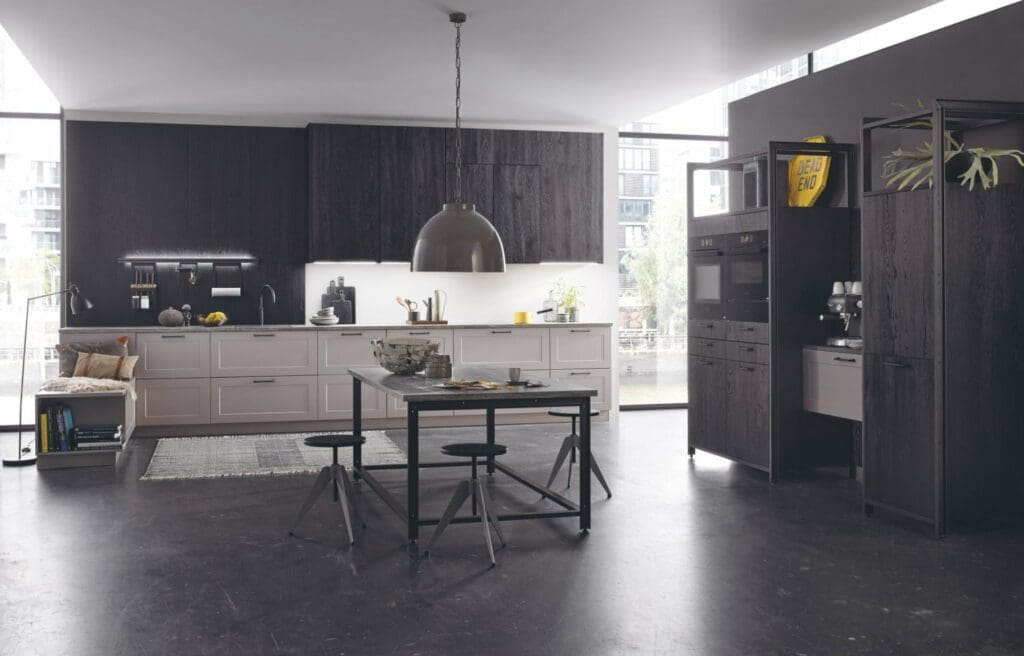 Is an all-green kitchen too much?
There is just something about the colour green that makes everyone feel more connected to nature. An all-green kitchen's vibrancy will make your space feel inviting, which may even prompt you to invite guests more often– perfect for the social butterfly! But what works for one kitchen might not work for another, as each kitchen space is different, and each person has a different style. For example, dark green tones need careful introduction, and work best in open spaces with maximum natural light and finished with warm wood accents and metallic fittings such as gold, copper or brass. And if you're still unsure about an all-green kitchen aesthetic, consider a two-tone design! For example, a statement green kitchen island highlighted as a focal point of your room and offset against a neutral backdrop which allows it to shine!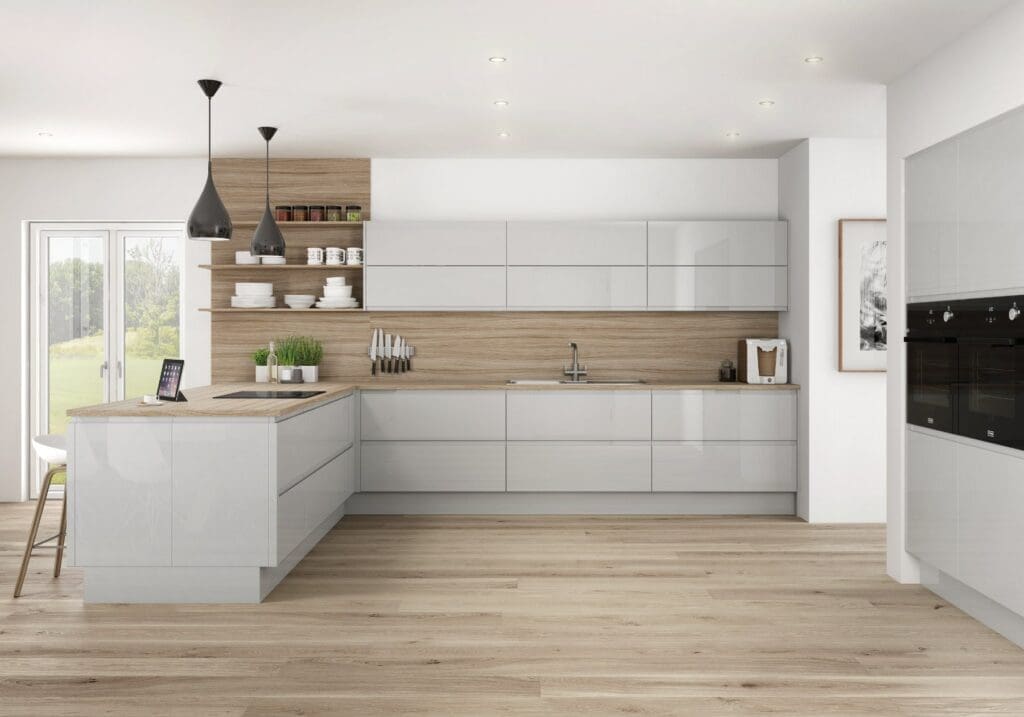 How do you accessorise in a Green Shaker Kitchen
Like any colour scheme for your kitchen, you should consider what items you pair together to make the all-green colour scheme work. For example, moss green shaker cabinets, white tiles, open wood shelving and a marble worktop will create a cosy, glamorous interior. Ultimately, the green shaker kitchen style will work if you have the right independent kitchen specialist by your side. They can help you pair the right accessories, worktops, and flooring to create a beautiful green kitchen oasis.
What worktops go best with a green shaker kitchen?
From granite and slate to butcher block and marble, there are many worktops to choose from for your green shaker kitchen. With so many options, though, which should you choose, and which looks best when paired with green? Depending on your shade of green the best worktops for a green shaker kitchen include:
White kitchen worktops
Black kitchen worktops (though not for dark kitchen tones)
Wood worktop
Marble effect – either black or white
A stunning white kitchen worktop will contrast beautifully with a green kitchen, regardless of the white shade you pick. The combination of green and white will create a bright and cheerful atmosphere. You can also select white kitchen worktops in different materials, such as granite, quartz or gloss, depending on the type of durability and style you want.
For a sophisticated yet playful aesthetic, the combination of green kitchen units with a marble effect worktop can meet these requirements. Th contrast creates an elegant appearance, transforming your space into a welcoming area for looking after family and entertaining guests.
The Best Flooring For A Green Shaker Kitchen
After selecting your preferred shade, deciding whether an all-green kitchen is for you, and which worktop you would like, the next part is deciding what flooring you prefer. With your kitchen design, there are different flooring options to choose between, such as bamboo, laminate, hardwood, vinyl and ceramic tile, to name a few.
Patterned vinyl flooring is a popular option, as different patterns and colours will complement whichever shade of green you choose. A few common vinyl options include White oak, Classic oak, Willow, and Sandalwood.
The above flooring examples are light in tone, which will open up a smaller kitchen to create an inviting communal family space. Light tones are also ideal for dark green kitchen tones or where natural light is limited. However, darker flooring might be the perfect solution if you want to incorporate a stark yet elegant contrast between light green shaker kitchen units and your flooring. Some darker vinyl options include dark oak and walnut.
Geometric vinyl flooring can also add interest to your space, while a mosaic floor adds a sense of interest and individuality. Combining green units and vinyl or mosaic flooring with an interesting pattern can create a retro aesthetic, especially when paired with the right interior décor details and decorations.
What colours pair well with grey cabinets?
The exciting part about a green shaker kitchen is that you can personalise it and incorporate different elements to showcase your personality. Whether you want to follow the traditional shaker kitchen vibe of simplicity and functionality, or be bold and incorporate green kitchen shaker cabinets with a dark worktop, the right details can perfectly bring your style to life. For example, emerald green kitchen cabinets paired with a large white farmhouse sink offer a nostalgic charm that would suit a farmhouse or rustic kitchen style.
Alternatively, the popular forest green kitchen tone incorporates a nod to nature with its rich and fresh colour, perfectly offset by gold accents, wicker decorations, and a staple plant piece in a white ceramic pot. A classic Aloe Vera plant, for example, will introduce a bright and light feel, or you could opt for some fresh herbs, handy for cooking too!
Another way to complete your green shaker kitchen is to include a glass display cabinet with a natural wood interior, which you can use to display your white plates and bowls; a decorative attraction rather than an unapproachable kitchen cupboard.
Finally, you should not forget about the finer details that will elevate your green shaker kitchen. For example, don't be afraid to incorporate antique elements for a country vibe, or for a modern, sophisticated aesthetic, gold accents and fixtures can make the space feel contemporary and elegant. If you want a farmhouse or rustic aesthetic, wooden features like chopping boards, open shelving, and items like mason jars can help you achieve your dream kitchen look.
Ultimately, the finishing touches can complete whichever kitchen style you want to achieve. And an independent kitchen specialist can help you choose features which best complement your chosen style.
Summary
Green shaker kitchen units can be incorporated into your desired kitchen whether you want a contemporary, modern, farmhouse or rustic kitchen style. As mentioned, the right worktops, flooring and carefully selected accessories can complete your look, no matter the aesthetic you want to achieve.
Creating the kitchen of your dreams can be a long and challenging process, especially when you don't know where to start with the design. That's why an independent kitchen specialist can help, taking your ideas and turning them into reality.
Make your guests green with envy with a green shaker kitchen!
Subscribe to our blog for regular kitchen inspiration