Grey Shaker Kitchens
The Luxurious Appeal Of Grey Shaker kitchens
Wondering if a grey shaker kitchen is right for you and your home? …When you walk into your kitchen, you should feel a sense of calm wash over you. It should be a place where you can sit back as the kettle boils and light streams through the window in the morning. It should be a welcoming, communal space that embraces beautiful simplicity. If that sounds like the ideal kitchen to you, then a grey shaker kitchen may just be the right choice for you and your home.
A grey shaker kitchen brings a certain classical charm to your home, but its versatile fronts can easily be fashioned into a modern kitchen style. But is a grey shaker kitchen really modern? And how can you integrate it into your home to create a winning kitchen scheme? Read on to discover the answers to these questions and all you need to know about grey shaker kitchens.
Is a grey shaker kitchen modern?
While the shaker kitchen design originated back in the mid-18th century, the clean lines of its central fascia ensure a timeless design you will want in your home, and which will long stand the test of changing kitchen trends. The minimalist design makes it the perfect foundation for use in conjunction with a variety of kitchen styles, including those with are considered modern and contemporary.
Why are grey shaker kitchens so popular?
As mentioned, shaker kitchens can be included in various kitchen styles, including contemporary, modern, farmhouse rustic, industrial and even shabby chic. But the grey shaker kitchen is particularly versatile, working successfully for any style of kitchen, and especially for modern kitchen designs.
Grey is a versatile colour so whether you want a dark grey shaker kitchen with a bold and contemporary look, or else a light toned grey for a softer effect, it really is hard to go wrong when it comes to incorporating grey within your kitchen.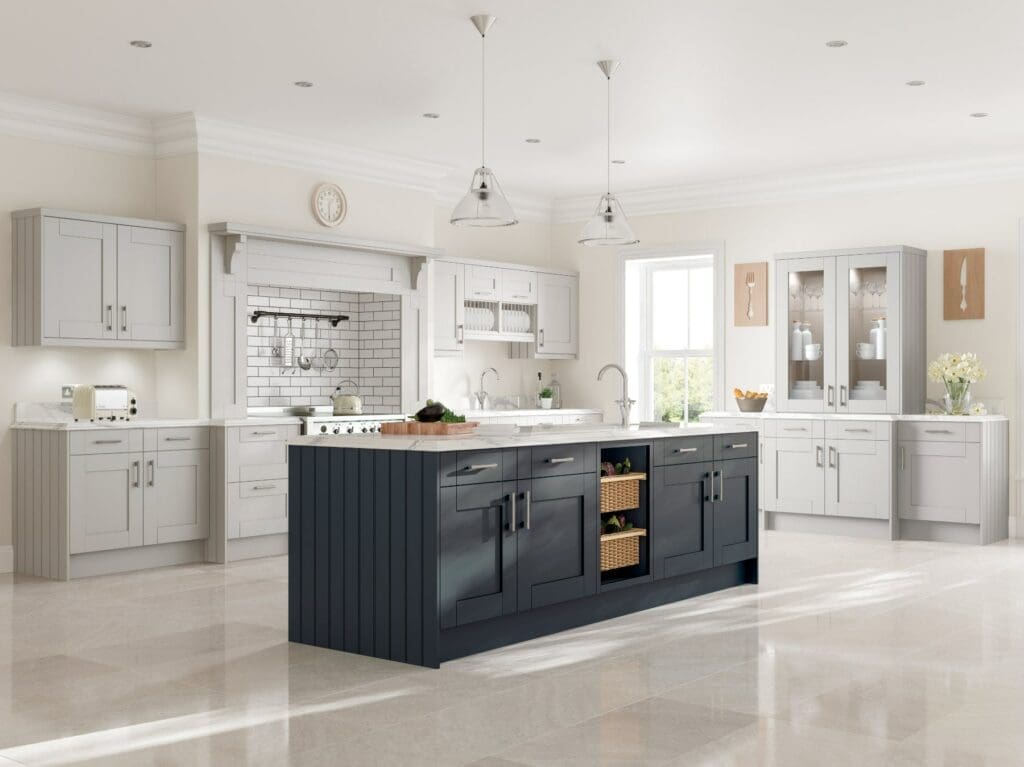 Is there a lot of choice for grey shaker kitchens?
When you think of the colour grey, you might feel like there aren't many shades to choose from, but we are here to tell you that there are many options available to you! This includes many warm, comforting shades of grey, as well as darker, more dynamic greys, each of which can influence the resulting ambience of your kitchen space. A few colour options for your grey shaker kitchen include Light grey, Charcoal, Steel, Stone, Shadow, Graphite and Dove.
From very dark grey to light grey, you are spoilt for choice. As well as personal preference you should consider which shade of grey will suit your space and partner well with your other kitchen features, including flooring, door finishes, and worktops.
Shaker Kitchen Style Options
After deciding what shade of grey you want for your shaker kitchen, it is important to consider the different door finishes and styles available to you. From MDF to solid timber, there are many options for shaker kitchen doors, all durable and designed to elevate the appearance of your kitchen. One of the most popular choices is painted woods, available in a wide range of luxurious colours including custom painted shaker kitchen doors, giving you exactly the right shade of grey! Painted wood grain Iis stunning in appearance whilst also bringing a relaxed and welcoming kitchen vibe.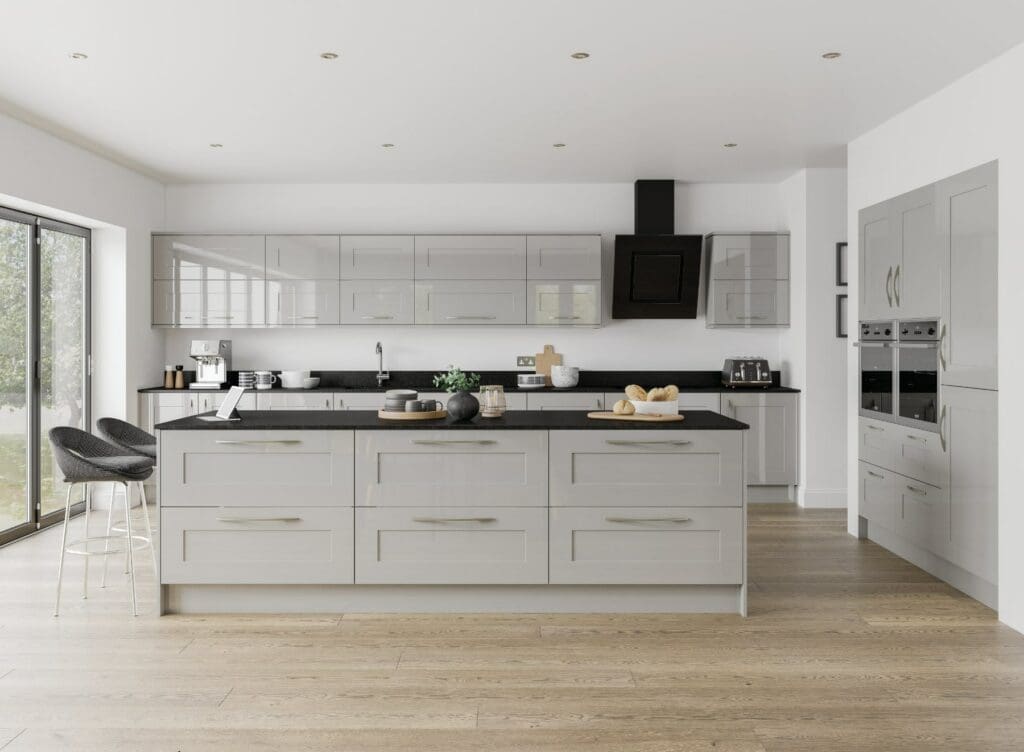 Grooved Shaker Kitchen Doors
Another vital component that influences the appearance of your grey shaker kitchen is whether you want a groove on your shaker kitchen doors. The groove appears where the panels on the front of the cabinet meet running vertically down the front of the kitchen door. This is entirely optional or else the surface of the door can appear smooth all the way around. Whether you want flush joints or grooves comes down to personal choice, but both provide a characterful and appealing aesthetic.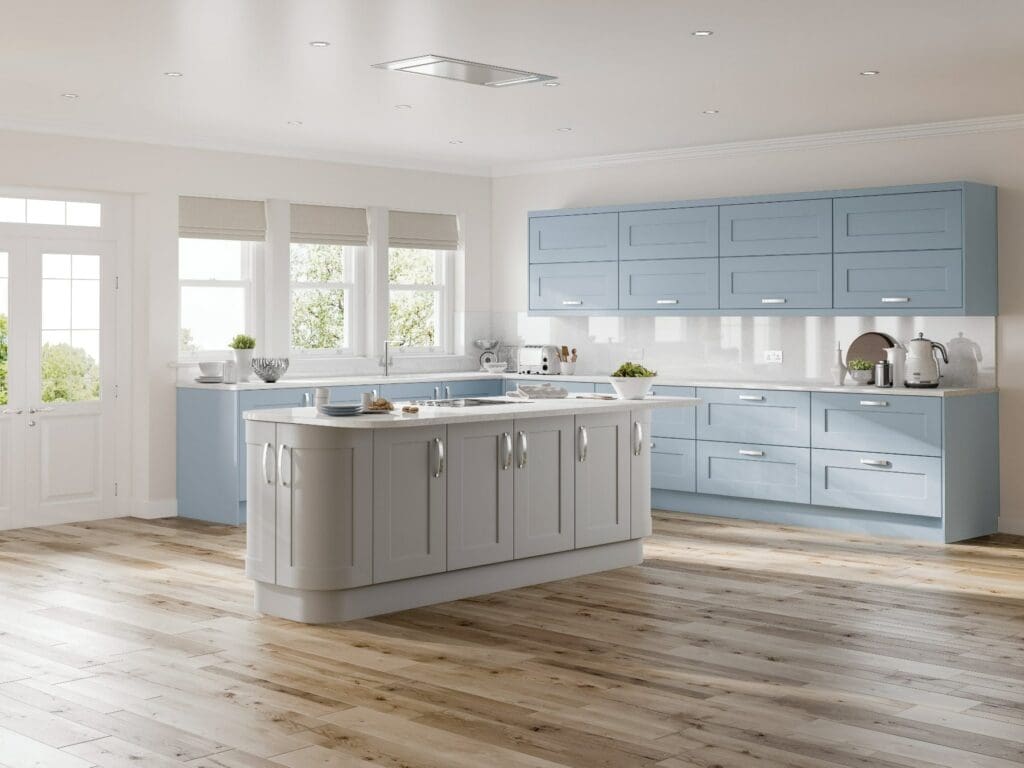 What colours compliment grey shaker kitchens?
Grey has a charming and accommodating quality, which ensures it works well with a wide range of colours. The versatile nature of grey means you can pair it with bright and bold colours for a statement look or opt for neutral colour combinations for a calming and elegant ambience. Here are some of the most popular colour combinations:
Grey and teal blue
Dark blue and grey
White and grey
Black and grey
Pastels
Dark grey shaker kitchens look good with brighter hues for a vibrant, charming appearance, whereas light greys look good with darker hues, creating a welcoming and soothing kitchen design.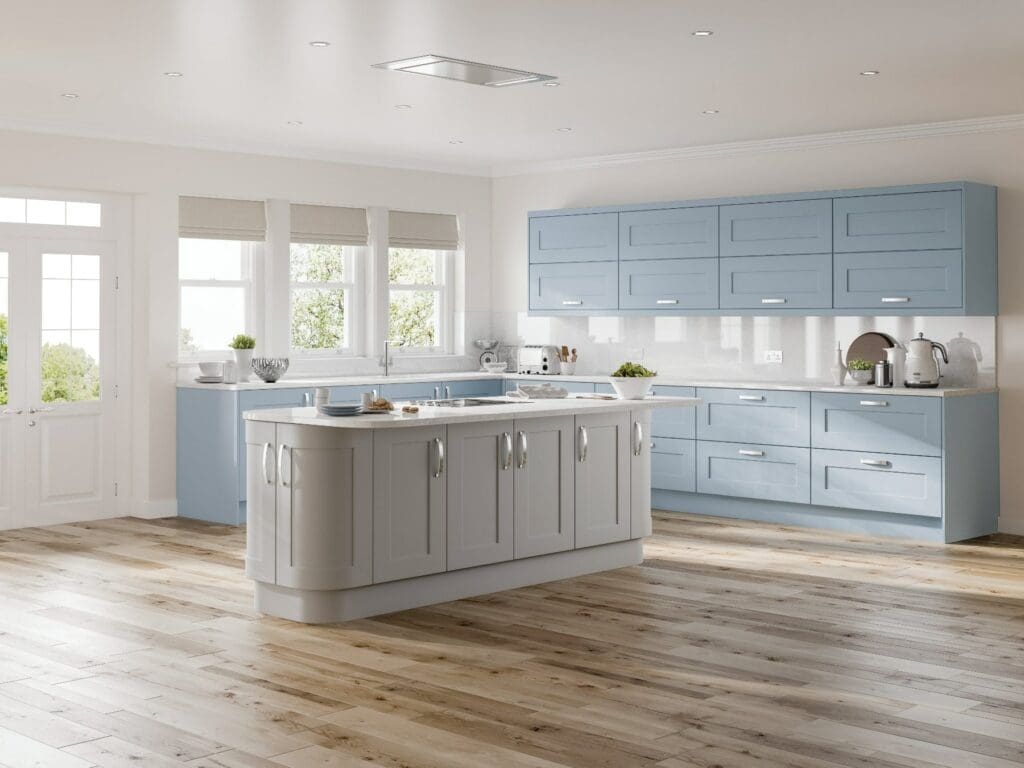 What worktops go best with a grey shaker kitchen?
There are plenty of choices regarding the type of worktop that works well with a grey shaker kitchen. With a bespoke kitchen design, you can discover a combination that works well for you, but first, you need to know what options are available and what colours work the best with grey shaker cabinets or cupboards.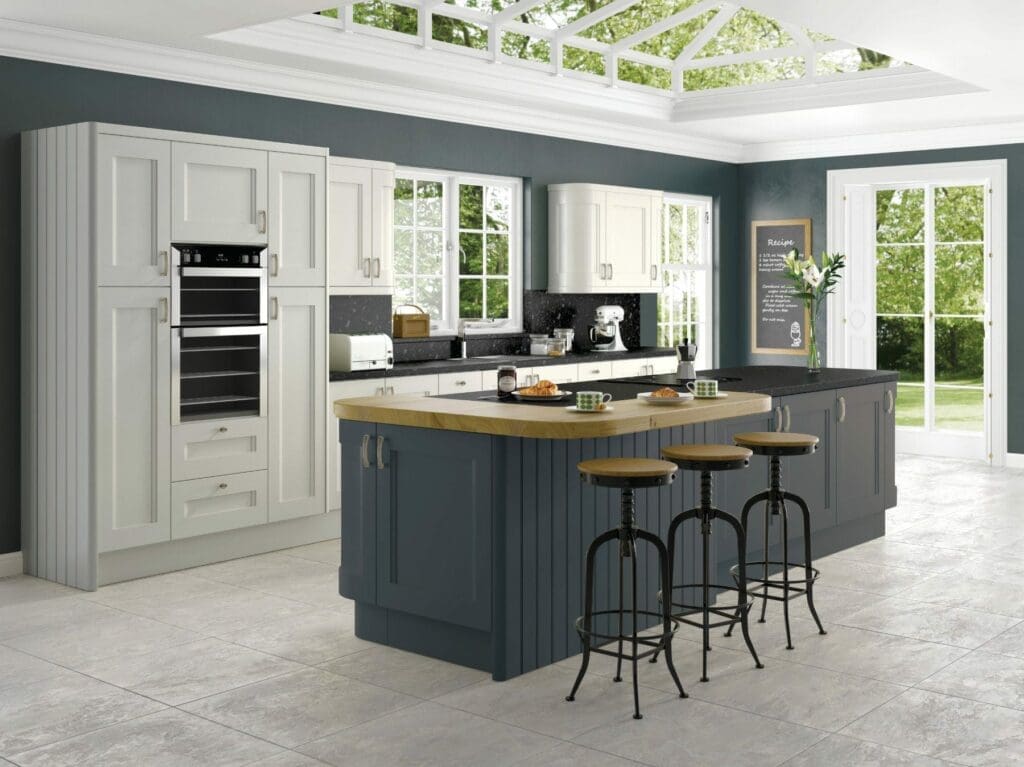 Worktop materials to choose from include:
Marble
Quartz
Butter Block
Stainless steel
Laminate
Limestone
A dark grey shaker kitchen, for example, with white marble, quartz or laminate worktop will create a fashionable and luxurious appearance. This sleek vibe would suit modern households looking to build a welcoming yet graceful home.
While white worktops are popular in a grey shaker kitchen, it isn't the only stylish choice. If you like bold and creative styles, why not go for a dramatic look with a charcoal worktop. An all-grey kitchen would have a charming yet high-end appearance, making you feel just as elegant.
Of course, those aren't the only two options, as you can showcase more style with an oak worktop or maybe prove more daring with a stainless steel one, and which will work well with its grey surroundings.
What flooring goes best with a grey shaker kitchen?
Since grey shaker kitchens have such a striking design, it is important to pair them with the right flooring. Just like the wide selection of worktops, there are also different flooring options you can choose from. Some of the most popular choices for grey shaker kitchens include:
Ceramic tiles
Vinyl
Hardwood
Laminate
Herringbone
Herringbone flooring is a popular option to combine with grey shaker kitchen units as it adds interest and depth to the room. The stunning quality of this flooring is that it is available in various colours, such as black oak, natural oak, walnut, and grey.
What Accessories Work Well With A Grey Shaker Kitchen
When designing a bespoke kitchen, you simply can't forget about the minor details, which are so key in making a kitchen look your own! You can add some personality to your shaker kitchen with various accents, appliances, and fixtures. For example, light grey matt kitchen cabinets with a white worktop and gold accents can add an elegant touch to a grey shaker kitchen. Or you can go one step further and incorporate white kitchen tiles for the floor, to create a warm and cosy vibe. Grey and gold are an excellent combination for a contemporary open-plan kitchen as they add warmth and texture to your space.
Alternatively, if you have an open space and want an industrial-style kitchen with grey shaker kitchen cabinets, you can achieve this using raw materials. If you have exposed brick, this is a bonus for this aesthetic; however, it can also be achieved through concrete, steel worktops, exposed wooden beams, or even feature wallpaper to give this effect!
As you can see, there are so many styling combinations you can gravitate toward to create your ideal kitchen; it's just about finding the aesthetic that you like the best and which works for your home.
While remodelling your kitchen can be challenging, you can't forget how fun it will be to pick key elements for your bespoke kitchen that you can enjoy for years to come. From picking out the right worktop to deciding which shade of grey you want for your shaker kitchen; you are building the foundation for a place your whole family will love.
. Just imagine how you will feel at the end, when you can sit down in your beautiful grey shaker kitchen, waiting for the kettle to boil for that first cup of tea in the morning, as the sun shines brightly through your kitchen window.
To make this dream a beautiful reality and help you in achieving your perfect grey shaker kitchen contact your nearest independent kitchen specialist today!
Design a grey shaker kitchen today, so you can enjoy it for years.
Subscribe to our blog for regular kitchen inspiration