Handleless Shaker Kitchens
Everything You Need To Know About The Handleless Shaker Kitchen Trend
We all know the saying, the kitchen is the heart of the home, and it is true. Seemingly everything starts in the kitchen, from preparing your kids' breakfast so they can tackle the day to making food before a night out with friends; ultimately your kitchen goes through a lot, which is why it should be a space you enjoy. A well-planned kitchen should feel accessible, stylish and functional. It should be an extension of who you are, such as your style and needs, whether you are feeding a busy family or wanting a space to entertain friends…
And one style that ticks all the boxes is a design that mixes traditional with modern, the handleless shaker kitchen. A design which will complement the interior décor of most homes, the handleless shaker can be easily adapted to suit different styles. Read on to discover more about this classic style with an unusual modern twist.
What is a handleless shaker kitchen?
A handleless shaker kitchen is easy to spot, thanks to the distinctive 'shaker' feature on the front doors, cabinets and drawers. Shaker kitchens feature a flat centre panel with an elegant frame. The frame can have grooves where each side of the frame meets, or you can have an all-around smooth appearance. A handleless shaker kitchen features all the classic design traits of the traditional shaker kitchen design, except for a dynamic, modern twist, which is that it's entirely lacking in handles! Instead of a protruding handle, there is a rail behind the drawer, which can be pulled open thanks to the gap in the embedded space. Alternatively, you can choose push drawers or doors, which feature a mechanism that allows the cabinet or cupboard to open when you push the front of the panel.
Is a handleless shaker kitchen modern?
While the shaker kitchen style is considered traditional, it has a simplistic, yet versatile nature which means it can be easily adapted to fit with a modern aesthetic. The minimalistic look achieved through the lack of handles is synonymous with modern kitchen styles, whilst clean lines will suit any style of home, regardless of era. As your kitchen's foundation, you can easily build on your handleless kitchen design, easily incorporating stylish elements to enhance a modern look and feel.  
Why Choose a Handleless Shaker Kitchen?
With so many kitchen styles and designs on the market, why exactly should you choose a handleless shaker kitchen? Here we explore the many benefits of this dynamic kitchen style, purposely designed to make a statement for your kitchen, whilst simultaneously enhancing your everyday lifestyle:-
Appearance  
Starting with the overall appearance of the handleless shaker kitchen, this is a crucial element to consider. The style you pick for your kitchen is what you will see every day when you cook or prepare meals, and so choosing the one that showcases your individuality while being functional is absolutely vital. And this is why a handleless shaker kitchen would look good in your home; the look is a style statement within itself- attractive, eye-catching and timeless too. They are also available in various stains, colours and woods, making it easy for you to infuse your style within your chosen design. 

Choice 
One of the best ways you can bring personality to your kitchen is by updating the colour. Luckily, with a handleless shaker kitchen, many colour options are available. From shades of grey, white and black to green, red, or blue, the handleless shaker kitchen palette continues to expand. And whilst it might seem too bold to have green or even red kitchen cabinets in your home, pairing your cabinets with the right worktop, flooring and accessories will work. An independent kitchen specialist can help you decide what colours and fixtures pair well with each other. Remember, the colour combination you select can significantly affect your mood, so choose wisely. 
Easier to clean  
With so many surfaces in your kitchen, from the oven to worktops, you already do a lot of cleaning. But by having a handleless kitchen, you are removing one cleaning obstacle and minimising your efforts! The handleless feature is far easier to clean compared with handled kitchens; in fact, in most cases, all you have to do is wipe down the surface of your shaker cabinet, as there are no awkward handles to clean behind.  
Safety
Another key benefit of a handleless shaker kitchen is that they offer a level of safety which protruding handles cannot provide. For example, how often have you been rushing around the kitchen and caught yourself on a handle? You already have enough hazards in the kitchen to worry about, such as boiling pans and hot surfaces; and you shouldn't be worrying about ripped clothing or bruised hips caused by protruding handles. So, with sleek handleless kitchen doors this simply can't happen, greatly improving the overall safety of your kitchen.
Ideal for smaller kitchens
As mentioned in the safety section, a handleless kitchen eliminates one of the hazards in your kitchen, as you can't bump yourself on a handle. This is also why a handleless kitchen is ideal for smaller spaces. And in a small kitchen where every bit of space is precious, a handleless style will give you just that bit more room for moving around your kitchen, regardless of the layout.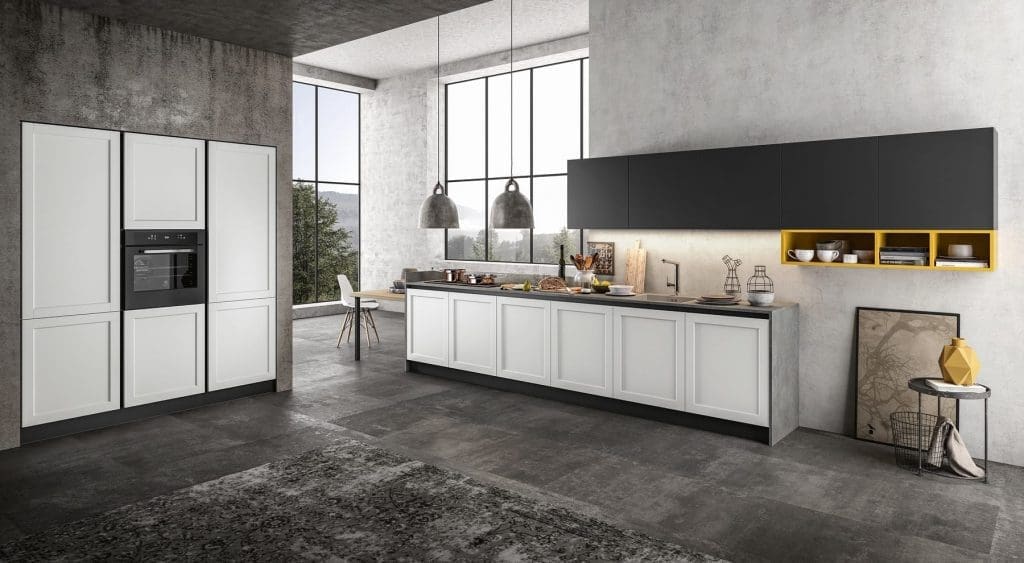 Will a handleless shaker kitchen look dated?
The beauty of a handleless shaker kitchen is that it will never look dated. The sleek, clean lines mean that the shaker style will complement various kitchen styles, from contemporary to traditional, ensuring you can create the kitchen of your dreams. Their simplicity also means that you could readily update your shaker kitchen with a new colour or even new accessories in the coming years, and they will still fit in with the latest trend. This is how versatile this kitchen style is and why it could prove the best kitchen option for you, your family, and friends to enjoy for many years ahead!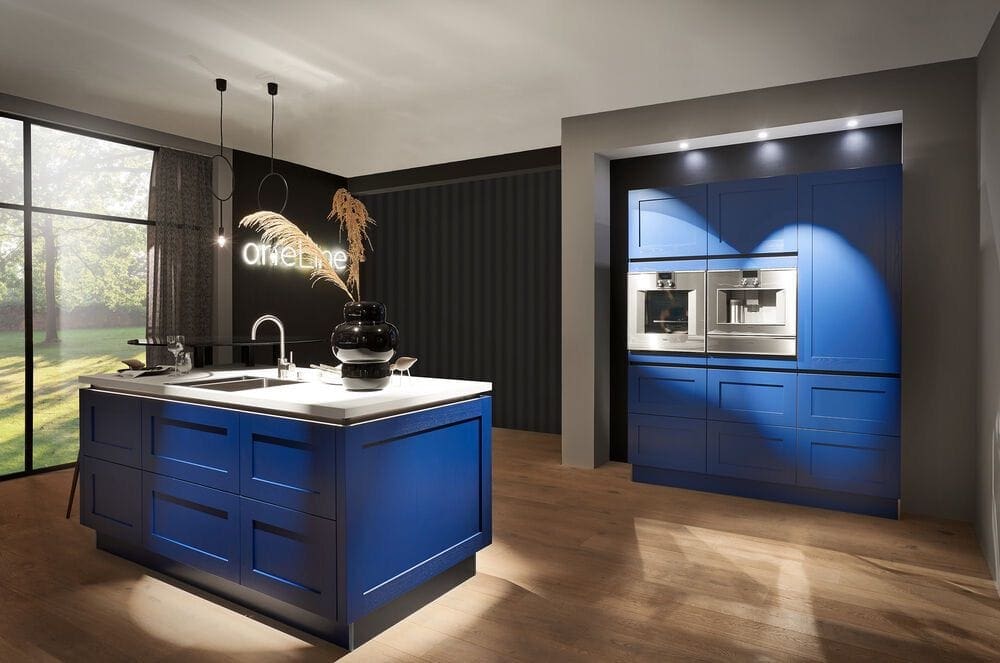 What worktops work well with a handleless kitchen?
The style and material of your kitchen worktop should complement the colour choice of your handleless shaker cabinets. For example, white marble pairs well with dark and light hues, as it exudes extravagance and class. The fresh tone of the marble can help you create a bright and airy monochrome style, or you could use white marble to contrast dark shaker cabinets, creating a sophisticated appearance. When picking your worktop, you should also consider what kind of durability you need and how you want the end result to look. Other worktop options include Quartz, Limestone, Tile, Laminate or wood.
A quartz worktop has similar qualities to stone and could be the durable option that ties your handleless shaker kitchen together. Quartz is not only visually appealing but also easy to maintain, which adds to the overall efficiency and maintenance of a handleless shaker kitchen. You can select the colour of quartz you want for your worktop, as it is available in different colours, including black, cream, white, light grey, brown or even red if you are feeling particularly bold.
When considering what worktop you want for your handleless kitchen, think about what colour combination would work well in your space and how this combination would appear under the natural or artificial lighting options you have in your home.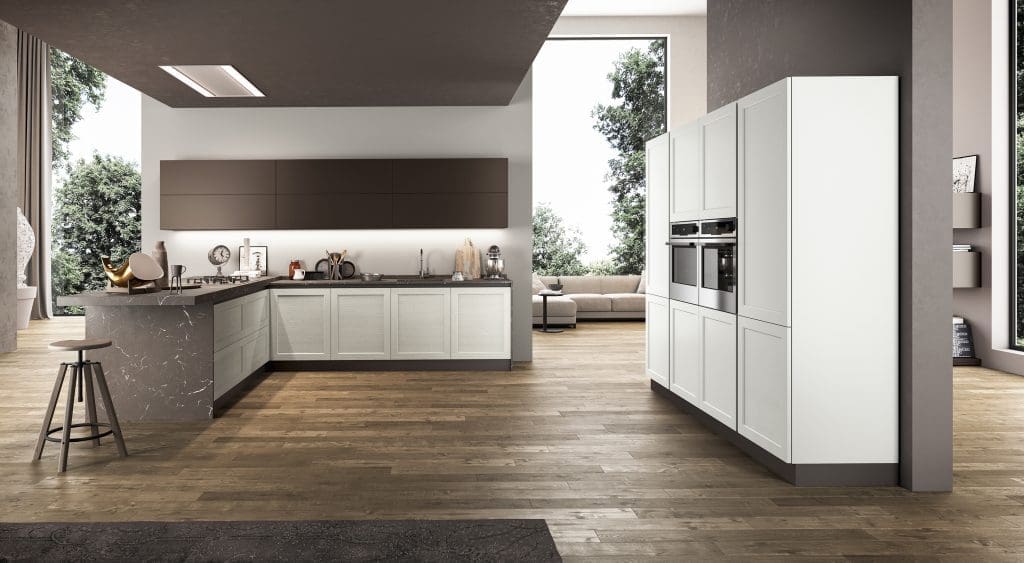 What Flooring Works Well With A Handleless Kitchen?
Just like your worktop, the flooring you select will be influenced by the kitchen style you want. For example, popular flooring choices include laminate, hardwood, vinyl, and tiles. On trend Herringbone wood flooring is a popular choice, as it adds texture to the sleek lines of the shaker doors, drawers and cabinets. There are also many different colours available for flooring, but the colour you select should complement the kitchen look and style you want to achieve.
How to complete your handleless shaker kitchen
After you have decided on the type of handleless kitchen you want and picked a worktop style and flooring, you should consider how you can tie your look together. After all, even the smallest detail matter and can influence your kitchen look. For example, by combining dark blue handleless shaker cabinets, a sleek white worktop, and a white tiled backsplash, you can create an open and airy space that is suitable for your entire family. The right accents can really enhance the entire aesthetic of your home, so choose wisely and think of how they will contribute to the overall appearance and functionality.
Overall, a handleless shaker kitchen can revitalise your space to create a welcoming environment that the entire family can appreciate for years to come. The timeless, statement style can be incorporated into various kitchen looks, from classic to ultra-modern; it all depends entirely on what style you want. 
Want to know more? …Talk to a Kitchen Specialist to create your bespoke handleless shaker kitchen today. 
Subscribe to our blog for regular kitchen inspiration