Modern Farmhouse Kitchens
The Modern Farmhouse Kitchen Appeal
A kitchen is more than just a room to prepare food. It is a space to bond with family, a place to chat with friends and a space to relax while enjoying your morning brew. With so many uses and functions, it is important to design this space right, as it should combine functionality with your style and needs. So, If you are looking for a kitchen design that is warm, inviting, yet functional with a modern twist, look no further than the modern farmhouse kitchen. This kitchen style uses modern features with rustic elements to create a timeless space that you, your family and your friends can enjoy for years to come.
Read on to discover more about modern farmhouse kitchens and how you can transform your space effortlessly with this design.
What Is A Modern Farmhouse kitchen?
A modern farmhouse kitchen is an extremely popular trend you will have seen everywhere on social media platforms. If you are looking for a kitchen that offers a comfortable, rustic and stylish design, then a farmhouse kitchen, with its cosy aesthetic, will be the perfect solution.
Different elements are incorporated into a modern farmhouse kitchen, including natural textures and materials, such as oak, along with neutral tones and bright, bold hues, depending on your style. So, for a style that's still in tune with natural and rustic elements, a modern farmhouse kitchen is the aesthetic you want, still using that foundation but with the addition of contemporary elements and features.
What is the difference between a Traditional and Modern Farmhouse kitchen?
There are many differences between a traditional and a modern farmhouse kitchen, though both are equally as beautiful. The key distinction between the two is that a traditional farmhouse leans towards a maximalist sensibility, whereas a modern farmhouse has a more minimalistic aesthetic.
A modern farmhouse kitchen is not going anywhere soon, as this design boasts comfort and warmth while staying in line with a contemporary aesthetic. Elements of a traditional farmhouse kitchen are still present today, they just have a modern twist, and both elements work in tandem with each other. Ultimately, a modern farmhouse kitchen is inspired by the interior décor of a traditional or classic farmhouse kitchen but incorporates modern elements to keep up with the changing times.
Modern Farmhouse Kitchen Ideas
If you want to design a modern farmhouse kitchen but don't know where to start, check out these ideas to inspire your design choices!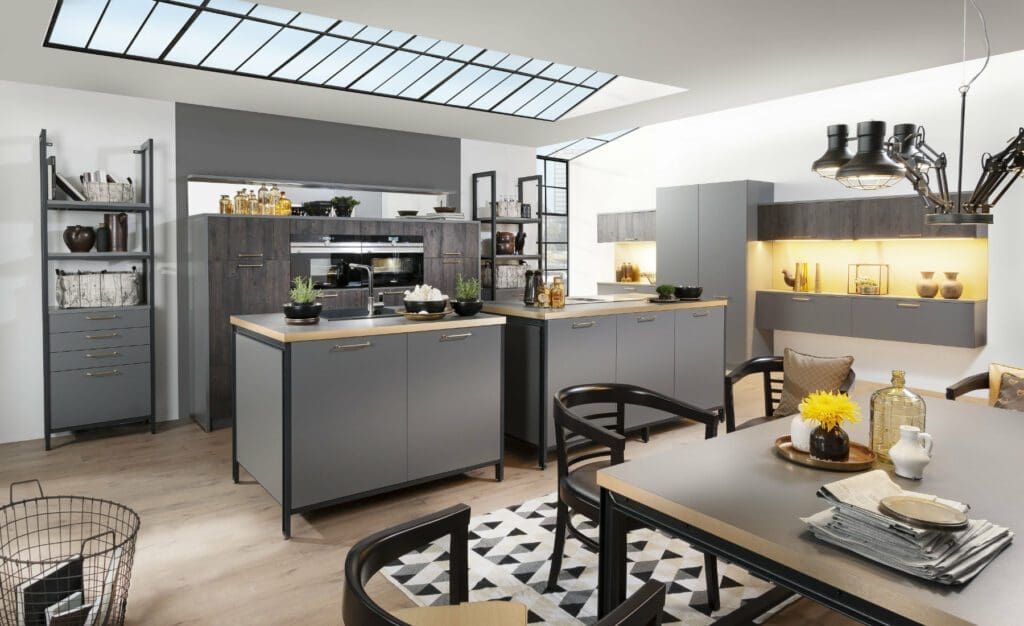 Modern Farmhouse Kitchen Sink
A farmhouse sink is a common modern farmhouse kitchen accessory that could influence the rest of your kitchen look, style and layout. A farmhouse sink is a beautiful deep sink which has an exposed front-facing side. Farmhouse sinks are not just a staple piece for farmhouse kitchens; they are also very efficient when you need to soak larger pots, dishes and pans. After all, we all know how much of challenge big pots are to wash in a smaller sink! If you have a hectic household, a large family or like hosting parties, a farmhouse sink is a great feature to have in your kitchen. Plus, a large farmhouse sink is a great place to store dirty dishes if ever you have unexpected guests!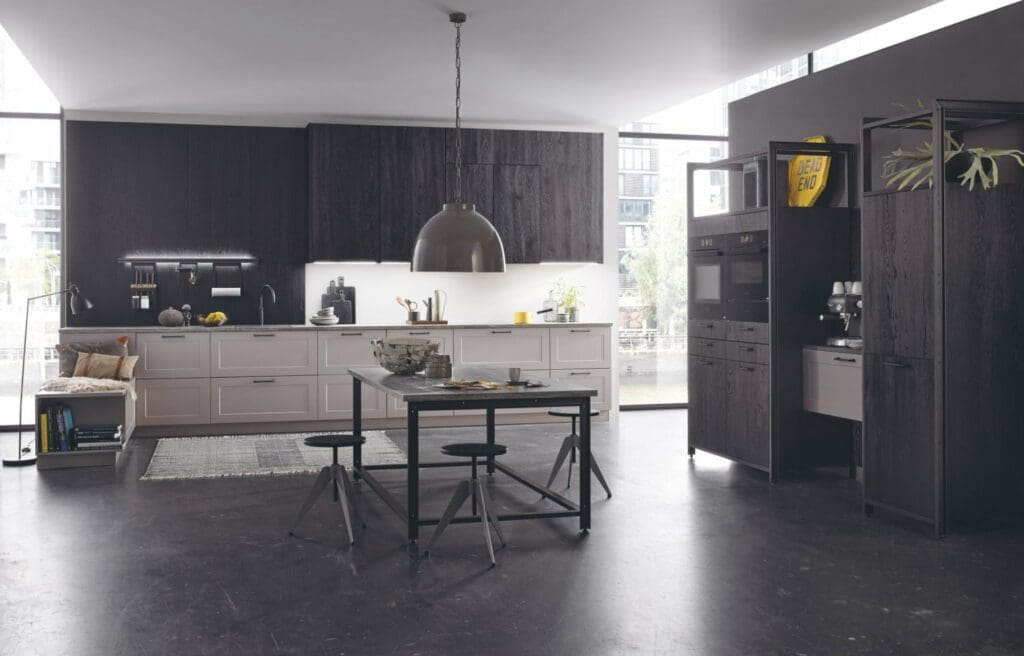 Tiled Splashbacks
While popular farmhouse kitchen tiles are typically white or grey, that doesn't mean you have to stick to those colours! Instead, think outside the box and add some personality to your tiled backsplash! After all, the latest modern farmhouse kitchen trend is to incorporate patterned and vibrant tiles for your backsplash. A colourful backsplash could help break up an otherwise neutral farmhouse kitchen and creates a focal point in your kitchen that guests will be drawn to when they enter.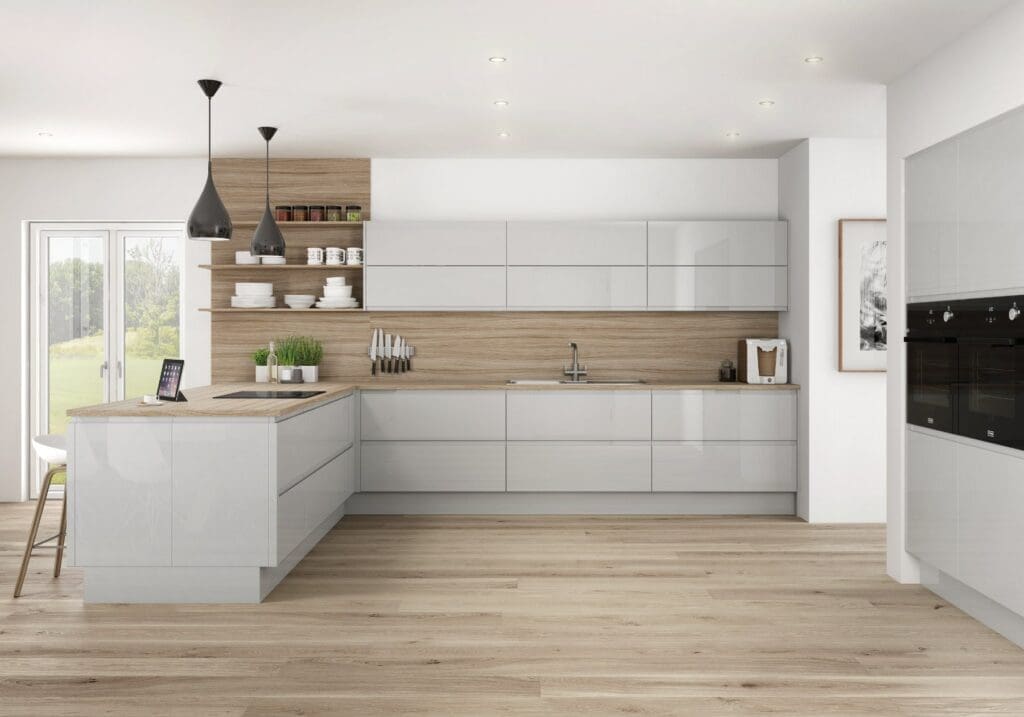 Open kitchen Shelving
Another modern farmhouse kitchen idea is to incorporate rustic open shelving. Opting for wooden shelves to display your dishes can add a pop of colour to your space and make it easier for you to grab your necessary bowls while cooking. This technique is especially beneficial when you have colourful or interesting dishes in your collection, as they can add intrigue to your space without adding unnecessary clutter.
Open shelving also makes you think about what bowls, plates and cups you own, which is excellent if you choose a more minimalist approach.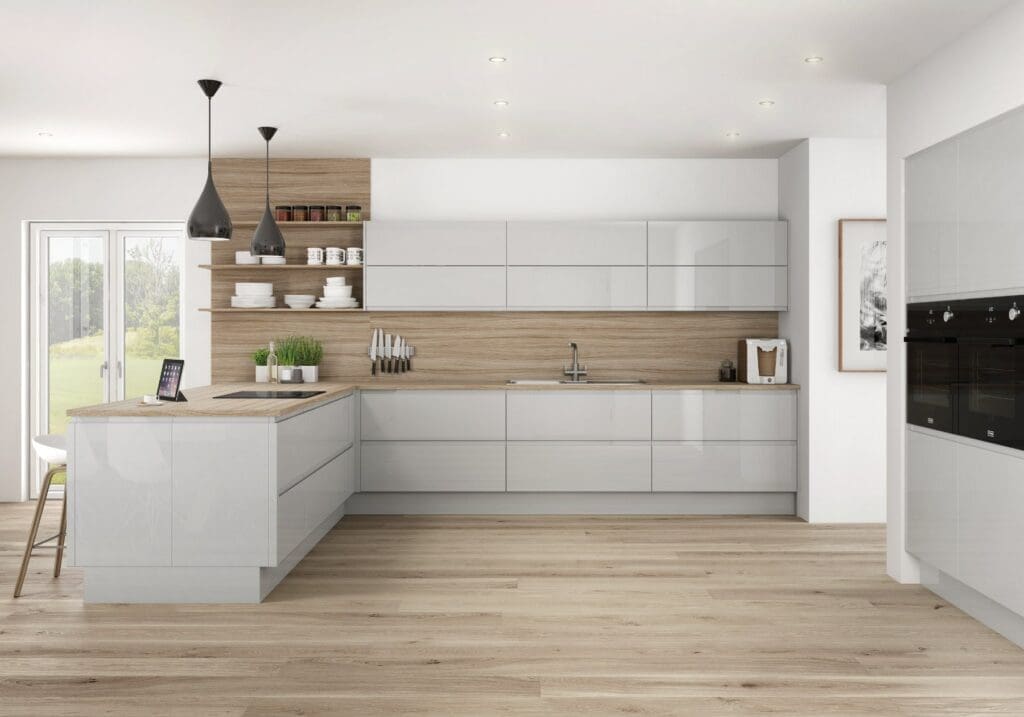 Bold kitchen Colours
While whites, beiges and greys are the foundation colours for a farmhouse kitchen, that doesn't mean you can't incorporate bold colours. You can include a two-toned colour scheme for your cabinets, such as navy blue or grey. You can also combine boldly painted kitchen cabinets with rustic finishes. You could even create a cosy farmhouse nook with brightly coloured furniture, such as bold, vibrant stools next to a wooden table. Imagine sitting in your little farmhouse nook, sipping on a cup of tea and reading a book in the morning, while the sunlight streams through the window!
Accent colours on the ceiling are also a popular trend in modern farmhouse kitchens, bringing an unexpected pop of colour. While this technique is more suited for the bold, anyone can incorporate it into their farmhouse kitchen; just make sure it complements your kitchen and is a colour you enjoy!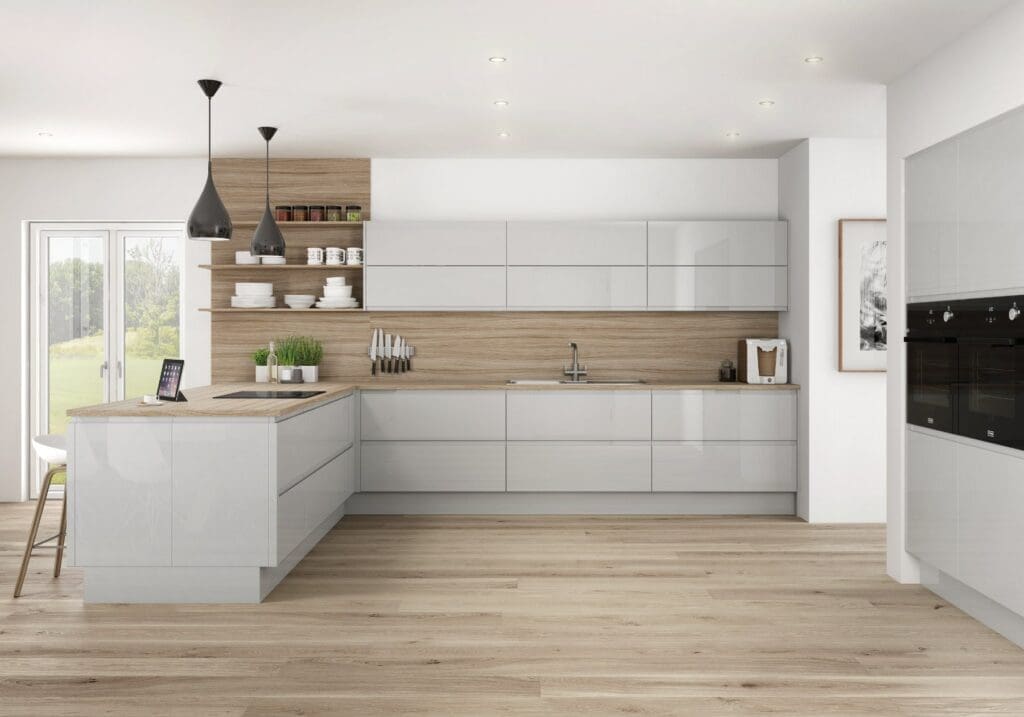 Modern Farmhouse kitchen Flooring
If you want to create a rustic yet modern farmhouse kitchen, you need to consider what flooring works best for your style and needs. One of the most traditional yet widely popular flooring options is traditional hardwood flooring. Due to the durability of hardwood, this flooring option remains popular today and will stand the test of time. But other flooring options for your modern farmhouse kitchen include Country Vinyl, Farmhouse tile, Stone tiles and patterned floors.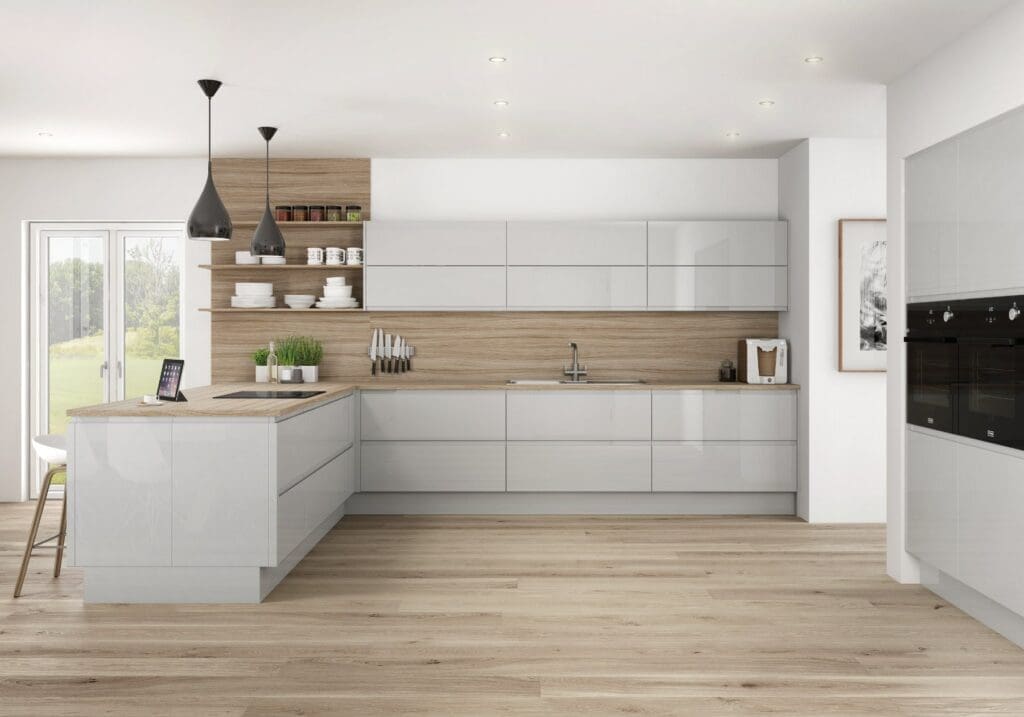 Modern Farmhouse Island Kitchens
A farmhouse kitchen island could be the best feature to include in your home if you have floor space. Modern farmhouse kitchens should be warm and welcoming, and what better way to welcome family and friends into your kitchen than with a place to gather, chat and prepare food.
A large kitchen island with rustic stools and carefully placed accessories could be the focal point of your kitchen. The beauty of a kitchen island is that it is versatile, and you can chat with friends, play games with your family or integrate it as part of your prep and cooking space. There are so many possibilities, and the purpose can change over time
Are Modern Farmhouse kitchens On Trend?
While traditional farmhouse kitchens have been a trend for years, the modern farmhouse design has only recently become popular. This homely aesthetic might have traditional roots, but that does not mean it is outdated; in fact, the warm and modern twist transforms this style into a timeless aesthetic. The many elements you incorporate into a modern farmhouse aesthetic will be popular for years, and some may even conform to the next big trend. Regardless of the trend, the main factor you should consider is whether you feel comfortable in your kitchen and if you like the style.
How To Achieve A Modern Farmhouse Kitchen Look!
Creating a modern farmhouse kitchen is about creating a welcoming and comforting interior with patterns, colours and layers. Elements to consider include:
Exposed Rafters – Embracing some of the architectural elements of your home is a key way in which to transform your modern kitchen into a farmhouse kitchen aesthetic. Wooden beams or brick walls can create a farmhouse aesthetic, with far more character compared with traditional drywall and plaster.
Timber cladding – Timber cladding is not just an effective way to insulate your home; it is also a way to add a farmhouse touch to your kitchen. Timber cladding will affect the appearance of your kitchen and can even be added to the exterior of your property for a modern farmhouse look.
Furnishings – One of the easiest ways to incorporate a farmhouse kitchen style into your home is by pairing multiple patterns and materials together. Try natural materials, such as wood and brick and pair them with textures, such as wool, wicker and faux leather, to create a cosy farmhouse vibe! Maybe you could incorporate a throw and pillows into that cosy little kitchen nook we mentioned earlier. Or, maybe you could hook some bold accessories from the exposed rafters.
Accessories – The quickest, easiest and most affordable way you can transform your modern kitchen into a modern farmhouse kitchen is by using carefully selected accessories. For example, popular farmhouse accessories include mason jars, fresh flowers, white dishes, wooden utensils and even a China cabinet. When selecting your farmhouse kitchen accessories, remember this style's key element – keep it functional. Don't accessorise with decorations that you cannot use or decorations that may get in your way while using the kitchen.
Modern farmhouse kitchens are the latest trend, thanks to the warmth and comfortability they offer, but that doesn't mean they won't stand the test of time. You can transform your kitchen space into a timeless masterpiece with the right materials and accessories. If you are struggling to create a kitchen that meets your needs and style, don't hesitate to reach out to an independent kitchen specialist. Independent kitchen specialists can help you create the kitchen of your dreams while considering fundamental factors you might not have thought of while designing your kitchen.
Do you want to create a modern farmhouse kitchen for your home? Contact your nearest Kitchen Specialist today! 
Subscribe to our blog for regular kitchen inspiration