Modern Grey Kitchen Cabinets
How Modern Grey Kitchen Cabinets Will Transform Your Home
The kitchen is the heart of the home. You cook, entertain, and might even have family chats in the kitchen, so investing time and money into the design is essential. You want to create a kitchen that is not only aesthetically pleasing but functional, easy to manage and timeless.
But, how do you gain a stylish yet practical kitchen? Modern grey kitchen cabinets might be the answer, as they can transform your home in an elegant and sophisticated manner. The trendy, grey kitchen style is a modern twist on the standard white or black cabinets, and, unsurprisingly, this colour is now present in many households.
Are grey kitchen cabinets trendy?
There is an extensive range of designs and styles of kitchen cabinets on the market, which is why choosing the right one for your home can be challenging. Many interior designers and homeowners select grey cabinets for the kitchen as they are a timeless and versatile addition to the home.
Over the years, grey is becoming the popular choice for kitchens. But, it is not going out of fashion any time soon. This trendy, contemporary cabinet choice is sleek, eye-catching and works well with various interior design options. With a selection of hues and undertones, you can find the one that suits your needs and style.
Why is grey a good colour for kitchen cabinets?
There is something charming and elegant about using grey for kitchen cabinets. This colour is popular because it can be relaxing, while the neutral variations of the colour can provide comfort and warmth. But, there are many more reasons why this colour is suitable for kitchen cabinets.
For example, grey might be a beneficial option if you have a busy, bustling household as it does not show dirt the same way white would. While you need to clean white cabinets more often, especially when your kitchen has high foot traffic, grey cabinets make smudges or stains less noticeable.
Light grey kitchen cabinets will also make your space feel airy and bright, which is beneficial if you are working with a small kitchen space. One of the most significant benefits of choosing grey for kitchen cabinets is compatibility. You have the freedom to pair grey cabinets with an array of countertops, from laminate to marble; the choice is yours. You can pair grey cabinets with various countertops, making it even better for those working within a tight budget. You can select beautiful but affordable options, such as granite, butcher block, wood or ceramic tiles.
Grey cabinets will also stand the test of time, which will save you money in the long run, even if you decide to change the interior décor of your home. Whether you have a traditional kitchen design or a modern one, you can pair grey cabinets with various finishing touches and furnishings to make them complement your changing style.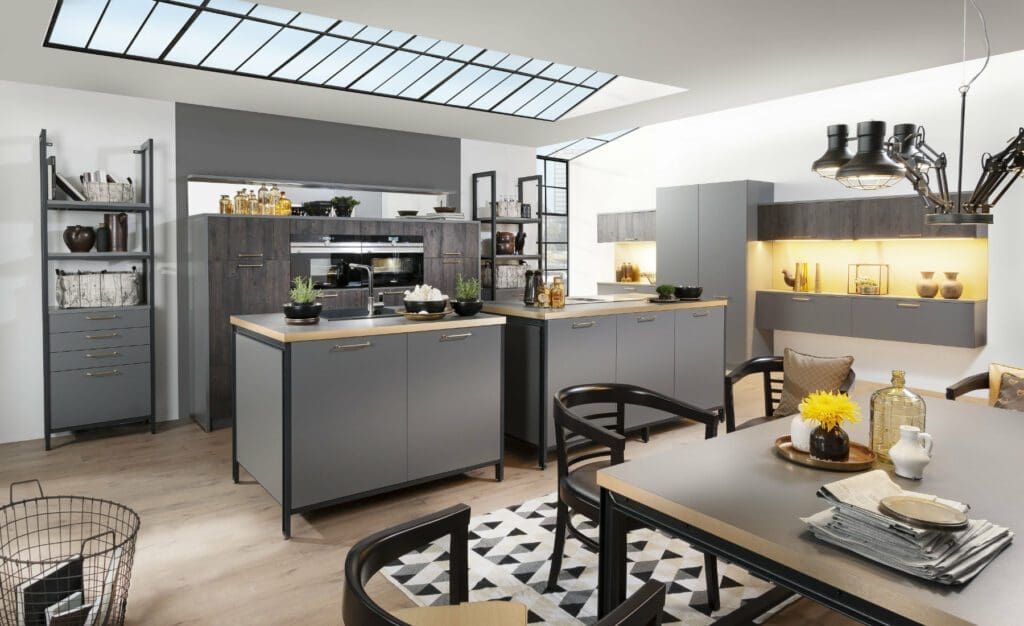 What is the most popular grey for kitchen cabinets?
There is no one size fits all when it comes to selecting the perfect hue for your grey kitchen cabinets. What hue you select for your cabinets depends on your personal preference, kitchen layout, and natural light.
One of the best elements of grey cabinets is that you can select the undertones or hues that suit your personal style. From green-grey and blue-grey to solid grey, the choice is yours.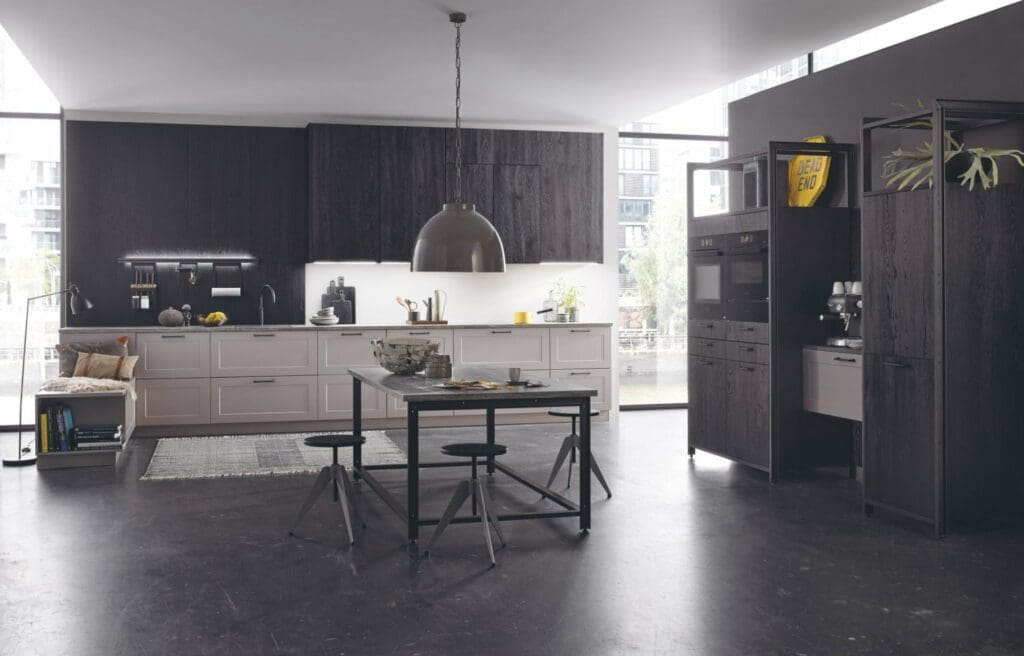 Dark grey modern kitchen cabinets
If you are looking for eye-catching cabinets to add a sophisticated touch to your kitchen, then you should try dark grey kitchen cabinets. Dark kitchen cabinets are popular amongst homeowners who want a neutral colour palette to work with, especially to complement kitchen accents.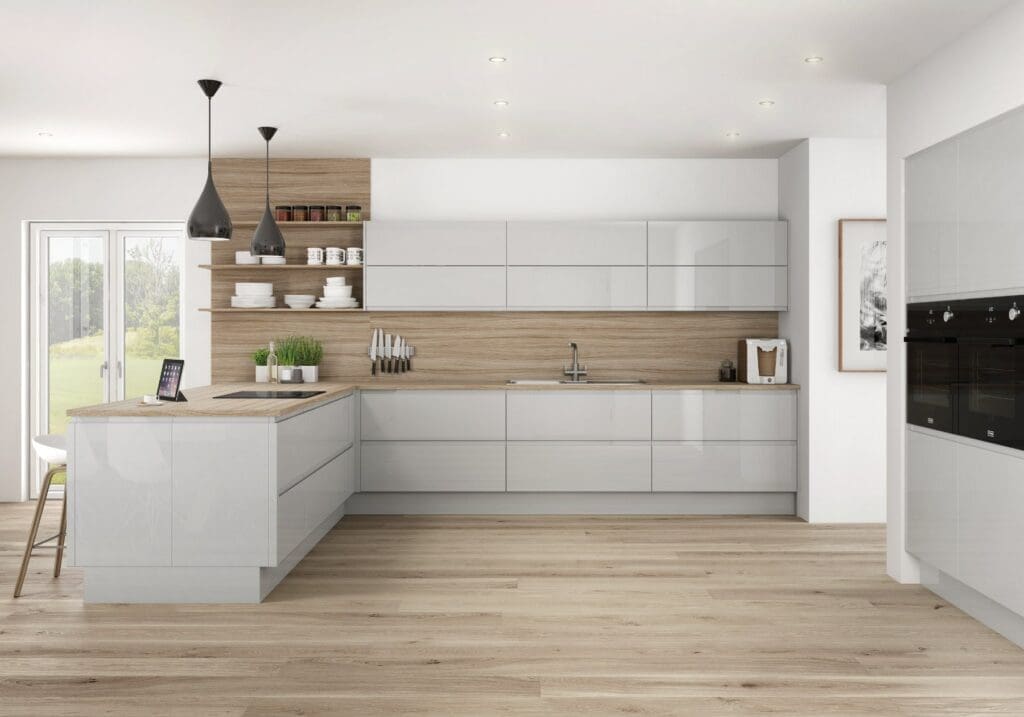 Light grey modern kitchen cabinets
If you have a small space with limited natural light, you should select light grey modern kitchen cabinets. Lighter shades of grey will make your kitchen feel spacious, warm and bright. These neutral cabinets will make your kitchen feel welcoming and allows you to feel at ease, which is what you want when you are having your morning beverage.
Are grey kitchen cabinets expensive?
Understanding the exact cost of your new kitchen cabinets can be tricky, as different factors influence it. For example, your kitchen's size, design, and specifications will impact the overall cost.
Luckily, there are different types of kitchens to suit various budgets. You can even find cheap kitchens which start from below £1,000. However, these are usually flat-packed and do not include worktops. Budget kitchens are only one option,
as you could also look at second-hand kitchens or bespoke kitchens, with bespoke kitchens being on the more expensive side of the scale.
On average, each kitchen cabinet will cost £20 to £70, whereas per wall unit will cost around £20 to £50. However, premium quality kitchen cabinets, such as high-gloss cabinets, will cost anywhere from £70 to £130 per cabinet.
How Do You Choose The Best Grey Kitchen Cabinet For Your Home? 
Budget – Before jumping into the style and design of your cabinets, you need to consider what your budget is for your kitchen revamp. Allocating a budget will help you decide which cabinets to get and where you can cut costs.
Selecting the hue or undertone – There is a lot more to grey cabinets than just the colour grey. Red, blue and yellow hues or undertones also influence how warm or cool the grey will appear. Consider what type of feel you want your kitchen to have; lighter or darker hues will transform your kitchen in different ways.
Painted or stained – You will also have to select whether you want painted or stained grey kitchen cabinets. Painted kitchen cabinets will cover the material's grain, while a stained finish will enhance the existing wood grain. Painted cabinets will be easy to clean, but the textured appearance of the stained cabinets gives them a unique appeal.
Consider the countertops – Grey kitchen cabinets work as a neutral hue, making them work well with almost any colour and type of countertop. Lighter countertops work best with grey cabinets, as the contrast will make your space appear bigger, which is especially beneficial if you have a small kitchen space.
White countertops are a popular choice for homeowners, but if you have a busy household, you should select a countertop material that is easy to wipe clean, such as quartz, linoleum, laminate or stainless steel.
You could also opt for a popular monochromatic look, with is done by pairing a grey countertop with your grey cabinets. This style is a popular option if you have colourful or metallic accents and appliances, which will stand out against a monochromatic design.
Other popular countertop options include cream, beige or darker or earthy countertops. It would help if you considered what colour countertops would work well with your space, lighting and needs.
Kitchen designer – If you are completely stuck on how to design, plan and install your kitchen cabinets, you can consult a professional. Kitchen designers will use their expertise to offer innovative ideas for your kitchen space. Whether you need help with the fixtures and fittings or want assistance with the best layout for your room, a professional designer can help.
What colours pair well with grey cabinets?
The finishing touches will bring your entire kitchen together. Luckily, grey cabinets pair well with various countertops, backsplashes, cabinet handles, or even countertop accessories. However, the most popular accent colours that are said to complement a grey kitchen colour scheme include:
Pastel Blue
Creams
White
Green
Navy blue
Metallic tones
Natural timber
Red
While red accents provide a more retro look, metallic tones will offer a modern appeal. The difference in fixture colour showcases how carefully selected accents can change the entire aesthetic of your kitchen. You simply have to choose the colour combination that suits your personal style and needs.
You could pair grey cabinets with warm colours and materials such as wood and bold accent colours to create a welcoming and modern environment. You could also pair light shades of grey with white walls, making your kitchen look and feel bright and airy.
If you are looking for eye-catching accents, metallic tones, such as silver, gold, bronze and copper, will pair well with your grey cabinets. These metallic accents will make your kitchen look modern and elegant, especially when you pair your grey cabinets with metallic fixtures such as pendant lights, handles and even a matching tap.
Summary
Grey kitchen cabinets will be a popular trend for years to come, but incorporating them into your home will be entirely up to you. Only you know how you utilise your kitchen, what functional elements you need and what style will make you happy to walk into the kitchen in the morning. While grey kitchen cabinets are a relatively modern trend, you can still incorporate a traditional style thanks to the array of accents you can pair with grey.
Subscribe to our blog for regular kitchen inspiration