Modern Kitchen Island
Why Choose A Modern Kitchen Island? 
Kitchen islands provide a great way of adding extra worktop space and storage to your kitchen. You may also want to use the island as a dining area, appliance space (think breadmaker or mixer) or even add a sink. With the modern kitchen island being in the central part of the room, prepping and cooking food becomes more enjoyable as you can see what the family are doing and even keep a watchful eye over the children.
What can you use a kitchen island for?
A kitchen island can be a great place to eat breakfast or dinner or to study or do homework. You can also use it as a bar for entertaining guests. Alternatively, if you lack storage in your kitchen, how about using the island to house cupboards and shelves? It's surprising just how much you can hide away within a central kitchen island.
Some busy mums and dads also use the kitchen island to hold kid-friendly kitchen equipment, such as a microwave. With the island being the perfect height for little people, it's no problem for them to get home from school and pop in a microwave snack. The same thing applies if they wake up early feeling hungry and you fancy a lie-in at the weekend – fill the freezer with a few kid-friendly foods (making sure you use the low shelf to store them) and the problem is solved!
When space is no object, sinks, refrigerated drawers or cupboards and even extra cooking hobs can be added to the island. Don't worry about the connections for plumbing or electrics, as your kitchen installer will be able to take care of this.
Modern kitchen island styles
There are many different styles of kitchen islands to choose from, so you can find one that fits your personality and needs. Whether your preference is ultra-modern or more farmhouse kitchen and traditional, there is a kitchen island to suit you. Depending on your budget, you might wish to get your island purpose made by a local craftsman. This way you can add as many styling details as you wish, even including recycled materials.
On the modern side comes the 'waterfall worktop'. This is when the countertop covers the sides and the top of the island, giving an easy-clean and luxurious look. It also makes the sides of the island more resistant to knocks and scrapes so do consider this if you have children and pets. /a
Is your kitchen open-plan? Maybe the island can be used to divide the seating area from the food prepping space. Open-plan layouts can look fantastic but if the space is too large, may start to look and feel a little empty. Deal with this by using the kitchen island to divide one large area into zones. Talk to your designer and they may decide to create a longline island, acting as a physical break between the kitchen and living/dining area. The side of the island facing the living space can remain plain or maybe add bookshelves. After all, you can never have enough books or shelves to keep them on!
When creating your kitchen island, don't get too caught up with using popular materials. Surfaces like marble may look high-end but aren't always practical as they can be porous and scratch easily. If marble is a must-have, get your kitchen designer to include a wooden block for cutting and chopping. Mixing materials is also a good visual treat for the eyes.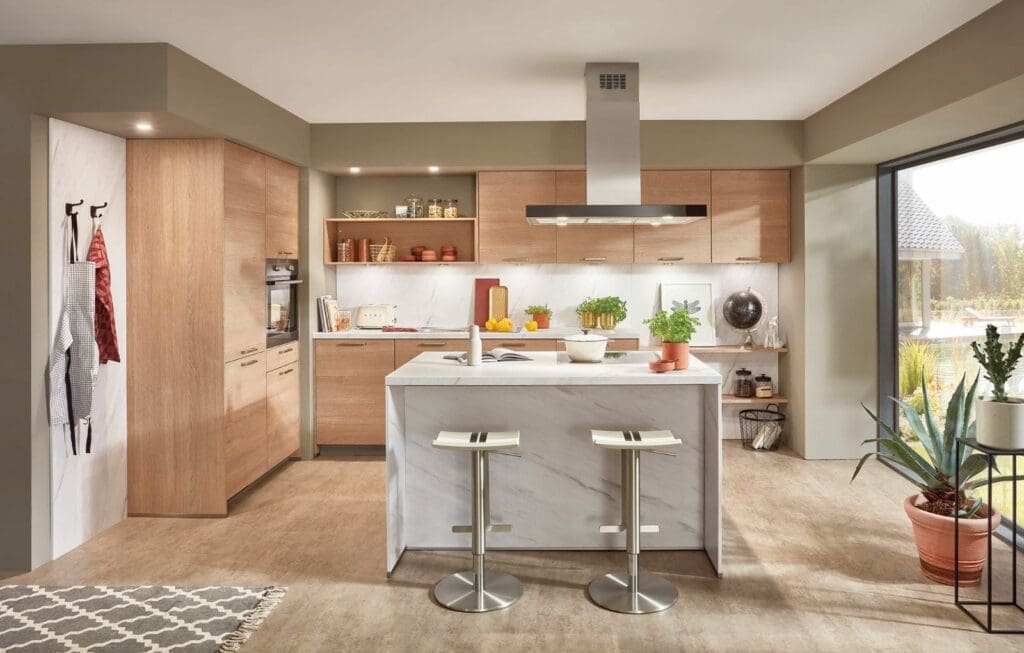 Modern kitchen island with seating
Kitchen islands with seating are also a great idea if you have a large family or simply want to accommodate children and their friends. Add a few stools and you can easily make the most of your new space! If this is the case, your designer will need to include plenty of legroom to accommodate comfortable seating at your kitchen island. After all, there's nothing worse than trying to eat with your legs banging against the island carcass! By leaving room for legs and stools (or chairs), they can be pushed in when not in use, leaving the area around your island free from clutter. As far as kitchen island seating goes, you don't have to stick with standard wooden or metal bar stools – consider upholstery as well as varied materials such as bamboo. If you want your seating to swivel, this needs extra space too so don't forget to tell your kitchen island designer!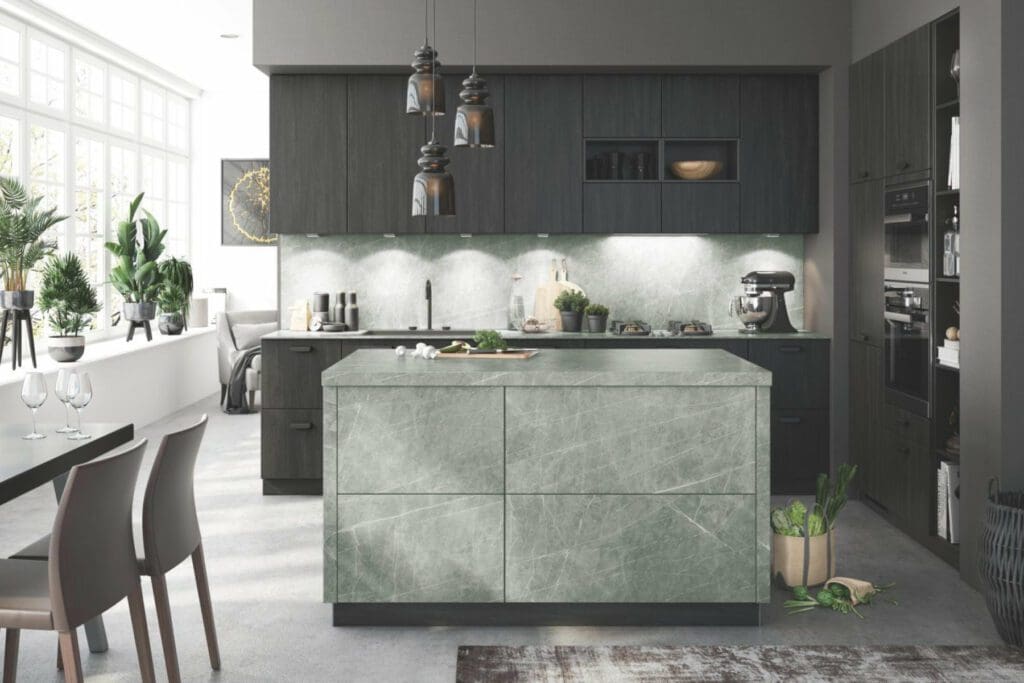 Small modern kitchen with an island
Some homeowners shy away from kitchen islands, thinking that their small modern kitchen will simply look too cluttered with one. However, this isn't always the case. But how much space do the experts state that you should allow in your small kitchen for an island? In general, allow for about 42-48 inches of open space on each side. Others may tell you that if your kitchen width is under 13ft, an island probably isn't the best idea. But you don't necessarily have to agree!
One way of getting around the space problem is to add castors to your kitchen island. Wheel it out when you are preparing meals or having a baking session and push it back to the side when finished. This turns the phrase 'moveable feast' on its head, as it's the prep area you're moving rather than the finished meal! If your kitchen is on the small side, this is the way to go.
Modern kitchen island lighting
Good interior design has to include lighting and this is never more vital than in a kitchen. You need to be able to see what you preparing and cooking. Imagine creating what you think is a beautiful pot of vegetable stew, only to take it to the dining table and realise that the colour looks more like dishwater! Cleanliness is also a big issue in the kitchen. Poor lighting can detract from numerous nooks and crannies that are great hiding holes for dropped pieces of food and oil splashes. Sufficient lighting is the answer to healthy kitchen hygiene as you can see exactly where to brush and scrub.
The island countertop needs plenty of light if it's being used for food prep and cooking. If it's acting as an eating area, you might
wish to opt for flexible lighting that can be raised and lowered. Bulbs can also be dimmed for when you are dining.This helps to create just the right ambience and ensures that everyone in the family – and guests – feel relaxed and comfortable whilst eating.
Because lighting can do so much to change the look and feel of your kitchen, it's worth considering the most suitable types of modern kitchen island illumination. As well as considering practicalities, much will depend upon the mood you want to create and your style of décor.
Let's look at a few options:
Adjustable rise & fall pendant lights – this type of lighting is highly flexible and the weighted pulley system allows them to be raised and lowered according to need.
Chandelier – we couldn't leave out this favourite! You don't have to go for something humungous that would look better suited to a dance hall but choose a chandelier that fills the space nicely with plain or coloured glass/crystal to match the décor. Don't forget to include vintage kitchen island chandeliers in your search – if your island is sizeable, you might even get away with a matching pair of illuminants.
Extractor fan with lighting – if your hob for cooking is set on the kitchen island, then consider a dual-purpose extractor fan with lighting set in the ceiling above. Ensure that the hood covers the whole width of the hob otherwise it won't work efficiently.
Use wipe-clean materials – glass, metal and ceramic are all good. Stay away from fabric light shades as they will absorb kitchen odours and splashes of oil used in cooking.
How to plan the best modern kitchen island
There is one golden rule to stick to when planning your best modern kitchen island – always talk to an expert. Even if you are good at DIY or have a friend that is a carpenter, the best kitchen islands are produced with a plan in mind. Kitchen islands tend to be multi-functional, so choosing the right size, location and materials is key. Decide on your budget, then sit down with a kitchen planner, and discuss what you want your island to do. The most well-used kitchen islands are those that are multi-purpose. If you want your island to provide a food prep area with vegetable or utensil storage underneath, this will be the focus of the design. If the purpose is more aimed at extra dining space with seating for several people, then the design will need to reflect this.
Subscribe to our blog for regular kitchen inspiration