Modern Shaker Kitchen
The Modern Shaker Kitchen Lifestyle
Isn't it true that everything seems to happen in the kitchen? …Family gatherings, morning coffee after the school run, and even the chats you would only have with the closest of friends. With the kitchen being a focal point of every home, it is important to look after it, which means incorporating a functional yet aesthetically pleasing style. So, why not consider a traditional kitchen with a modern twist for your home, such as a luxury modern shaker kitchen design. To discover more about the modern shaker kitchen, read on to find all you need to know!…
What is a modern shaker kitchen?
While a shaker kitchen sounds slightly retro, it actually combines modern sophistication with timeless, lasting style; the perfect choice if you are looking for a minimalist yet welcoming vibe for your kitchen. The modern shaker kitchen design has two main principles: simplicity and functionality, which is beneficial for hectic households in need of some calm! With the clean lines and balanced proportions, you will see how this kitchen style will make you feel at ease during your morning brew, or else in the evening when you want a moment to yourself.
What do modern shaker kitchens look like?
Modern shaker kitchen cabinets, doors and drawers stand out from the crowd as they feature a flat centre panel and square edges, complementing the minimal detailing. The symmetrical pattern that most shaker cabinets have offers a sense of tranquillity we mentioned before, which is perfect for households looking for a little bit of order. As well as meticulous craftsmanship, this kitchen design also offers a very versatile character; you can easily pair shaker kitchen doors with modern designs, features and accessories to create a one-of-a-kind, sophisticated kitchen design. Different colours and bespoke finishes will also help make your modern shaker kitchen more suited to your individual style and needs.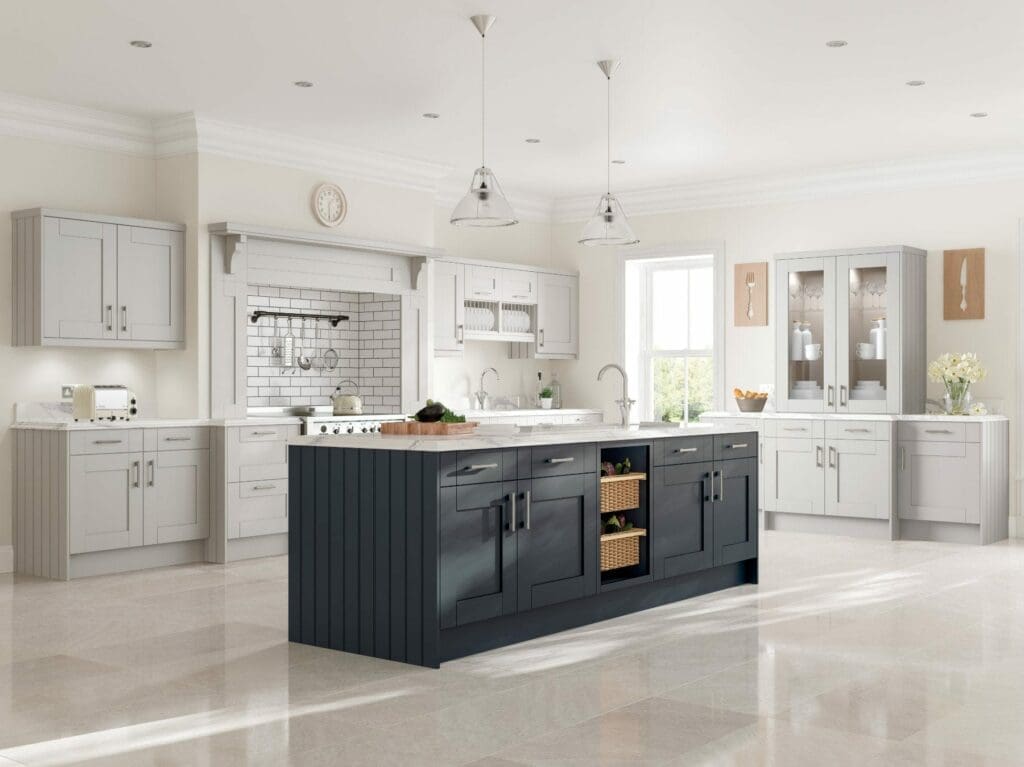 Are Modern Shaker Kitchens on Trend?
Traditional kitchen designs like shaker kitchens remain on-trend today and are known for their simplicity and neutral colour palette. However, many have incorporated modern on-trend colour schemes, such as light grey, black, blue or forest green. This modern twist on tradition has revitalised a past trend to create a modern yet timeless new kitchen aesthetic that we are sure you will love.
If you want a shaker kitchen with striking, contemporary colours that make a statement, this could be the kitchen trend for you.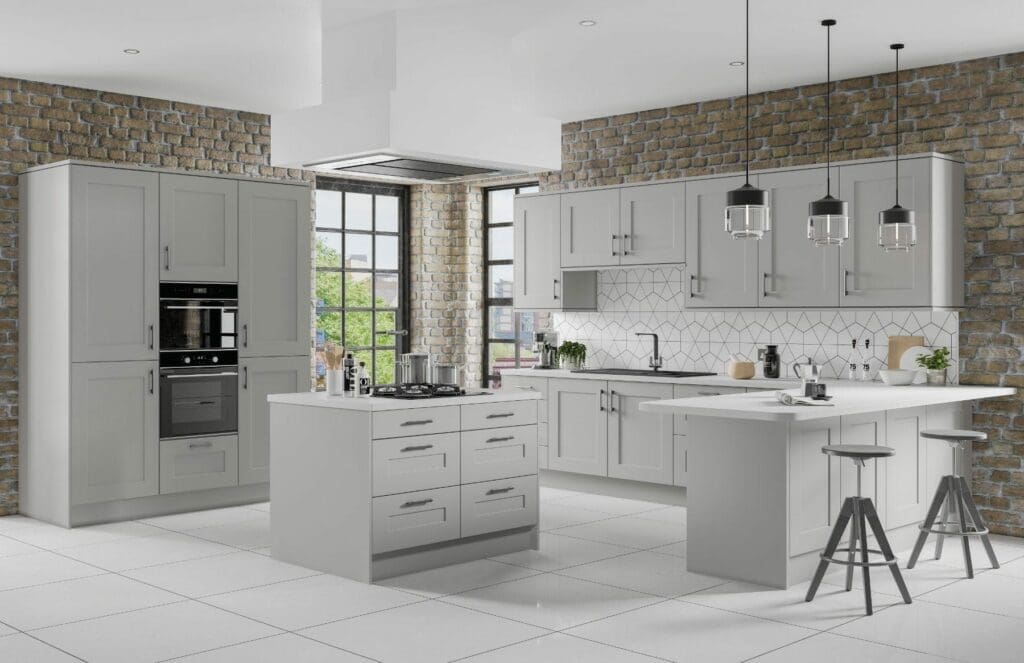 How Do You make A Shaker Kitchen Look Modern?
While a shaker kitchen has traditional roots, you can modernise it by incorporating your favourite bold colour, effective storage solutions, and different materials and textures. There is no one size fits all when it comes to making your shaker kitchen look modern, as it depends entirely on your personal needs and style preferences.
Using light grey is an especially popular choice to modernise your shaker kitchen, with many homeowners opting for this colour due to its calming tones, which are always needed after a stressful day. You can use light grey tiles to complement the neutral shaker cabinets or even go bold by using light grey shaker cabinets or a grey kitchen island, depending on the space you have.
Accent Colours for Shaker kitchens
As mentioned, colour is an easy means of making a Shaker kitchen appear more modern. You can choose a single tone, or else incorporate two or more different colours; it all depends on what you want and your needs for your kitchen. You could also incorporate colour into your kitchen by using distinctively patterned tiles for your splashback, as they can add a touch of colour and elegance to your home without being overpowering. You just have to ask yourself, 'what colour would I enjoy seeing each day?
Shaker kitchens With an Island
If you have the space in your home, you can install an island in your shaker kitchen for extra storage and worksurface space. A kitchen island can become a feature of your kitchen and become a much-loved part of your home. Not only does a kitchen island add a modern twist to your home's look, but it can become a space for your family and friends to gather daily for breakfast, brunch, and other meals, along with a space to play, chat or make food.
One common trend for shaker kitchens is installing a kitchen island that is a different colour from the shaker cabinets. This contrast creates a dramatic and modern flair that will make your kitchen unique.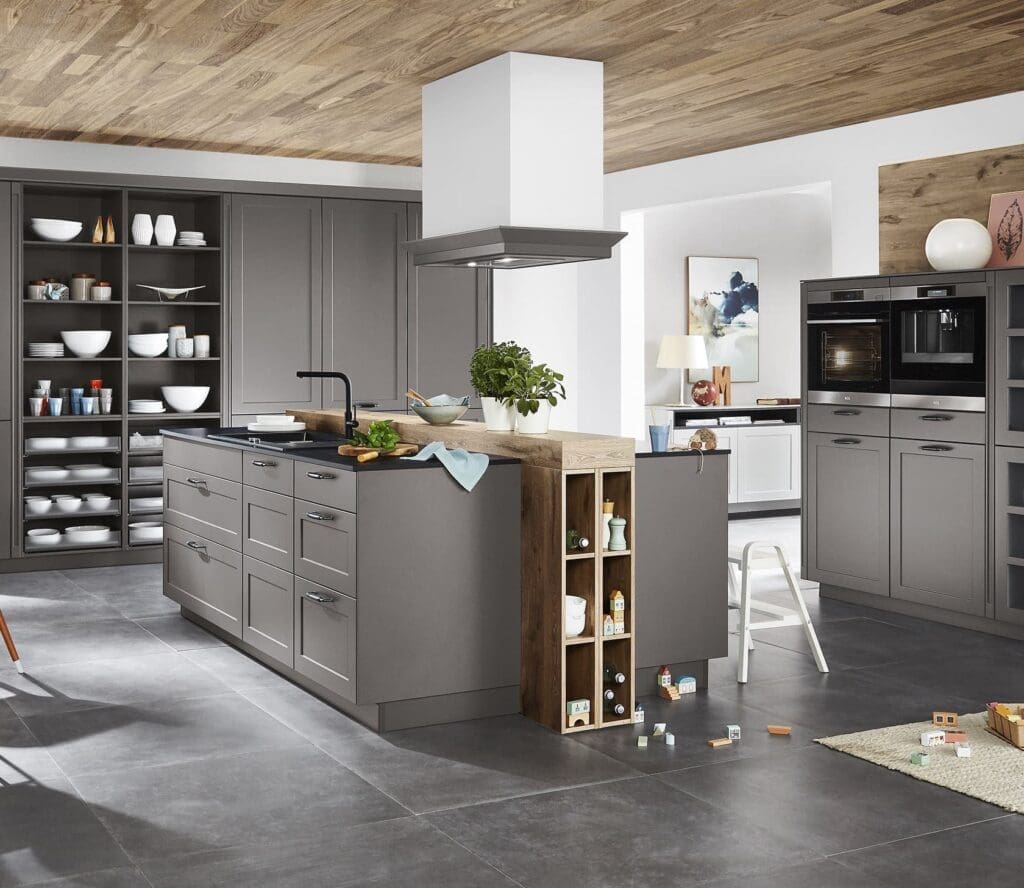 Storage Solutions for Shaker kitchens
Let's face it; between a hoard of spices, different pots and pans, along with a multitude of snacks and kitchen utensils, you need a lot of space in modern kitchens to store everything. But, you don't want to be hunting around the backs of cupboards to find everything you need. Hidden storage solutions are a great way to organise your space, keeping it tidy, and in doing so keep your kitchen on theme with the modern shaker kitchen style.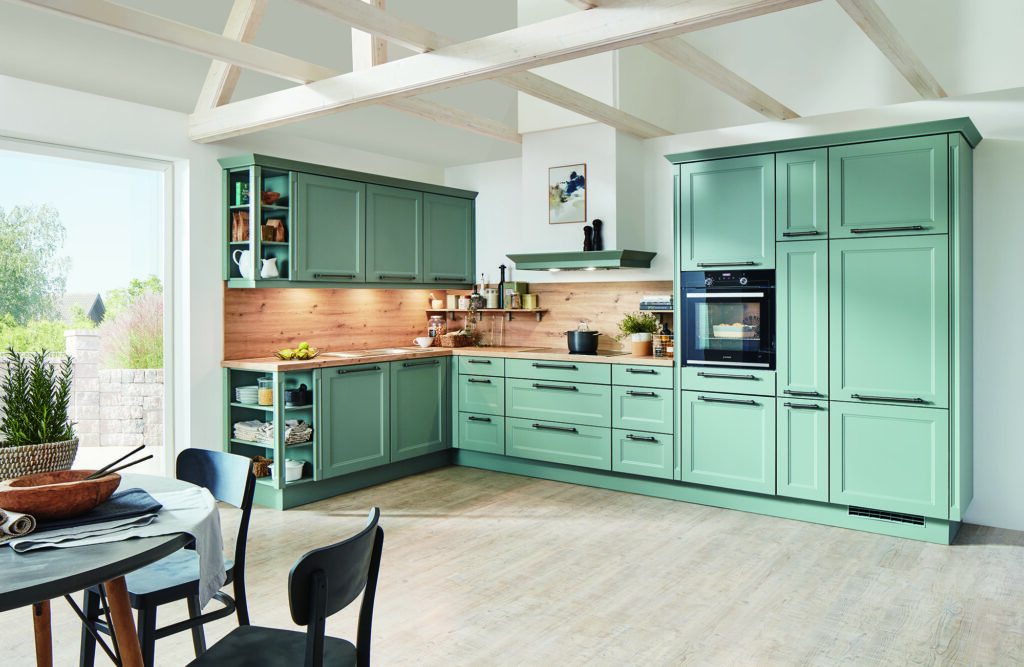 modern Shaker kitchen Handles
While traditional shaker kitchens feature wooden cup handles, modern kitchen designs tend to include brushed nickel shaker cup handles or other metal alternatives. Another way to modernise your shaker kitchen is with bar pull handles, as they complement the straight lines of the shaker design. You can also change the handle depending on the colour of the shaker cabinets you have in your kitchen. Light grey shaker cabinets, for example, pair well with stainless steel bar pull handles, as they will complement one another.
You can pick from various handles for your modern shaker kitchen drawers and cabinets, such as stainless steel or round or oval knobs made of chrome. The beauty of modernising your shaker kitchen with eye-catching handles is that you can select the type you want. The handle you choose should be based on your needs, as you need to make sure they are easy to use for all the family.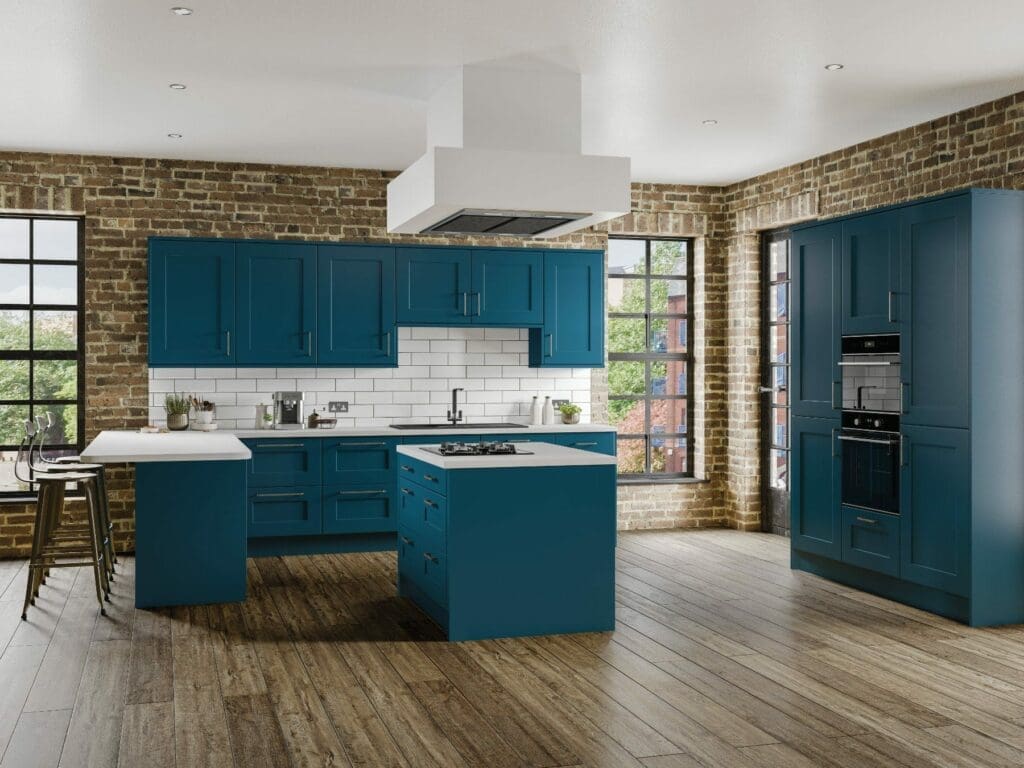 modern Shaker kitchen Worktops & Flooring
Worktops: The type of worktops and flooring you choose will tie your entire kitchen look together. You could incorporate various worktop materials to contrast against the sleek lines of the shaker cabinets. While traditional shaker kitchens use wooden countertops, trendy options include quartz and granite. These countertop options are more practical, hardwearing and give your shaker kitchen a contemporary appearance.
Flooring: While traditional shaker kitchens typically incorporate stone flooring, modern kitchens go a different route. Modern shaker kitchens opt for Herringbone flooring, as the intricate style pairs well with the sleek design of the shaker cabinets.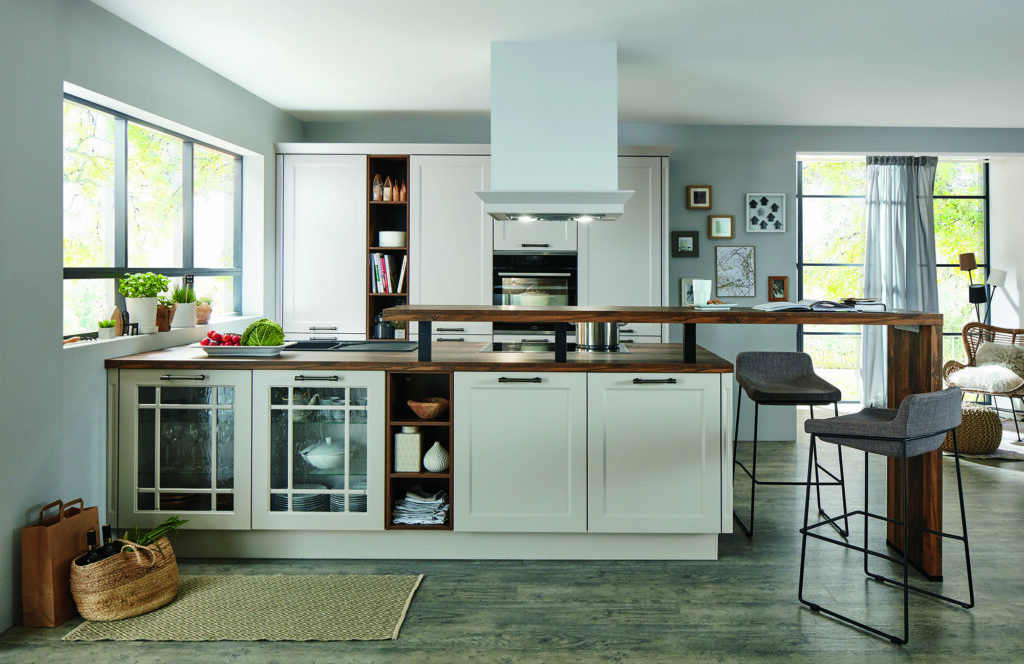 modern Shaker kitchen Accessories
Another way to make your shaker kitchen more modern is by combining different colours and materials, which is a trendy style for this year. Whether you like a neutral colour palette for your shaker kitchen or want to incorporate bolder colours, you can always modernise your space with the right kitchen accessories. For example, gold accessories really stand out in a shaker kitchen, such as gold faucets or statement drawer handles.
Open shelving is also an excellent addition to your home, as you can add intrigue and style to your shaker kitchen by showing your statement glassware or plates on your open shelves. Imagine your favourite mugs displayed at the centre of your kitchen, with colourful plates beside them.
Modern lights, house plants, reclaimed furniture, and kitchenware can change your shaker kitchen's style. Even if the foundations of your kitchen follow a traditional style, the right accessories can add a modern twist.
Ask the Kitchen Specialists?
If you are struggling to incorporate a modern twist into your shaker kitchen, you can also consult the experts. Your independent kitchen specialist will help you create a bespoke kitchen that suits your wants, needs and available space. With the help of kitchen specialists, you can create a kitchen that is right for you for years to come. They will advise you on how to make the most of your space and how you can create a modern shaker kitchen.
Top Tips For Your Modern Shaker Kitchen   
When designing a modern shaker kitchen, don't be afraid to experiment with different colours, patterns and textures. From light grey shaker cabinets to statement splashbacks or bold appliances, you can create a kitchen that screams your style.
The benefit of a bespoke shaker kitchen is that you can add as many or as few clever storage solutions. Hidden storage solutions will help keep your aesthetic clean and sleek. However, the main tip when designing a modern shaker kitchen is that you should always ask for help from an independent kitchen specialist if you need it, as they can guide you towards your dream kitchen.
Summary
Traditional shaker kitchens with a modern twist will stand the test of time. This timeless kitchen design will complete your home and provide you with a functional yet aesthetically pleasing location to chat with friends, make your favourite meals and store all your favourite foods. While the shaker kitchen design did originate years ago, the modern twists and bespoke features developed will transform this traditional trend into a contemporary masterpiece that you can enjoy for years to come.
Are you ready to shake up your style with a modern shaker kitchen?
Subscribe to our blog for regular kitchen inspiration