Modern White Kitchen Cabinets
Why Choose A Modern White Kitchen Cabinet?
Hands up if you spend a significant amount of time in your kitchen?! Over the years, kitchens have become more than just a place to cook and prep food; they have become a place to relax, chat with friends, enjoy a snack with family, and even gather for a party. With so much importance on this single room, is it any wonder that homeowners are trying to make it feel more welcoming.
One way to open up your space is to incorporate modern white kitchen cabinets. Now, we understand that you might hesitate with this style, as they have been a staple piece of kitchens for years, but these timeless pieces are still prevalent today.
From different countertops to various statement accents, there are plenty of ways to make white kitchen cabinets stand out, and we are here to share those ideas.
Are modern white kitchen cabinets on trend?
There are so many designs, colours and styles of cabinets on the market today that it can be hard to pick the right one! Which one will look good? Which will still be trendy in a few years? Which suit your style? Many homeowners and independent kitchen specialists select white cabinets for the kitchen as they are a timeless, versatile and elegant option for the home.
White cabinets have stood the test of time over the years and have stuck around longer than other kitchen décor fads, and we are sure they will stay fashionable for years to come. This trendy, versatile cabinet choice works well with various interior décor styles. It can help create a personalised, eye-catching kitchen design that you will be happy to see each morning when you wake up for your breakfast.
What are the benefits of modern white kitchen cabinets?
There is something so fresh and welcoming about modern white kitchen cabinets. Modern white cabinets will remain in style for years, which means you can save money in the long run. Further benefits of modern white kitchen cabinets include: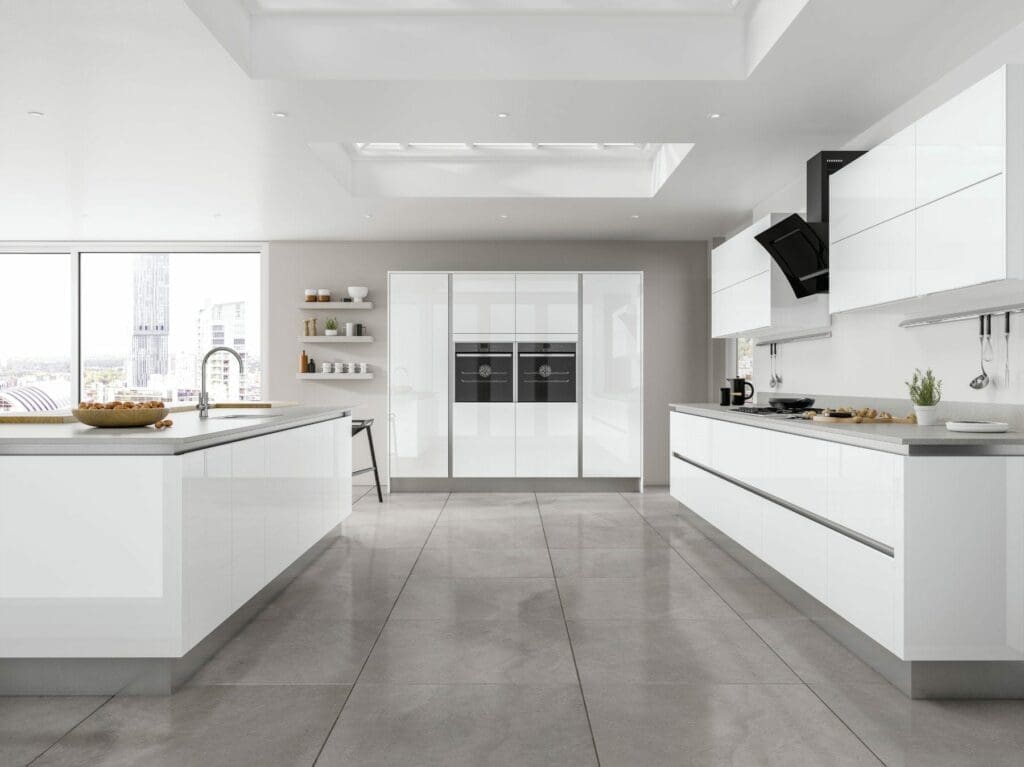 Their Versatility
Not only are white kitchen cabinets a classic kitchen piece, but you can also pair them with different types of décor to create a whole new look. From country to modern, vintage and black, you can use white cabinets for different styles; you just have to know what items and fixtures to combine. You could even use some of the current items you have in your kitchen in a new way in a modern white kitchen.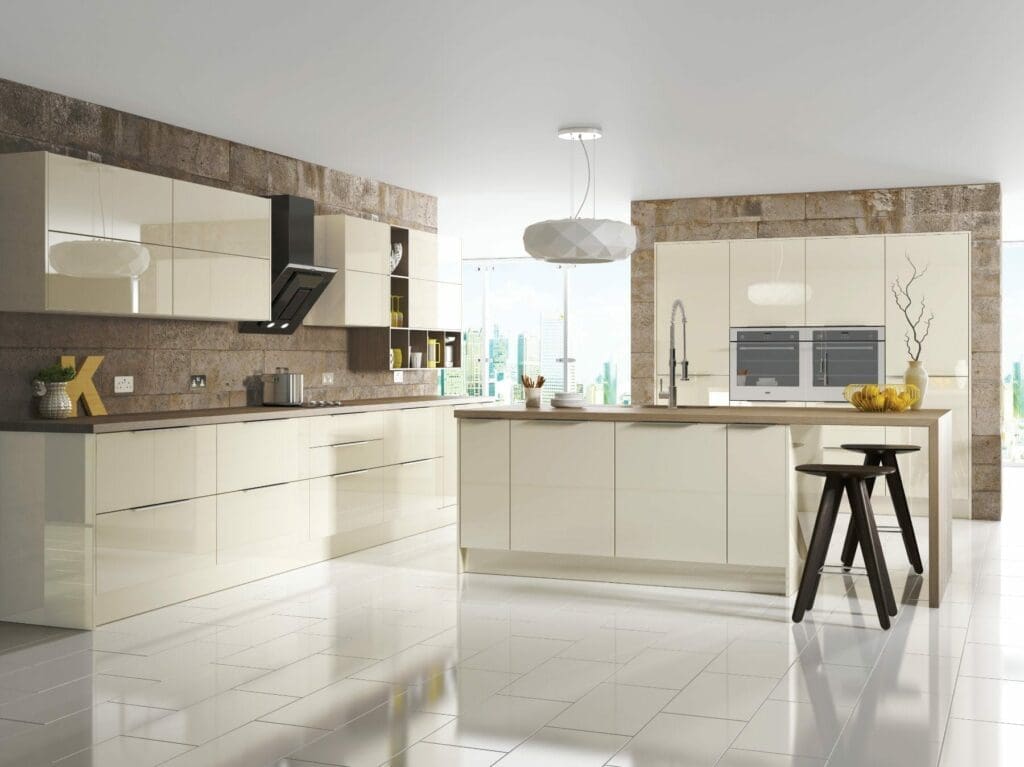 Spacious design
While dark cabinets are ideal for larger, spacious kitchens, white kitchen cabinets are perfect for any size of kitchen, and especially if you have a smaller space to work with, as they can brighten up the space. White kitchen cabinets can make your kitchen feel welcoming, warm and airy, as they will reflect light and make the room look larger.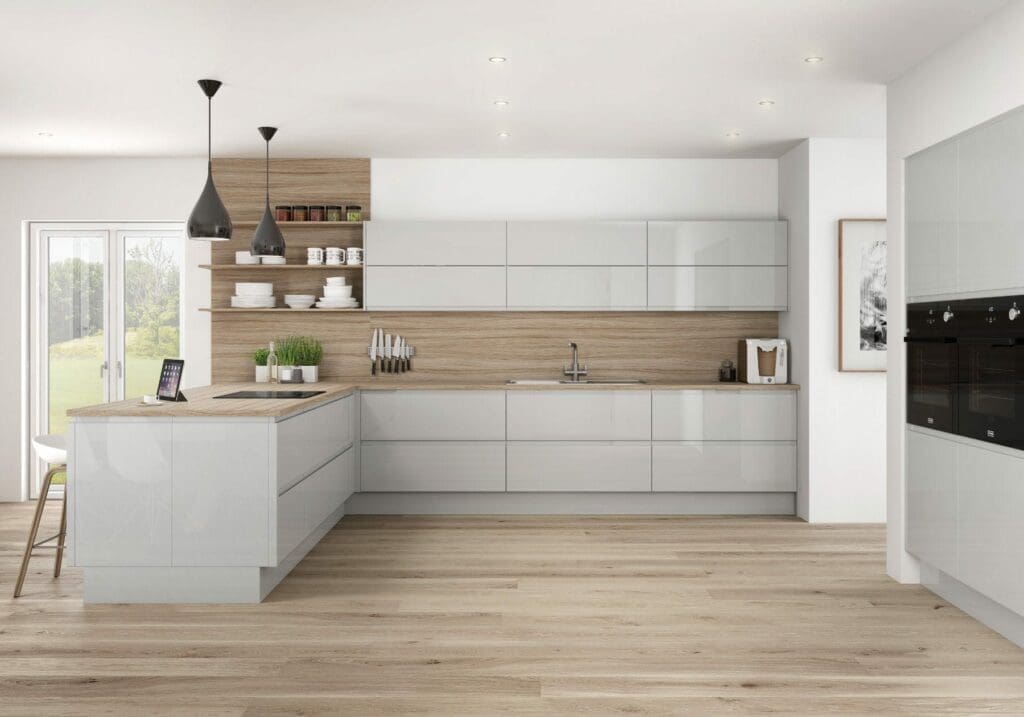 They have widespread appeal
An unexpected benefit that might be relevant to you is that white kitchen cabinets make your home appeal to a broader market. This benefit is perfect if you are looking to upgrade your house so you can sell it. White cabinets make it easier for potential buyers to visualise themselves in the kitchen, as it is a blank canvas they can work with to make it their own.
They are easier to upgrade
If you like to change your style every so often, white kitchen cabinets are the perfect canvas to make this happen. With modern white cabinets in your kitchen, you can change up parts of your kitchen without too much hassle. For example, a simple change of kitchen accessories such as a change in colour and style of your kettle and toaster can change the style of your room and make it feel like a whole new kitchen. The possibilities are limitless when you have a neutral kitchen design.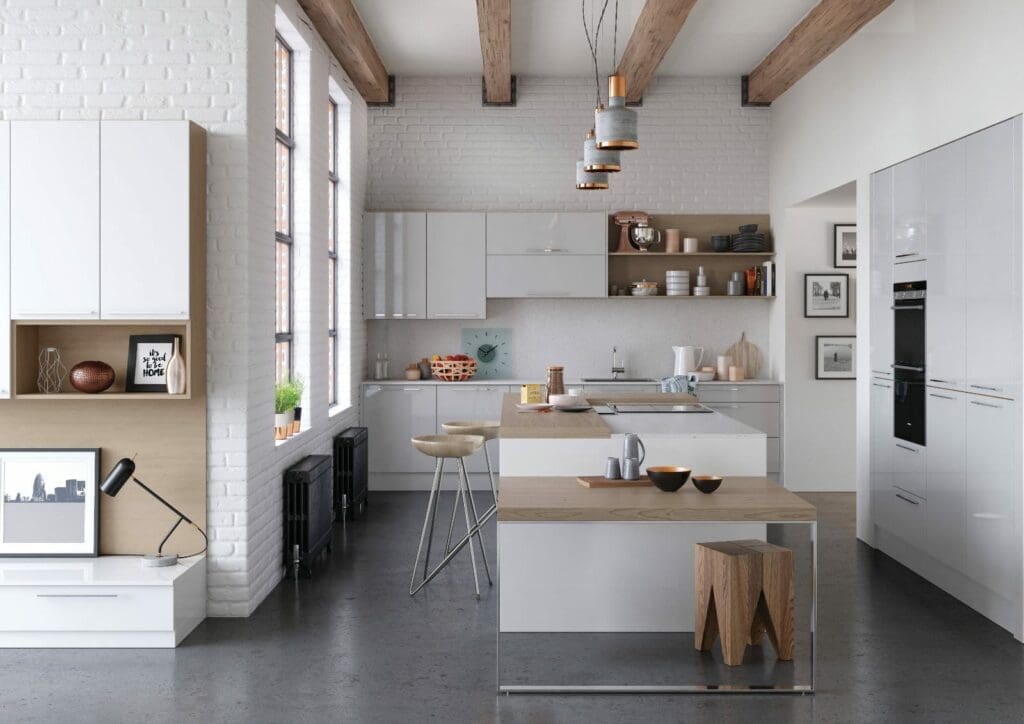 What flooring goes well with white kitchen cabinets?
Geometric tiling
Eye-catching, geometric tiling will pair nicely with your modern white kitchen cabinets, as they provide your kitchen with a dramatic flair. The contrast between the elegant white cabinets and wild geometric tiles will create a creative and welcoming space that you can enjoy for years. Plus, you have a variety of geometric shapes to choose from to make it that much more personal.
Wood flooring
If you are looking for a contemporary choice for your flooring, you can opt for light wood or hardwood floors. This durable and stylish option will achieve a welcoming vibe in your kitchen, and the contrast between the wood and the white cabinets will create a dramatic statement.
White kitchen flooring
You can opt for stunning white floors if you want a rustic appearance for your kitchen that screams elegance and class. White tiles or hardwood are the perfect option for this style and will bring your kitchen together to create an airy yet rustic feel.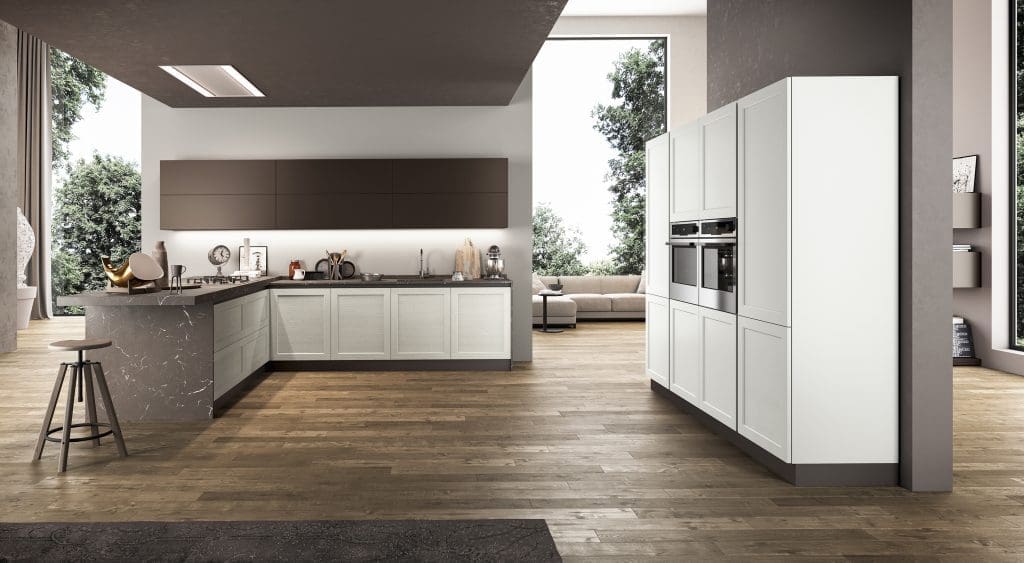 Do modern white kitchen cabinets look luxurious?
You have heard the benefits of modern white kitchen cabinets; now it's time to answer the main question many homeowners ask – do modern white kitchen cabinets look luxurious? Well, the quick answer is yes.
The long answer is that modern white kitchen cabinets are extremely popular as they are a timeless beauty that pairs well with different kinds of styles. When you pair the right appliances, paint and features with your white cabinets, it can create a luxurious appearance you will enjoy for years.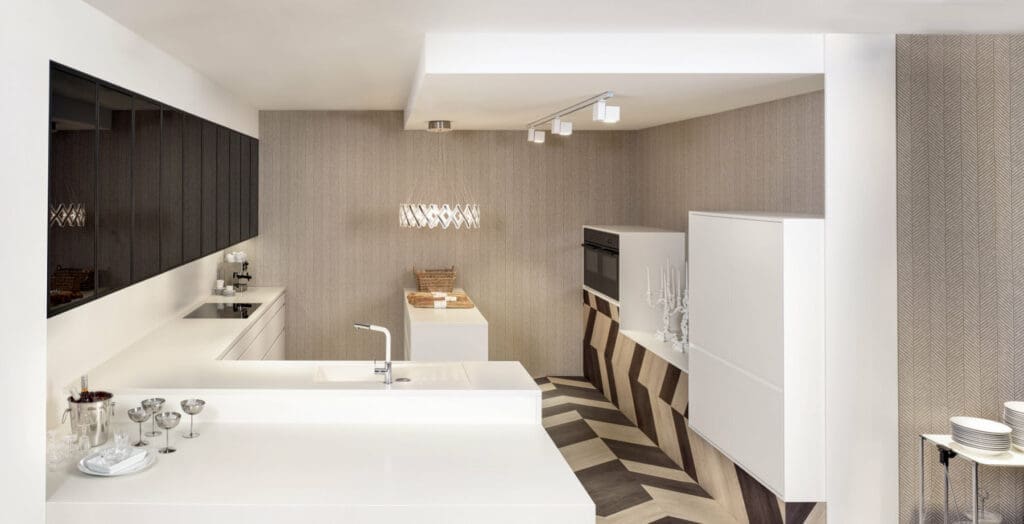 Modern white kitchen cabinet ideas
There are many different styles of white kitchen cabinets that you can choose from, which will influence the kitchen's overall look. From an antique style to the combination of a black countertop with white cabinets, we have some intriguing ideas that you can check out.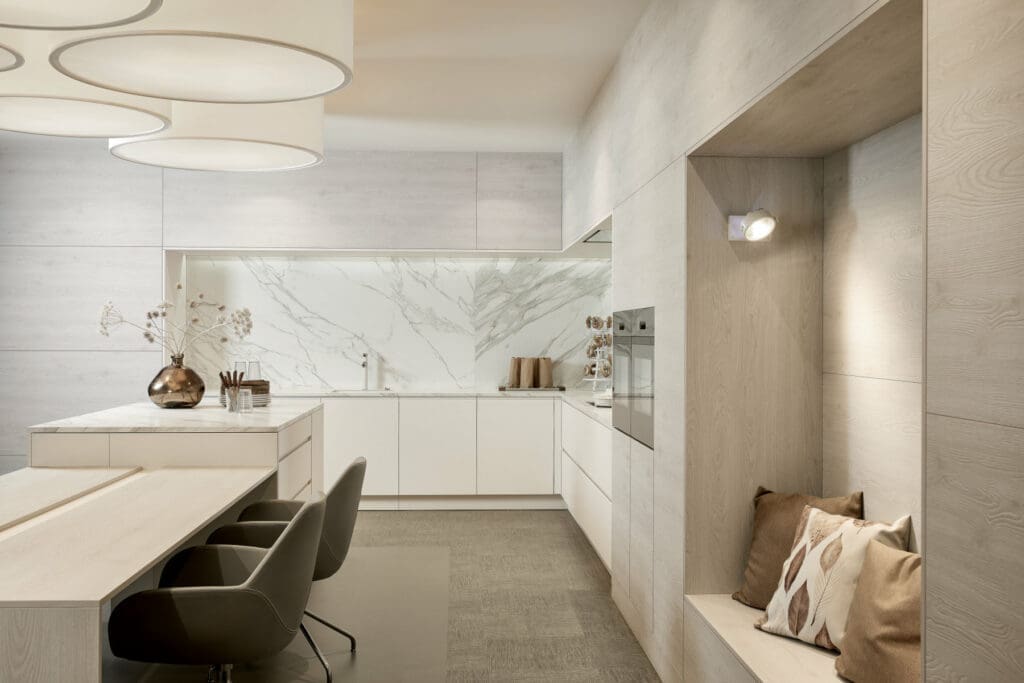 All-white kitchens
All-white kitchens create a modern, luxury kitchen look, and we are not surprised by the enduring popularity. Many celebrities, for example, create a contemporary all-white kitchen purely because of how bright, modern and striking it looks. A few carefully positioned accessories, such as silver accents and maybe a colourful vase or two, will complete the all-white kitchen look in your home and prevent the aesthetic from appearing clinical.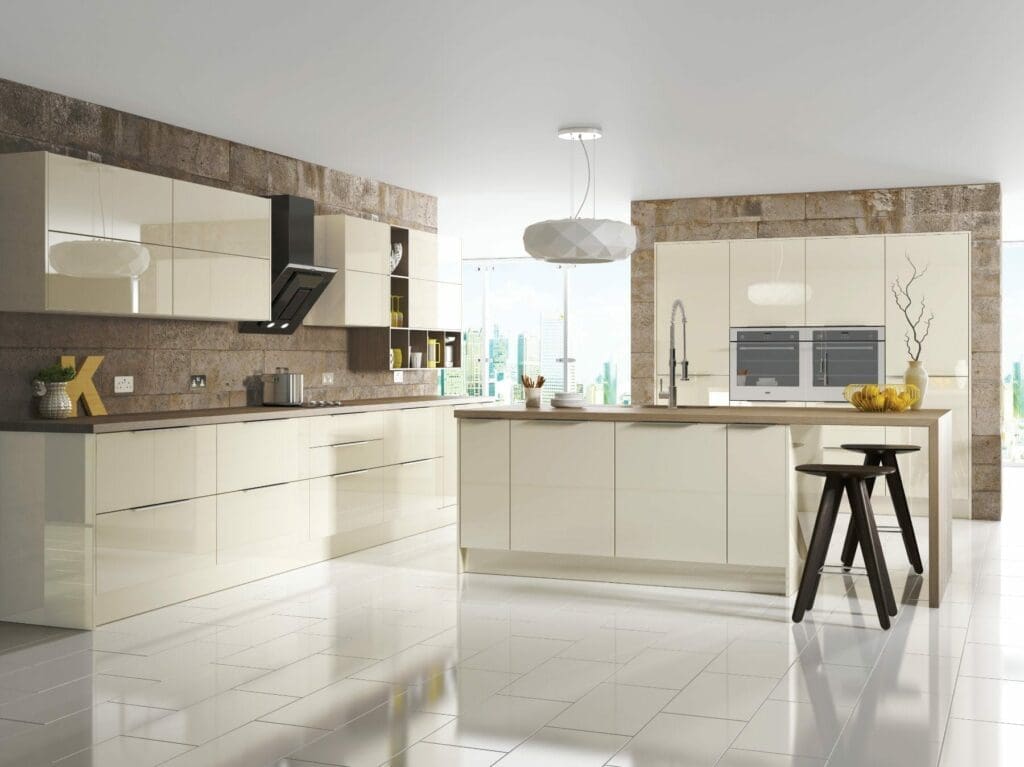 Accent walls
Even though we love the idea of an all-white kitchen, we understand that not every homeowner does, which is why we want to introduce you to another idea – an accent wall. By combining an accent wall with white cabinets, you will create an eye-catching kitchen that showcases your personality and style. The contrast will create a timeless, unique appearance which you will enjoy for years to come.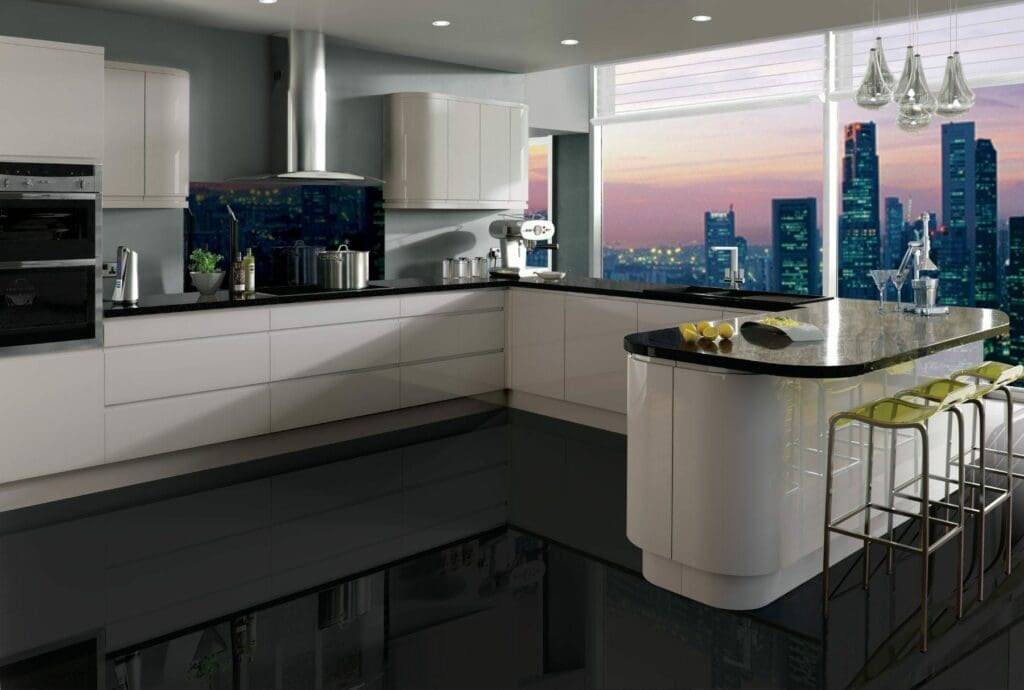 Two-tone kitchen cabinets
Whilst an all-white kitchen or an accent wall are both stunning design options, there is another way to incorporate white cabinets into your kitchen design. A two-tone effect involves blending modern white kitchen cabinets with a different colour for your wall cupboards. This two-tone design is especially beneficial if you have a small space, as you can opt for a darker shade on the bottom cabinets, with white cabinets on the walls; this balances the look and creates an illusion of more space.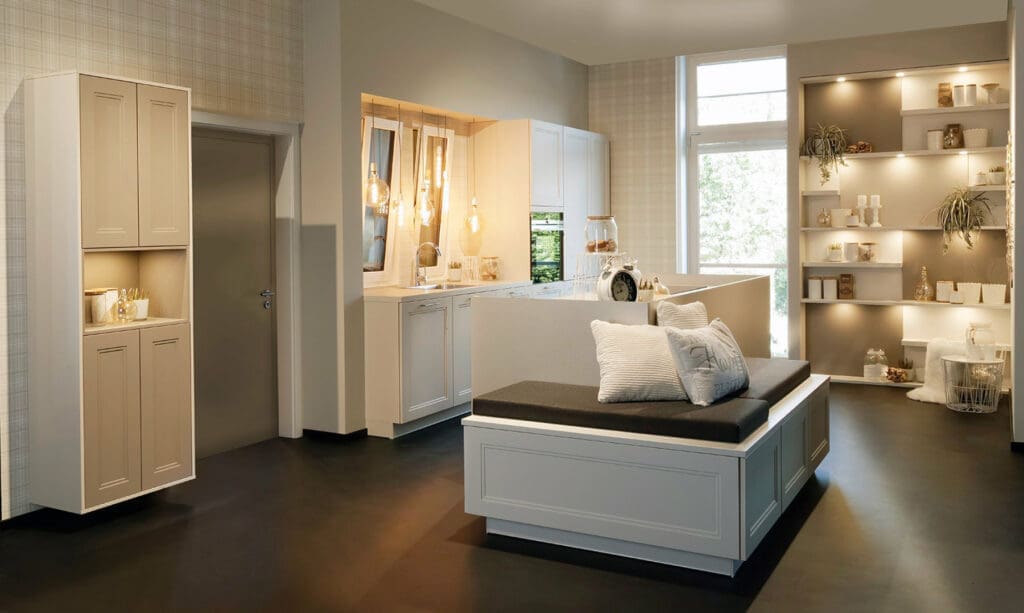 Kitchen Island
One key feature that will always make your white kitchen cabinets stand out is incorporating a distinctive kitchen island. A kitchen island will break up the uniformity of the kitchen colour, especially if it is an all-white kitchen, and will be the focal point of your room.
Kitchen islands are usually in almost any type of kitchen with a large floor plan, as their versatile nature makes them perfect for prepping food, eating, working or chatting.
Modern white kitchen cabinets will be a popular option for stylish homeowners for years to come, but how you incorporate them into your kitchen is entirely up to you. With all the different styles and ideas we have mentioned, we hope you have gained some inspiration to create your dream kitchen. Remember, when in doubt, you should always contact an independent kitchen specialist who will help you plan, design and create your fully tailored kitchen.
Subscribe to our blog for regular kitchen inspiration