Small Modern Kitchen
Stylish & Welcoming Small Modern Kitchens
Let's face it; we have all imagined a home with a spacious kitchen, a stream of natural light pouring in through the wide kitchen windows and high ceilings you can't touch. Unfortunately, not every kitchen is like that, but that doesn't mean you should be disappointed. In fact, many homeowners see a small kitchen as a challenge; after all, you can still create a stylish, welcoming space, no matter the shape or size.
In fact, there are so many ways you can make the most of small kitchens, from the proper lighting to the right layout; and here at the Kitchen Specialists we have all the tips you need to have a fully functional kitchen. Continue reading to discover the hidden tricks of the trade and how you can incorporate these suggestions into your own small modern kitchen, maximising the space.
What kitchen layout is popular in a small modern kitchen?
The overall aim of the design for a small kitchen is to try to include the same level of efficiency as you would find in a bigger kitchen. But, how do you do this? Before even thinking about the colours and finishes for your small kitchen, it is always best to first consider the layout. The exact layout will be determined by the position of your existing doors and windows, which is why there is no set layout that will work every time for every kitchen; however, certain layouts do a better job in smaller kitchen spaces.
Small Galley Kitchen Layout
The galley kitchen layout is ideal for small modern kitchens, making efficient use of space so that everything you need for preparing and cooking meals is in easy reach- where you need it and at exactly the right time! This includes worksurfaces, appliances and all your carefully thought-out storage. Forming an enclosed corridor between two opposing runs of units, the galley is the most efficient of kitchen layouts but its main drawback is being so narrow it is usually best for only one person to use at any given time.
Small U-Shaped Kitchen Layout
If you are looking for plenty of counter space for your small kitchen, a U-shape layout might be perfect for your space, particularly in an open plan setting where one of the runs can form a multi-purpose peninsula, accessible from both sides. A U-shape kitchen features built-in cabinetry, appliances, and countertops on three sides, while the fourth side is left open. This layout is efficient and allows you to move around the kitchen with ease as you can access different points while prepping food or preparing your meal. However, it does take up a larger amount of floor space, in which case a small galley or L-shape layout may prove a better option.
Small L-Shaped Kitchen Layout
An L-shape layout is also a popular option for small kitchens, especially if a U-shape layout does not leave you with enough space to turn. While storage is reduced in an L-shape, in comparison to a U-shape layout, you can incorporate wall cabinets and open shelving to make up for the lost space. It is also beneficial in an open plan setting as the L-shape layout forms a very sociable, bright and accessible space for multiple users simultaneously.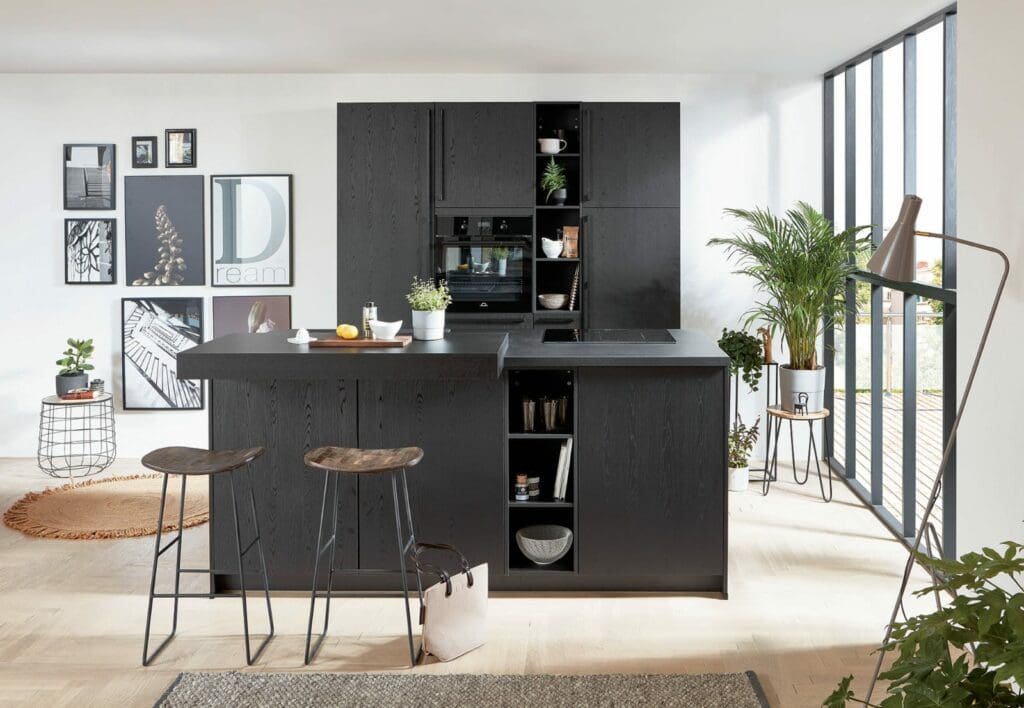 Can a small modern kitchen have an island?
When you think of a small kitchen, you might completely disregard the possibility of a kitchen island, but don't be so quick to disregard the idea! A bespoke kitchen island might benefit your small space as they provide you with a versatile and multifunctional kitchen workspace. Here, you can cook, socialise, and prepare meals on your kitchen island, as it is both practical and stylish. You can opt for a bespoke kitchen island that will fit your available space perfectly, but alternatively, you can also pick a slim line island, which is ideal for narrow and long kitchens. In fact, you don't even need to have a built-in kitchen island if you are concerned about space for manoeuvre, as a tall sideboard can double as a kitchen island, and you can move it when you need the floor space back.
At first glance, many don't consider a kitchen island for a small kitchen, but there are a lot of benefits to installing one. For example, it provides an additional preparation area, and a place to eat, and you can install hidden storage in the kitchen island, which is ideal for food, utensils or appliances.
The main factor to consider when thinking about installing a kitchen island is: do you have enough space to move around your kitchen?…and a professional designer can easily help you establish this.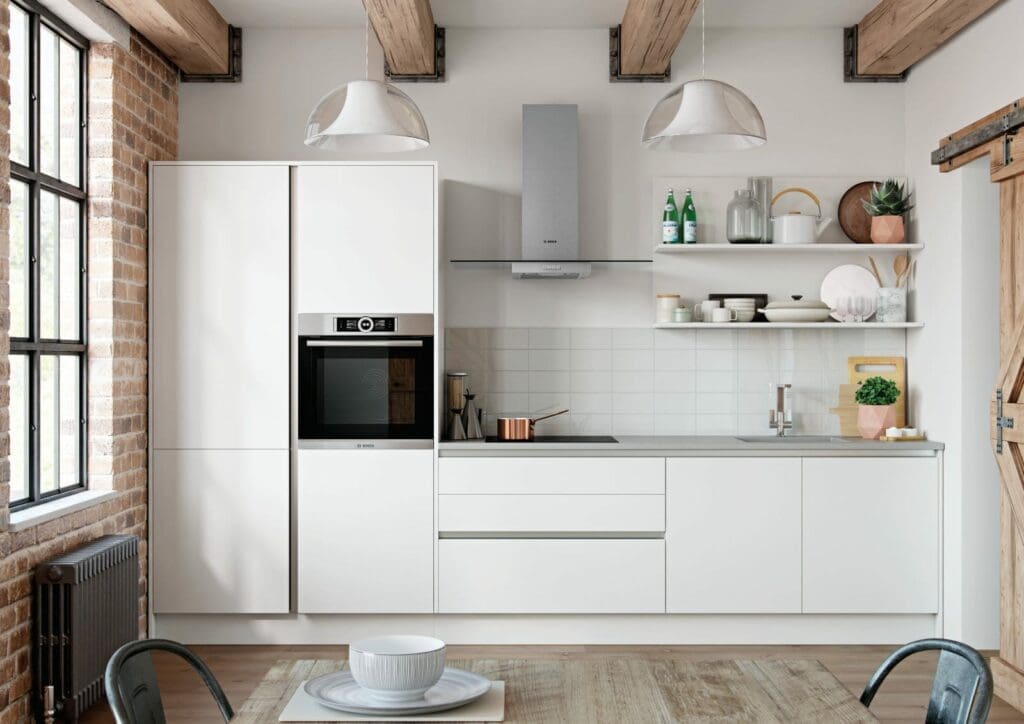 Where should you put your fridge in a small modern kitchen?
While many small kitchen appliances are easy to integrate into your small kitchen, one large appliance that is harder to incorporate is the fridge. When you think of a refrigerator, you are probably thinking of the large, towering ones that take up a lot of space; however, these may not always be the best fit for you and your lifestyle- as much as for your space! …If you do not require much fridge storage, opt for a small bar fridge, which can be neatly tucked away into your cabinet for a minimalist approach. On the other hand, if you have a busy household that requires a lot of fridge storage, you can still opt for a full-sized fridge. Blend the refrigerator with your kitchen décor by choosing a colour that matches your cabinets to create a complete and aesthetically pleasing appearance.
For narrow kitchens, you can choose a slim yet tall fridge, which will integrate with your space nicely without sacrificing too much fridge storage. An independent kitchen specialist can help you with your fridge selection, and a benefit of asking an expert for help is that they can suggest a suitable fridge for your needs and space.
Small modern kitchen ideas
Many homeowners who have a small modern kitchen do not know how best to utilise the space; but luckily, we have a few ideas on how you can make the most of your small kitchen:-
Think about the ceiling – Small kitchens usually have limited cabinet space, which is why you should make the most of your ceiling and consider cabinetry that reaches right to the ceiling for those items you rarely use, yet which you're loathe to part with! Depending on the height of your kitchen, you can utilise the space above your worktops too, and incorporate hanging storage, such as a pot rack or hanging plants, for a fresh and welcoming kitchen vibe.
Sink cover – Small kitchens are known for limited worktop space, but you can actually add a prep area very easily. Using a sink cover will add much-needed, additional worktop space to your kitchen and can be moved quickly whenever the sink is needed.
Splashback – While a tiled or patterned backsplash can create a pleasing aesthetic in your small kitchen, another modern kitchen trend to consider is a mirrored splashback. Mirrors are a great way to open up your space as they work as an optical illusion and reflect light and colour across the kitchen, making the space feelboth larger and brighter.
Integrated appliances – To create a small yet luxurious kitchen, you can integrate your appliances, as it will improve the flow of your kitchen. Where possible, opt for smaller appliances that still meet your requirements, such as a compact oven or dishwasher. For full-sized appliances, such as a microwave, you can choose to have it built into the cabinets, freeing up more worktop space.
Small Kitchen Lighting – The right kitchen lighting can make your small kitchen feel bigger and more inviting. Where possible, you should try to maximise the amount of natural lighting you have in your kitchen; however, if that is not possible, you can always opt for the right lighting fixtures. For example, Pendant lights provide more light into your small kitchen; they are also a decorative option that can make the most of kitchens with a high ceiling.
Glass cabinets – Another cabinet idea for a small kitchen is to remove your upper cabinets and replace them with open shelving. You can display your most commonly used plates, dishes, and glasses with open shelving, opening up your room more. However, open shelving is not suited for everyone, as they do require regular cleaning, which is why glass cabinets are also an option. With cabinets with glass doors, you can create an open shelving effect with an added layer of protection.
Small Modern Kitchen Colour Schemes
Light colours can open up your small kitchen and can help make it feel larger, however, that doesn't mean you have to stay away from colour! While lighter shades can make your room feel bigger, an accent wall can also transform the appearance of your kitchen. This is where an independent kitchen specialist comes in helpful, as they can suggest an ideal colour combination that works with your style and space.
How To Design A Small Modern Kitchen
If you are struggling to make the most out of your small modern kitchen, consult a local kitchen specialist. An independent kitchen specialist can help you create a fully functional kitchen that will make the most out of every part of your kitchen. They will discuss your requirements and the design and process to create a layout you are comfortable with, along with suitable storage solutions and options to make your space look and feel bigger.
Summary
When it comes to a small kitchen space many homeowners try to make do with what they have. But the downfall of this is that they don't make the most of their space, and it can create a stressful environment. No matter how small, your kitchen should be functional and suit your needs – it should also be stylish too. This is why an independent kitchen specialist can help. They can make the most of every area of your kitchen, install gadgets that make your life easier and utilise otherwise unused areas of the kitchen.
So, don't let a small space stop you from creating your dream kitchen; instead, take these tips and create an environment in which you are happy to cook, prep and socialise.
No matter how small you think your kitchen space is, the Kitchen Specialists can create a suitable and stylish layout for you. Make the most out of your kitchen space – contact us today.
Subscribe to our blog for regular kitchen inspiration