Textured Kitchen
Why Choose A Textured Kitchen?
One of the most important components of interior design is texture, and this is partiuclarly true when it comes to kitchens. Textured kitchen surfaces can add visual interest to your kitchen; making your space feel richer, bigger and even brighter. The greatest part about adding texture to your kitchen is that there are many ways to incorporate different textures into your kitchen design. From rustic stone to cosy fabric or elegant marble, there are so many materials that can help you create the appearance and style you want.
But, what exactly is a textured kitchen, and how can you incorporate textured accessories and décor into your home? Well, we are here to answer all the commonly asked queries and questions about this beautiful and enduring kitchen trend.
What Are textured kitchens?
The smallest detail can make the biggest impact, and especially when it comes to adding texture to your kitchen. Textured kitchen surfaces add depth to your interior space as texture creates a layered appearance, making your space seem more personalised and interesting.
Adding texture to different kitchen styles will influence the overall appearance, as it helps make it look less flat and unwelcoming. For example, an all-white kitchen design without texture may feel too sterile and cold, whereas simply adding a textured accessory can make it feel more approachable. In essence, it is all about layering the right textures together to create a welcoming look and feel for your kitchen space.
Are Textured Kitchens On trend?
We don't believe textured kitchens will ever not be trendy, as textured elements can add so much life and vibrance to your space!
The beauty of adding textured elements into your kitchen is that you can add as much or as little texture as you want. You can go wild and incorporate a range of various textures, or you might incorporate an elegant yet layered accent wall in a modern all-black kitchen.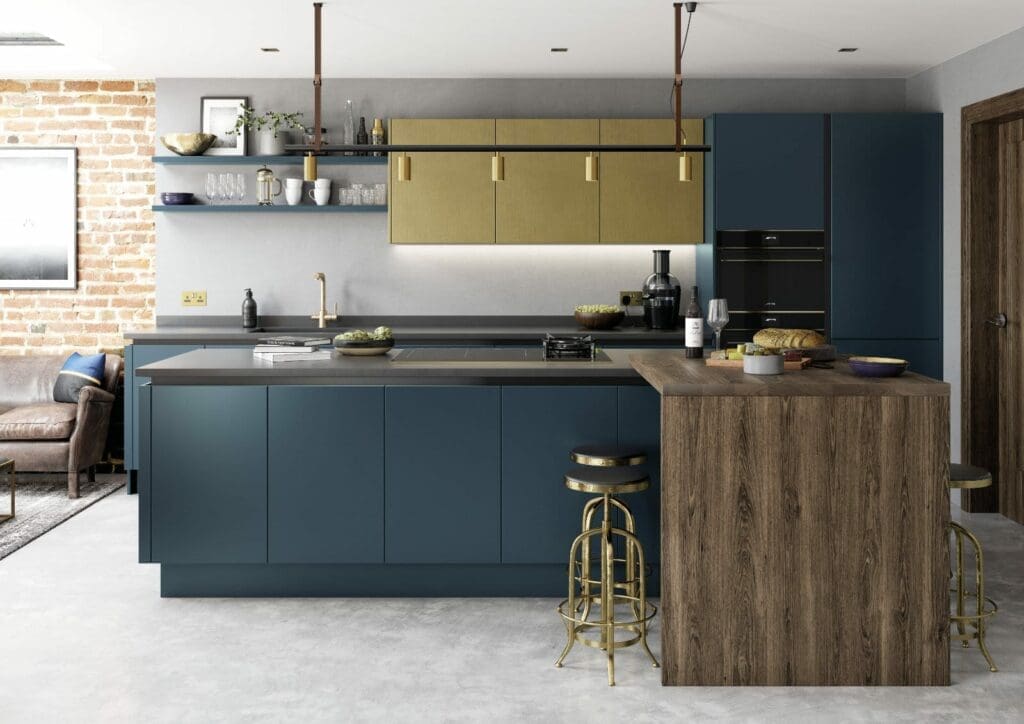 Textured Kitchen Cabinets
Whether your kitchen style is contemporary, Scandinavian, rustic, industrial or even mid-century modern, there are so many textured kitchen cabinets to complement each style:-
Stone Textured Kitchens
You might think you have read that wrong, but you haven't. Real stone veneer, as well as stone effect kitchen doors are a popular choice for modern kitchen cabinets. Traditionally, stone worktops were the go-to textured kitchen option, but now, thanks to stone kitchen finishes and thin stone veneers, you can get the appearance of stone for your cabinets. This innovation is also much more lightweight than stone slabs, so you won't be doing an arm workout when you open your cabinets!

Ceramic Textured Kitchens
Ceramic faced kitchen cabinets and doors are also a popular textured kitchen choice, as they offer durability and style to your kitchen. This ceramic effect for your kitchen cabinets will add a dramatic, eye-catching appeal to your kitchen space. They are also a very easy to clean and low maintenance kitchen surface material.
Wood Textured Kitchens
One of the most beloved kitchen cabinet textures has to be the wood kitchen. Whether real wood, or wood effect kitchen doors, this homely and welcoming kitchen choice will work well with almost any style you have, and is available in a wide variety of tones and colours. For example, you could choose anything from an oak wood effect kitchen door, to a darker walnut wood effect, and everything in between.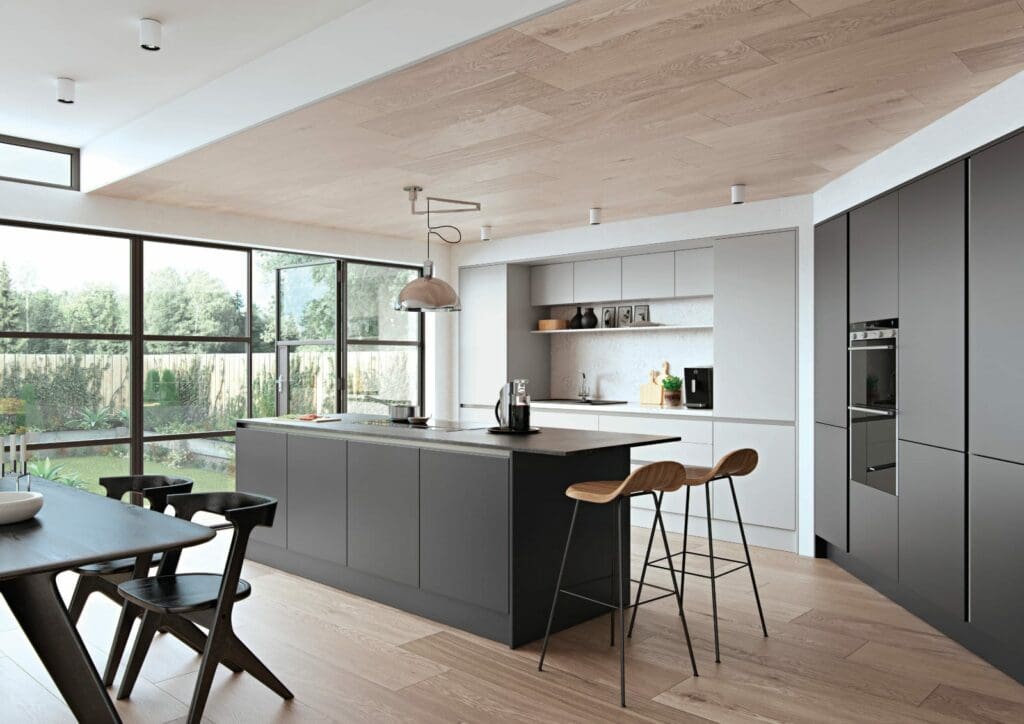 Metallic Textured Kitchens
Nothing says contemporary, or makes a statement for the kitchen quite like a metallic kitchen cabinet. This textured kitchen door brings an easy touch of glamour and luxury to your kitchen. And one of the best parts of metallic kitchen finishes are that there is a wide selection available. You could select a bronze metallic finish or opt for a unique metal lacquer for your kitchen doors for an eye-catching element that all your family and houseguests will love!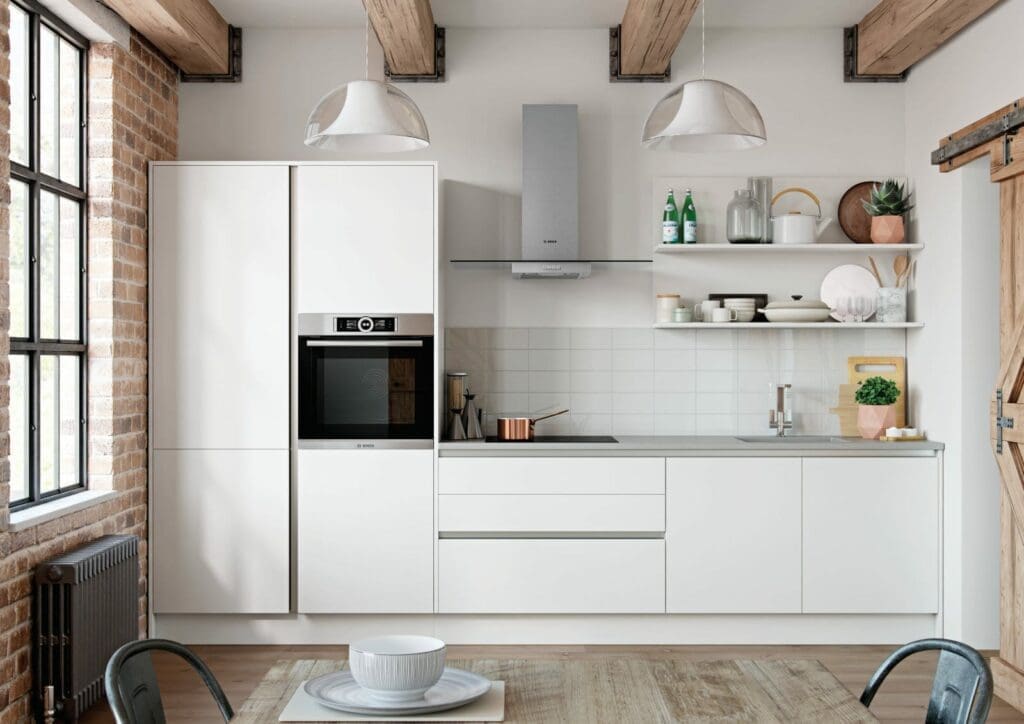 Textured kitchen accessories and décor
There are both subtle and bold ways to add textured kitchen accessories and décor to your home. From subtle touches to statement walls, we have some suggestions that might be suitable for your kitchen:-

Textured Kitchen Worktops
You should consider textured kitchen worktops if you are ready to be bold and daring with your textured kitchen décor. Materials such as stone, slate and granite can be transformed into a luxury statement worktop that is hardworking and easy to maintain. However, if you are after a rustic look, reclaimed wood is another textured worktop option more homeowners are choosing due to its natural and homely appearance.

Artwork
Many homeowners forgo artwork in the kitchen, but it can actually help add some personality and depth to your walls. Artwork can even be layered on top of a stone statement wall…

Statement wall
A statement wall adds a sense of interest and a focal point to your kitchen, and you can make a statement wall as subtle or as bold as you want! While some homeowners have the luxury of an exposed stone wall as a point of interest in their kitchen, that doesn't mean you can't have one. The latest textured kitchen trend is to use wallpaper that has the appearance of stone as a statement wall, which means anyone can easily incorporate this appealing style feature. What's more, you don't have to stick to stone; instead choose a bold colour that contrasts your cabinets or incorporate wood panelling to create a statement wall. The choice depends on what kitchen style you want in your home.

Textured Kitchen Metals
Different metals offer a great way to add texture to your kitchen, and particularly as there are so many to choose from, you will find one that suits your kitchen style. Everything from a metal kitchen utensils holder to a brushed copper sink, there are different ways to incorporate this material into your kitchen.
Layering Textured Materials
For an industrial or rustic kitchen style, you should focus on layering your textured pieces more. Combining different materials will help you create a unique style for your kitchen. For example, you could combine wooden cabinets with a statement wall and a granite worktop to create a rustic vibe. Alternatively, you could opt for a combination of sleek chrome features against wooden cabinets to create a modern style kitchen.
Our favourite layering technique is to add bold statement chairs or stools with a classic kitchen island, as it creates an intimate dining experience and entertaining area for you and your guests to enjoy.

Key accessories
No matter how well a kitchen style is executed, it can sometimes be left feeling clinical and cold without the right choice of accessories and décor. Textured accessories can instantly change this to create a stylish, personalised and welcoming space that everyone will love. For example, fabric chairs around your Kitchen Island or bold cushions to a kitchen nook will create a cozy, attractive vibe. Though of course, not everyone has a cosy kitchen nook or island, but that doesn't mean you can't add textured elements to your kitchen. Statement pottery, woven baskets or even a multi-coloured backsplash can transform your space. Just remember to incorporate textured accessories that won't get in your way while cooking or preparing food!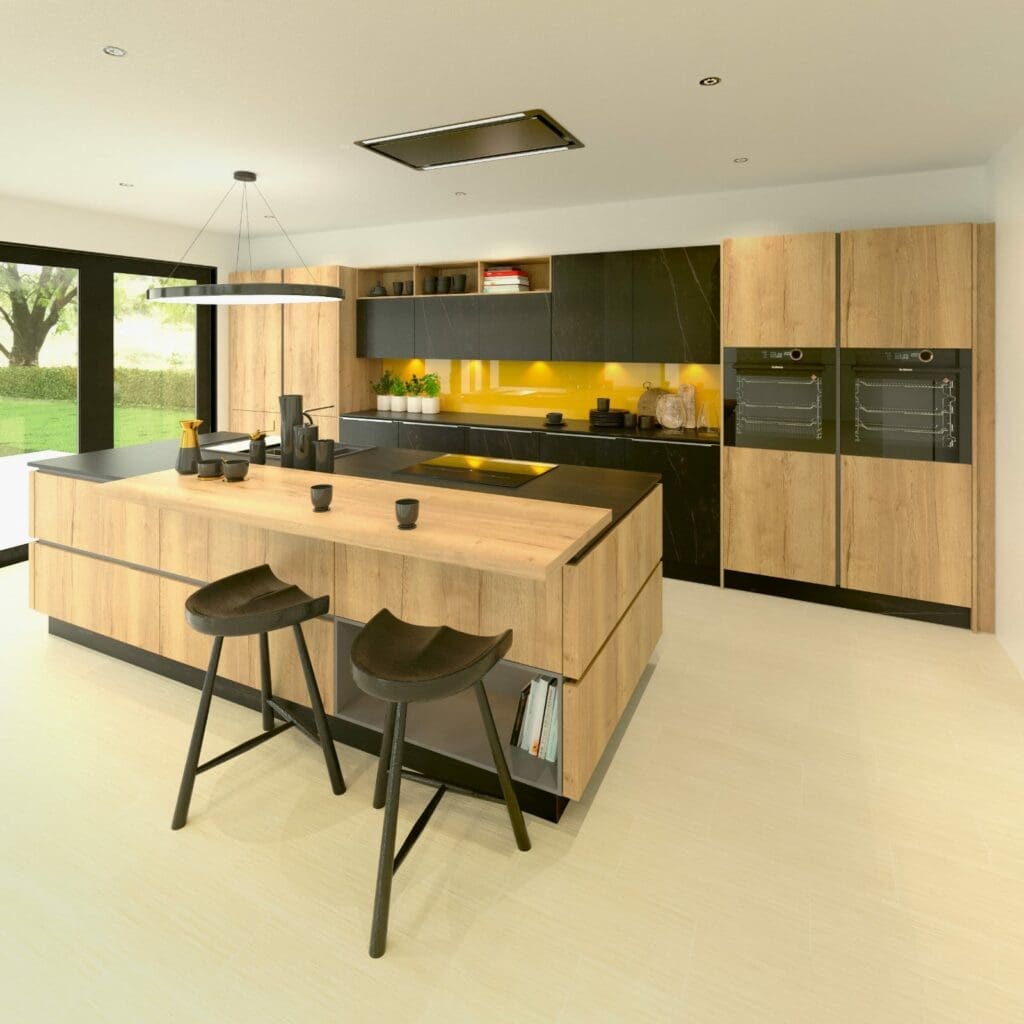 How to ensure a textured kitchen scheme works for your home
We have mentioned different ways to use texture in your kitchen, but we now want to recap different ways to ensure a textured kitchen scheme works for your home. We advise you to work with an independent kitchen specialist, as they can suggest key ways to make sure your textured kitchen complements the rest of your home.
When designing a textured kitchen, you should also consider mixing different elements together to create a layered look. Another tip we want to share is, don't be afraid of patterns, especially if you want to revive a monochromatic kitchen, as it is an easy and quick way to transform your home.
While white handleless kitchens have stayed around for years and will continue to stand the test of time, one design option that is making a dramatic entrance in the market is the handleless shaker kitchen style. A handleless shaker kitchen will bring a modern appeal to a traditional style. The sleek, clean lines and the handleless feature will make your kitchen feel welcoming and balanced.
This kitchen style is great for anyone looking for a traditional style with modern features that will create a timeless appearance.
Thanks to the sleek lines and elegant design, the handleless feature and shaker style naturally complement one another.
Not only will a handleless shaker kitchen look good, but it also provides your kitchen with more space, which is ideal if you have a small kitchen. There will be no protruding cabinet handles to get in your way as you cook and prepare your food. Your kitchen will generally feel more open and welcoming, as there will be no clunky handles to break the balanced appearance.
Now you know all about textured kitchens and how you can incorporate this style into your home. Texture and layers are there to help you add your personality to your kitchen, as they should reflect who you are as a person. Each day, you should walk into your kitchen and love what you see. Your kitchen should reflect you, so only you can decide what textured elements would suit your style and needs.
For more help in creating the perfect textured kitchen look contact an individual kitchen specialist today, and you can use these ideas to create the ideal kitchen for your home. While the details and style are primarily down to you, a kitchen specialist can help organise your ideas to create a design that works for you, and which you're sure to love.
You could start designing your bespoke kitchen today with some of your favourite textures. What are you waiting for? Let's get started on your dream kitchen today
Subscribe to our blog for regular kitchen inspiration