How to Create a Winning Dark Kitchen Scheme 
Have you always wanted to implement a dark kitchen scheme in your home, but you're not sure where to start? It can sometimes be difficult to tackle this popular kitchen trend because there's a risk of dark kitchen tones creating a gloomy, dull space …Yet, get it right and a dark kitchen colour scheme can provide a beautiful, sleek and elegant modern kitchen aesthetic. Here, you'll find all you need to know on how to create a winning dark kitchen scheme that works for you and your home!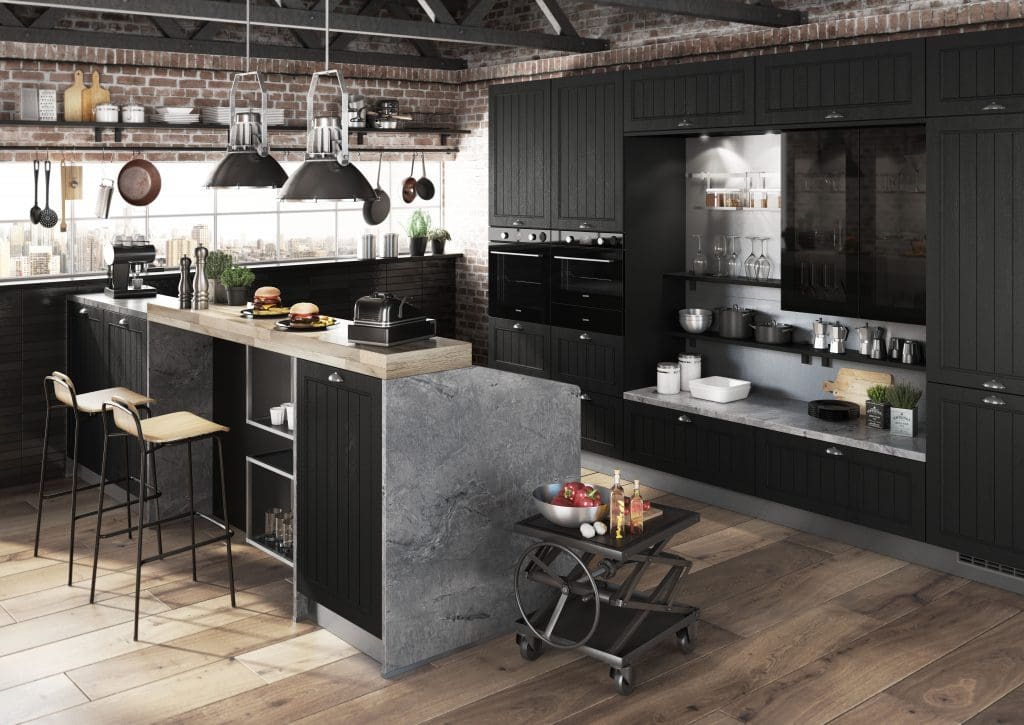 What Are the Benefits of Dark Kitchen Schemes?
Implementing a successful dark colour scheme in your kitchen can bring lots of positive traits and benefits. For example, dark kitchens have a particularly upmarket and elegant feel to them. So if you're striving for a luxurious kitchen aesthetic with a contemporary look, dark kitchen colours are the way to go!

Dark kitchens are also ideal when it comes to concealing dirt, spills and stains! Every kitchen is susceptible to these mishaps, but any flaws are often less visible than in light-toned kitchens. Additionally, if you want to experiment with your kitchen design and love mixing and matching colours, dark colours can provide the perfect backdrop. Having a dark base colour like black, dark grey, or navy blue is great for creating contrast with lighter splashes of colour throughout your kitchen.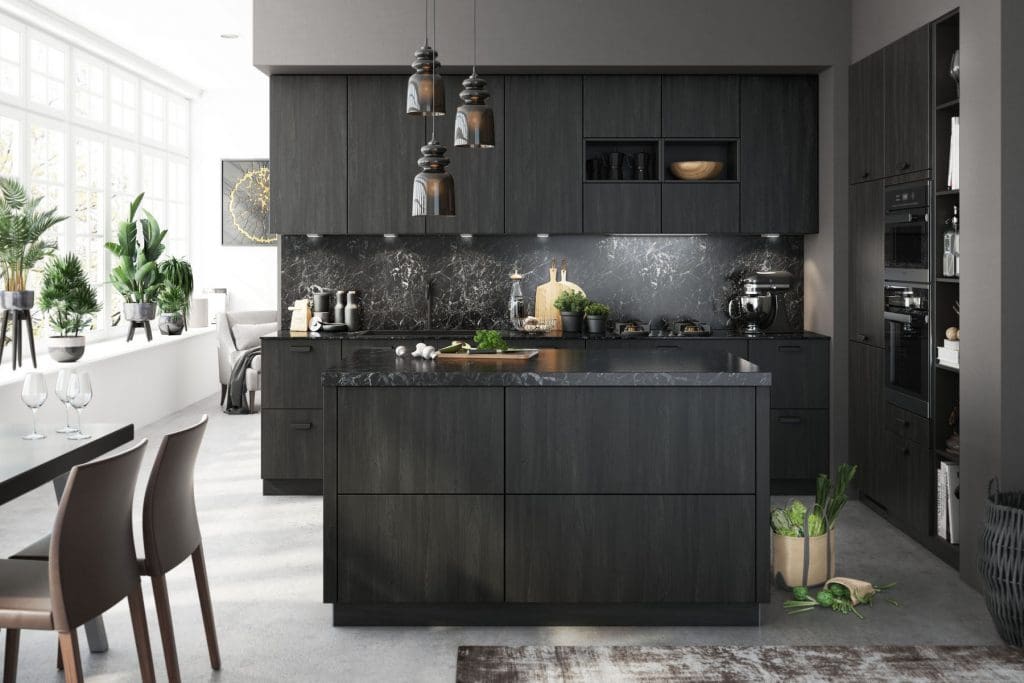 What are the Disadvantages of Dark Kitchen Schemes?
Though dark kitchens add a modern and elegant touch to any kitchen space, this colour scheme does have its drawbacks. Though you can't see marks and dirt as clearly, it doesn't mean that you won't have to clean at all. Dark kitchens should ideally be dusted and cleaned frequently in order to maintain their sleek look. Another common issue when it comes to dark kitchen colours is that in a poorly designed kitchen, the dark colour can overwhelm the space, and especially in smaller kitchens.
If there are no light kitchen tones or adequate sources of light to break up the darker tones, your kitchen can have a stifling and gloomy atmosphere.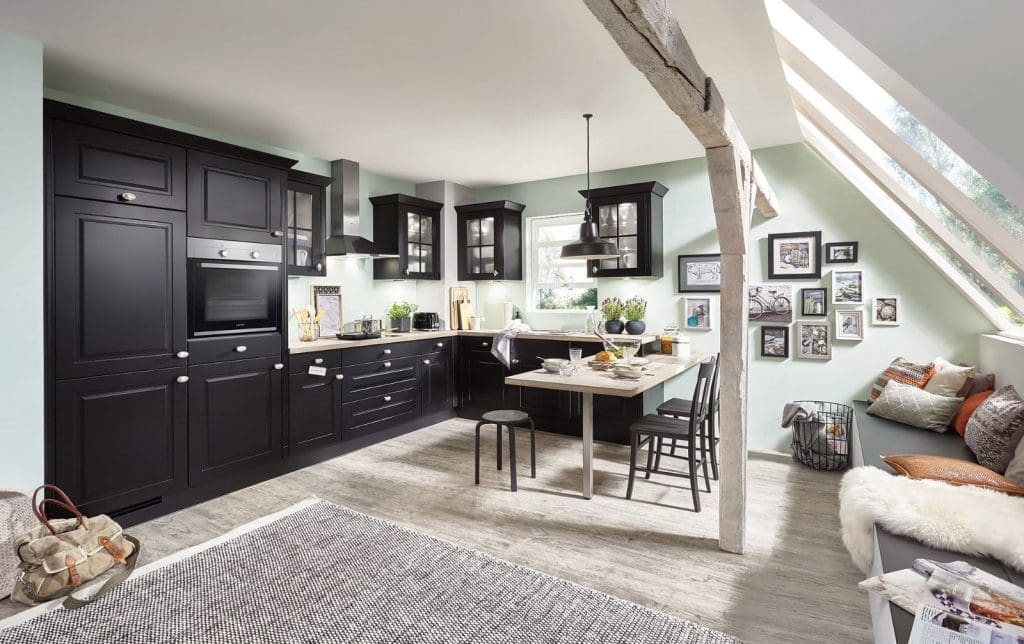 Ways to Break Up a Dark Kitchen Scheme
If you want to incorporate a dark kitchen scheme there are certainly ways to break up the dark tones to achieve a lighter, more open effect. If you're going for all-black, for example, you can add metallic accents throughout your kitchen to add some highlights and variety within the space. These will especially stand out if you pair shiny metallic finishes with a matt black finish on your cabinets.
Another way to make dark kitchen colours work is by placing darker cabinetry on the bottom and lighter cabinet colours higher up. This will draw the eye upwards, opening up the space a bit and ensuring that the dark tones aren't overwhelming. You could also opt for dark kitchen base units and no wall units at all! …This will help keep the dark elements to a minimum while still creating an overall darker kitchen aesthetic.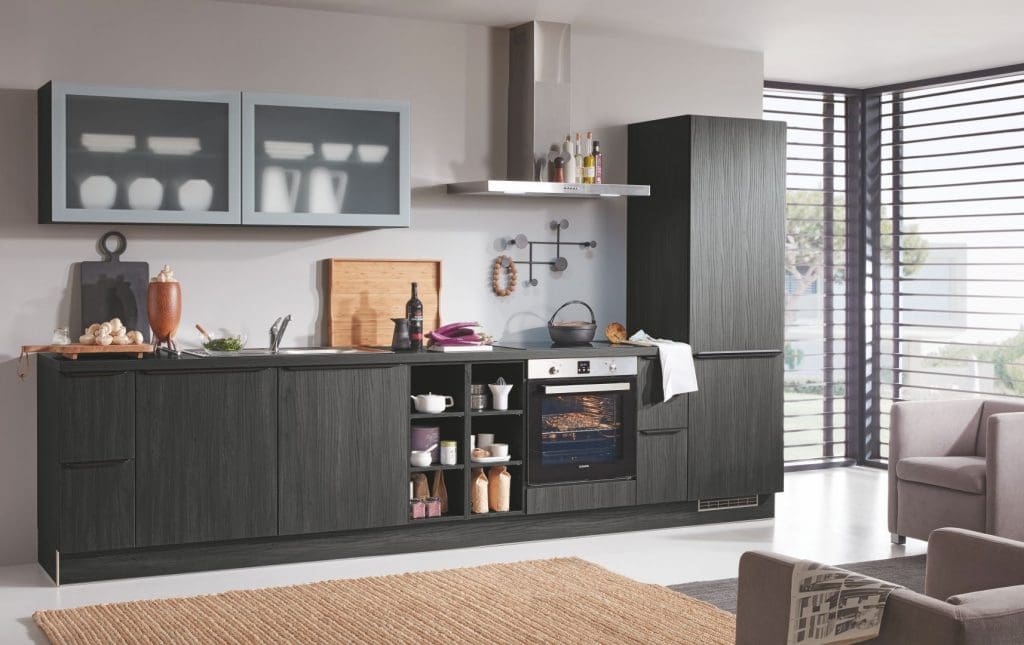 How to Maximise Light in Your Dark Kitchen
The key to a winning dark kitchen scheme can often be as simple as maximising light within the space. The best way to do this is to let in as much natural light as possible! If you're committing to dark tones, try balancing these out with large windows positioned in a way that allows for lots of sunlight. You can also include a skylight, bi-folds, or replace a backdoor with a glass door to make your kitchen feel as open as possible.

Along with ensuring natural light, you can also brighten up a darker kitchen scheme with lots of reflective surfaces, such as strategically placed mirrors, shiny accents and glass front cabinets. This allows light to bounce around the room and counteract the heavy atmosphere that's created by dark colours. It's also a good idea to ensure sufficient artificial lighting solutions. Try to incorporate task lighting as well as general overhead lighting to prevent your kitchen from looking dim.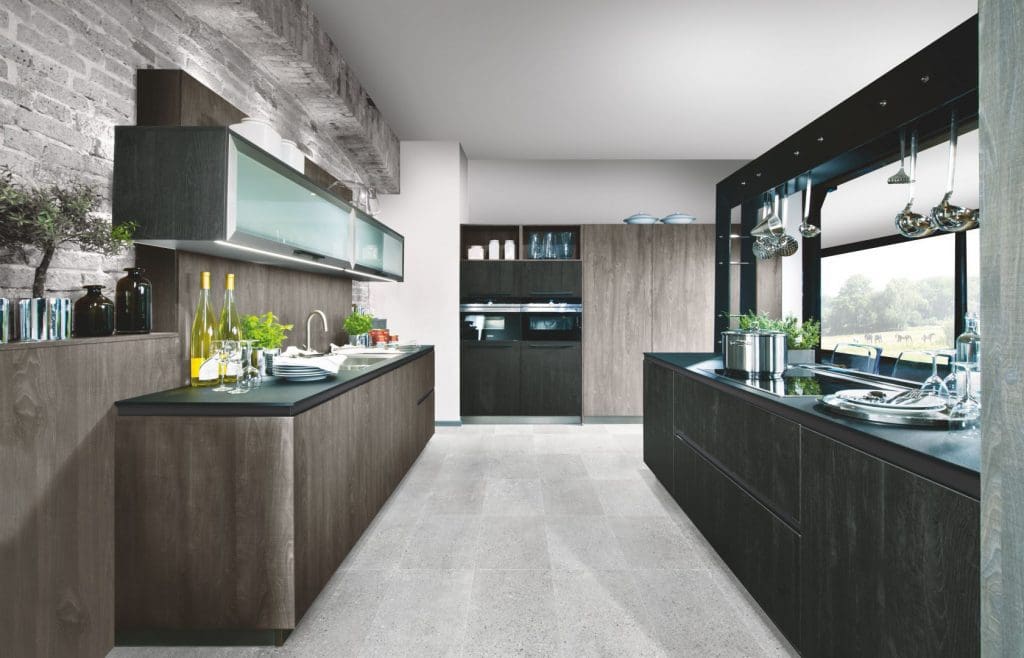 Add Pops of Colour and Patterns for Variation
When it comes to brightening the space, you might want to add pops of colour when planning an all-black or dark grey kitchen layout. Not only will this create an aesthetically pleasing contrast but it will also add a visually interesting feature to your kitchen. The same goes for patterns! If you want to commit to a dark aesthetic with as little colour as possible, you can always break up the monotony of a dark kitchen by adding some patterns or texture on a feature wall, splashback or contrasting finish. You can choose patterns that still incorporate dark tones, thus ensuring variation without sacrificing the overall aesthetic.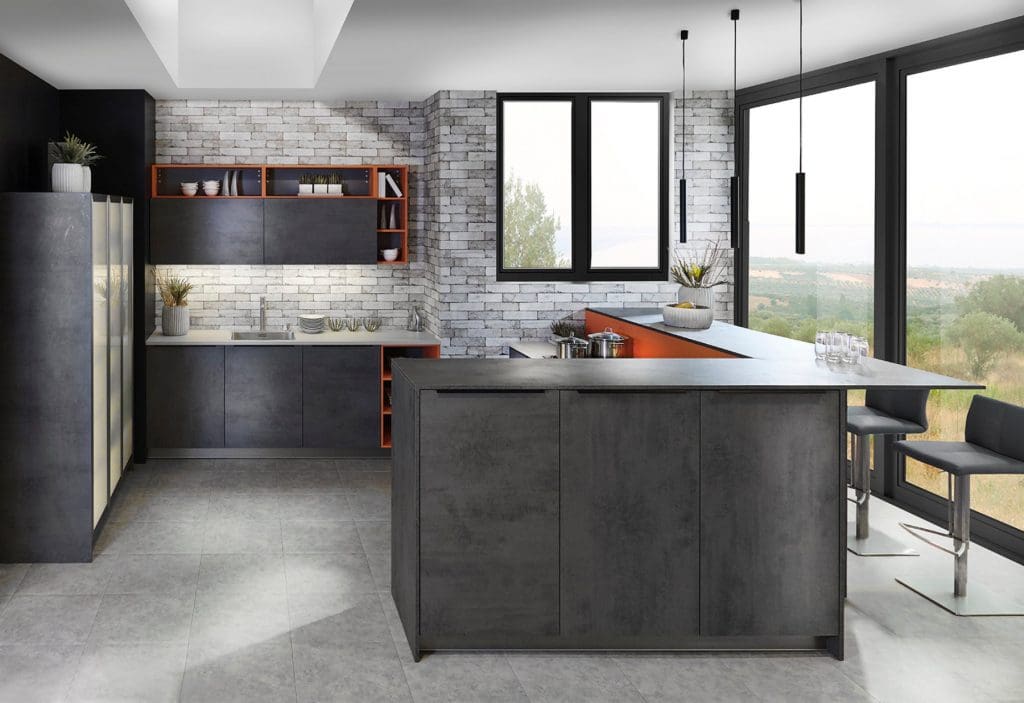 What Colours Should I Use For My Dark Kitchen Scheme?
Though your options may appear limited when it comes to designing a dark kitchen scheme, there are still some colour variations you can choose from. One of the most classic looks is of course an all-black colour scheme. Here, you can layer different shades of black to create some depth while still keeping an all-black aesthetic.
Other great colours to build a dark colour scheme around are navy blue or charcoal grey. Each can help create the sophisticated feel of dark kitchens without appearing gloomy. Experimenting with shades of grey is a great way to create a darker kitchen aesthetic while still incorporating lighter shades for variation. You can even create a two-tone kitchen scheme using white and black for a striking contrast that still gives your kitchen a modern and elegant feel.
Create Your Perfect Dark Kitchen
The dark kitchen colour trend has been around for a number of years now and is very popular for good reason. Pair your darker tones with lighter tones higher up, or pops of colour throughout the kitchen to create a more open atmosphere. With darker kitchens, it's crucial to sufficiently illuminate the space and allow for as much natural light as possible. Following these suggestions will help you design a dark kitchen, or better yet, talk to a Kitchen Specialist for a perfectly luxurious and sophisticated dark kitchen look and layout.