10 Handleless Kitchen Benefits
Handleless kitchen designs are very much in style right now, as they create the sleek and modern-looking aesthetic that appeals to a large majority of homeowners. A handleless kitchen opts for a J-pull or push-to-open design instead of attaching handles to cabinets, drawers and cupboards. This design not only makes your kitchen appear modern and stylish, but also has added benefits when it comes to safety and kitchen hygiene! Continue reading to discover the top ten advantages of handleless kitchens.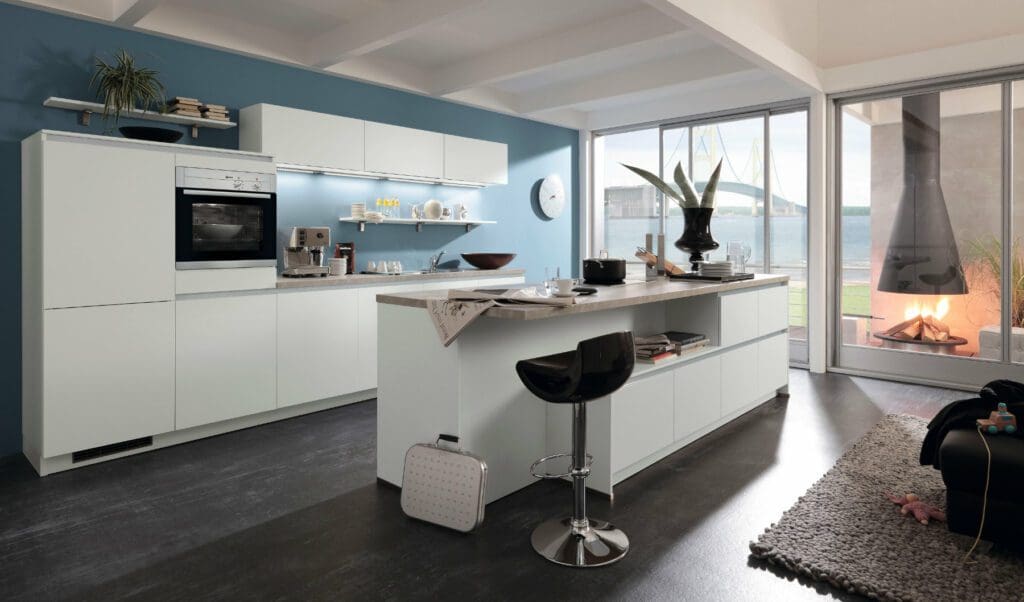 1. Handleless kitchens are safer
One major benefit of a handleless design is that it makes your kitchen a safer space for you and your loved ones. How often have you been moving around in your kitchen when suddenly your clothing inconveniently snags on a handle? With a handleless kitchen, there would be no danger of bumping into hardware or getting your clothing caught on protruding parts. A handleless kitchen design is especially safe for children, as your kids are less likely to bump their heads on kitchen cabinets if there are no handles!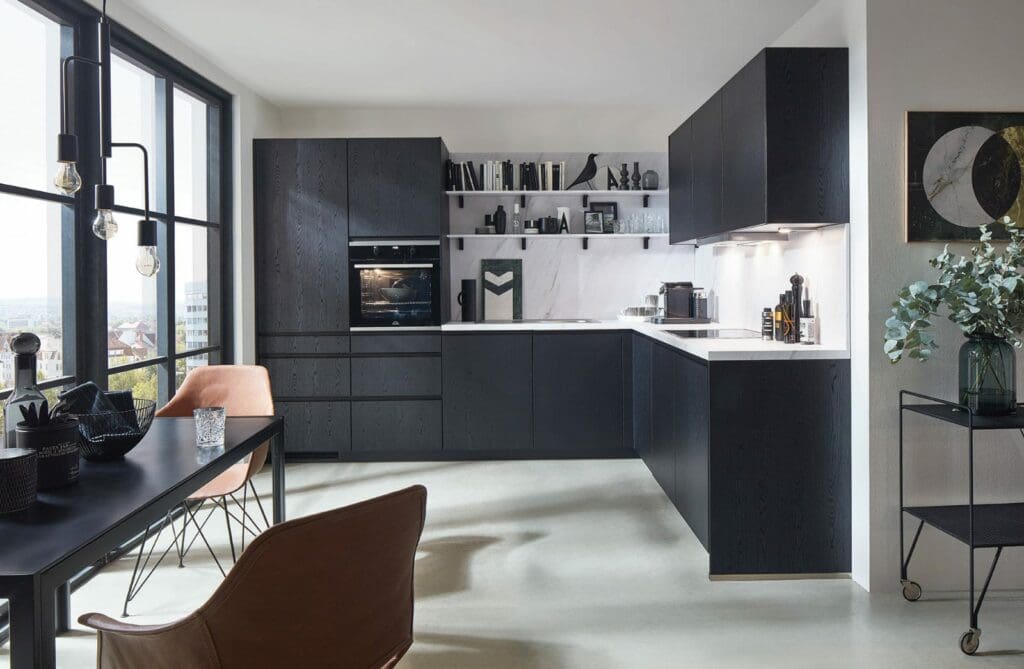 2. Handleless kitchens are best when it comes to child-proofing
Alongside walking into handles, young children and toddlers also have a propensity for pulling on handles and hanging on them. This is not only dangerous, but can also lead to breakage and unnecessary wear and tear in your kitchen. In a handleless kitchen, children would be less inclined to pull on the handles and potentially harm themselves (or your precious kitchen furniture)!
3. Handleless kitchens look modern
If you're someone who prides yourself on the look and feel of your kitchen, then a handleless kitchen might be for you! Cabinets and drawers without bulky handles provide your kitchen with a sleek and modern look. In an aesthetically pleasing kitchen, old-fashioned handles could completely spoil the fashionable look you might be going for. In a handleless kitchen, your surfaces will blend in nicely with the rest of your kitchen. The absence of handles always adds a touch of elegance and class.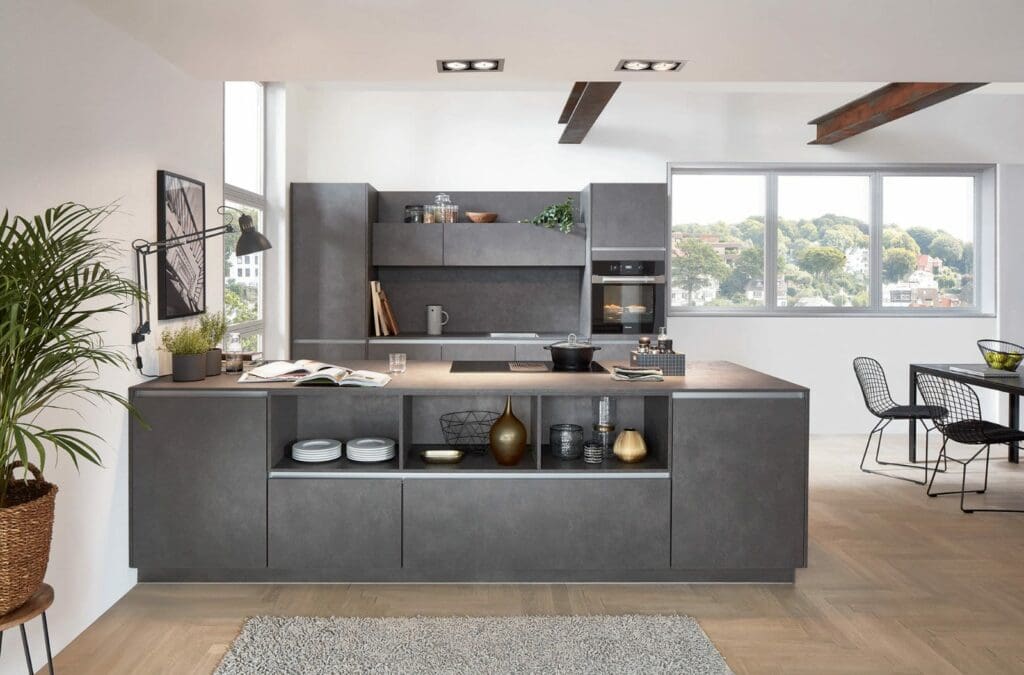 4. Easy to clean and maintain
You may be tired of constantly scraping away the grime and gunk that accumulates under and around your kitchen handles. If so, you'll be glad to hear that handleless kitchens are much easier to clean and keep in spotless condition! Whether you use a J-pull or push-to-open design, handleless cabinets and drawers can simply be cleaned with regular wipe-downs. You'll find it's much easier and quicker to wipe away dirt and fingerprints than to scrape and scrub in an attempt to remove all the dirt. If you're still worried about fingerprints in your handleless kitchen, you might want to opt for a matt finish when picking out your design.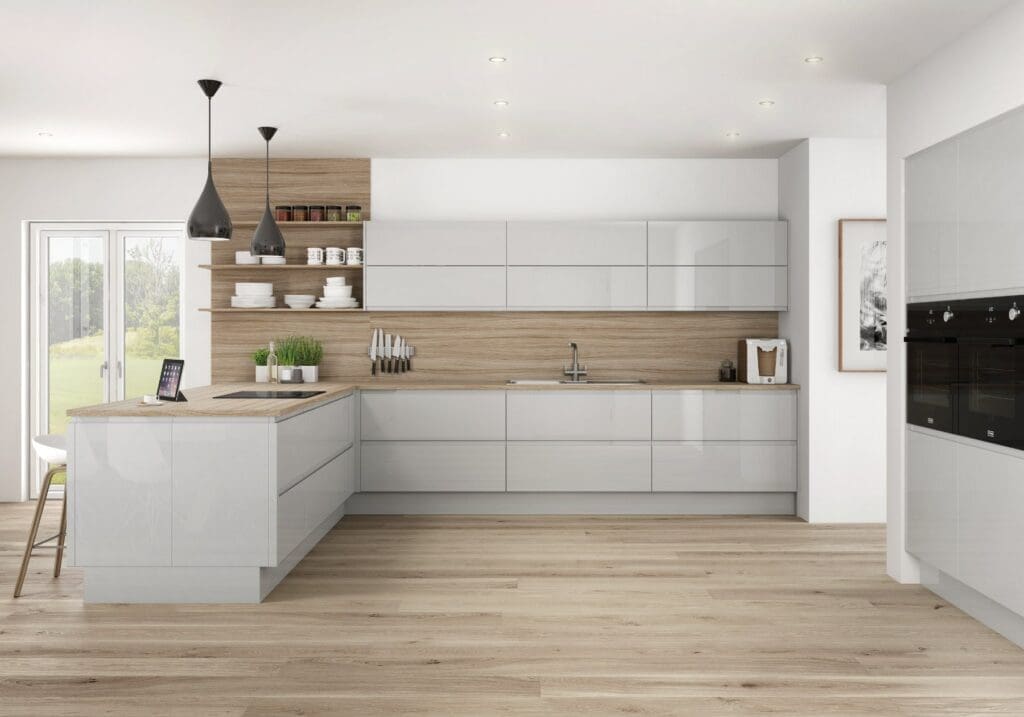 5. Handleless kitchens allow for more space
Handles on kitchen furniture can often appear bulky and make your kitchen look more cluttered than it actually is. This is especially the case if you're working with a smaller kitchen space. Handleless kitchens have the amazing benefit of instantly de-cluttering your kitchen. Without handles, your kitchen won't have any parts that overhang or protrude unnecessarily. The sleek and minimalist air of a handleless kitchen can also open up the area and create the illusion of a very spacious kitchen. Even if you have a small kitchen, the absence of handles will ensure that your kitchen looks open and roomy.
6. Improve the flow of your kitchen
Aside from making your kitchen feel more spacious, a handleless kitchen design also promotes good flow and atmosphere. Handleless kitchen cabinets and drawers will look much more sleek and sophisticated. This is mostly due to the fact that there is no eye-catching hardware to detract attention from the overall impression. Handles in a kitchen often stand out against the other colours and materials, and the absence of handles thus allows everything in your kitchen to flow perfectly.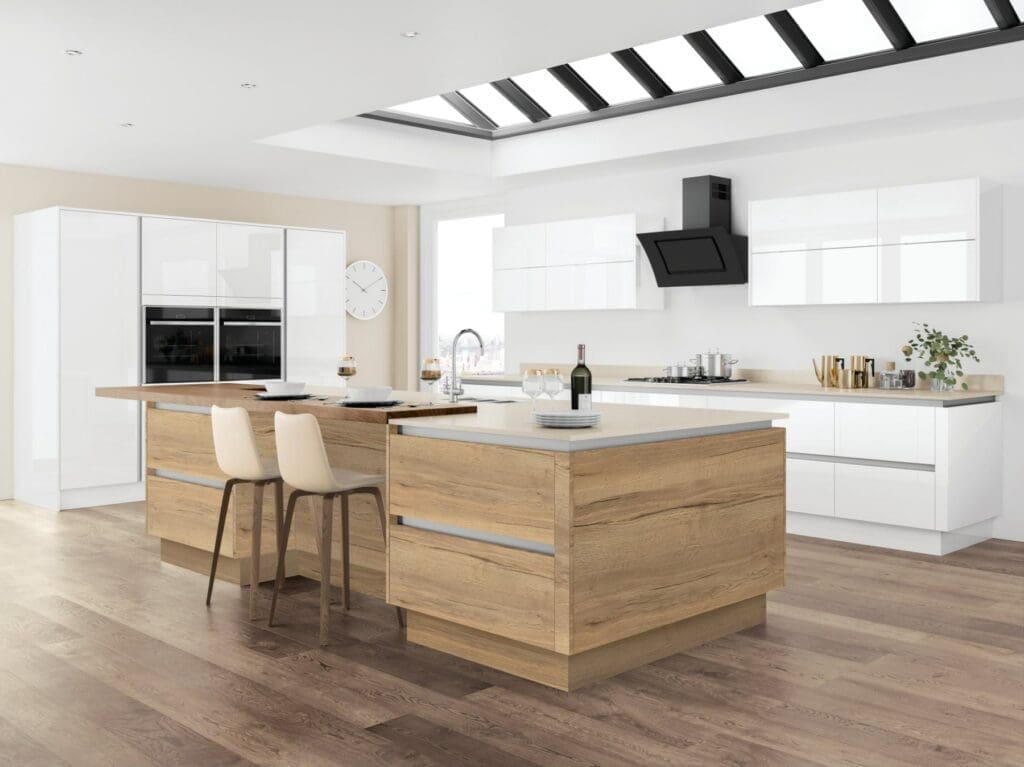 7. Handleless kitchens are always in style
One difficult aspect when it comes to kitchen design is the worry of choosing a design that will quickly go out of style. If you're someone who values having a trendy and contemporary kitchen, fear not! Handleless kitchens have been in style for a long time, and they show no signs of declining in popularity. They've been fashionable for at least 40 years, and they've recently even had a bit of a resurgence.
8. Variety and versatility of handleless kitchens
You might also be worried that handleless kitchens are available in fewer styles than more traditional kitchen units that include handles. You can rest assured knowing that there is no shortage of options when it comes to handleless kitchens! Whether you prefer glossy and sleek or matt and sophisticated, you'll certainly find a handleless kitchen design that caters to your tastes.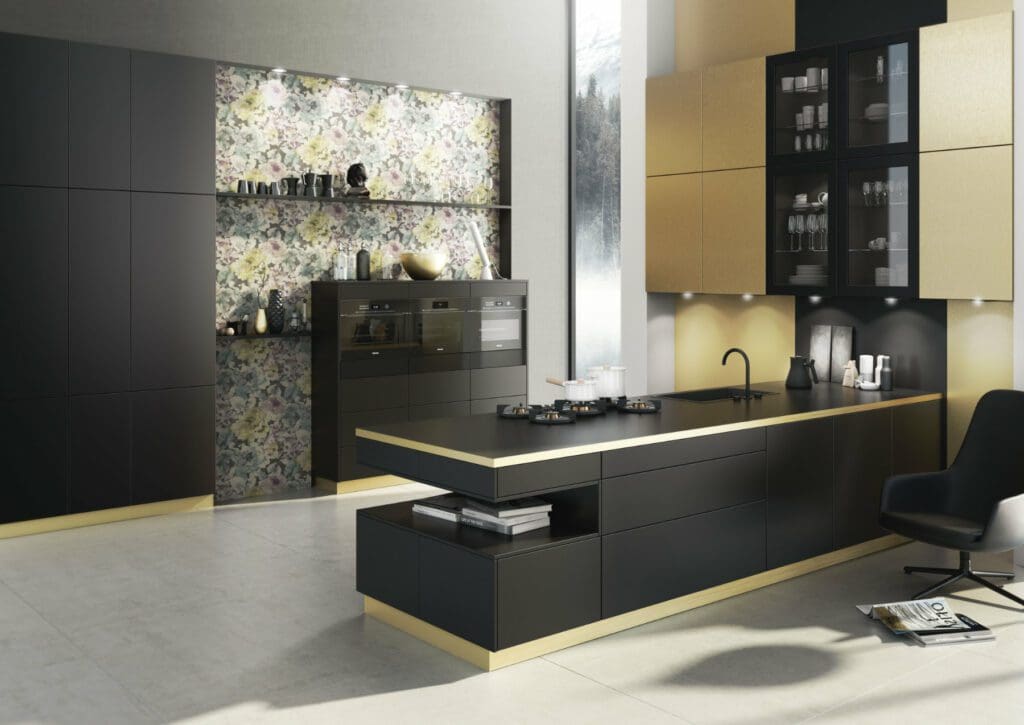 9. Keep your kitchen's aesthetic
After you've done away with the handles in your kitchen, you'll realise that handleless kitchens allow for much experimentation when it comes to designing your overall kitchen aesthetic. Handles on cabinets, drawers and other kitchen furniture are often cumbersome to pick out and difficult to match with the rest of your kitchen. With a handleless kitchen, you have much more freedom to focus on making sure that all of your surfaces work well with each other!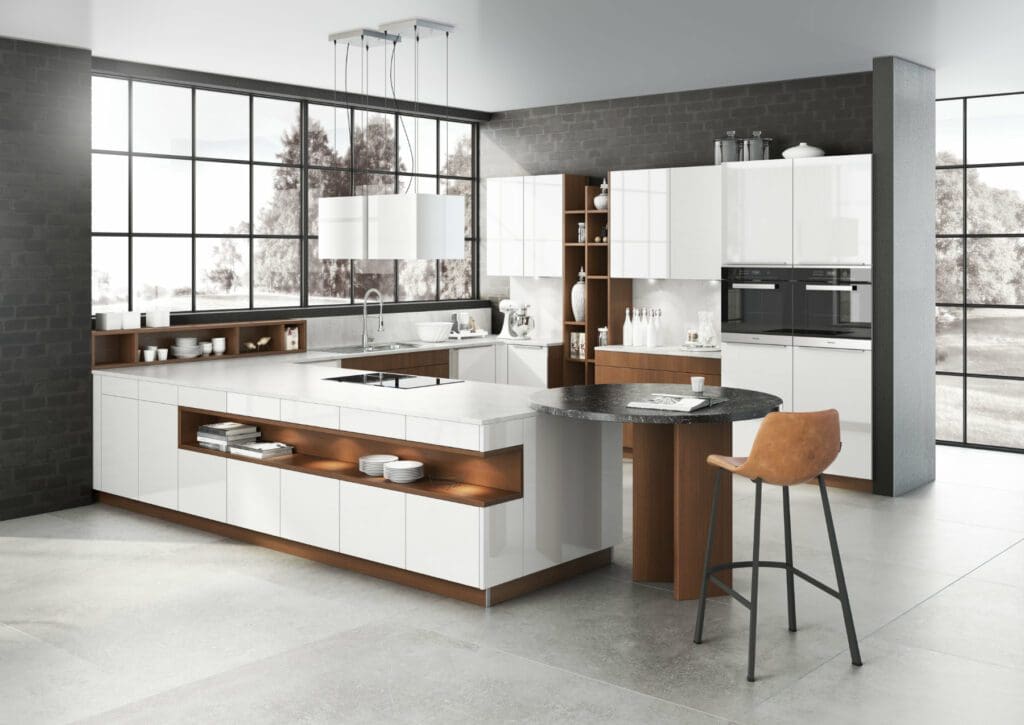 10. Handleless kitchens are beneficial for your kitchen island
Multi-purpose kitchen islands are becoming increasingly popular, and including a handleless kitchen design in your kitchen island could greatly improve its look and feel. Since you likely move around your kitchen island a lot, handleless cabinets and drawers would ensure that you can move more freely and unencumbered. Additionally, if you have seating around your kitchen island, a handleless kitchen would certainly be beneficial. The last thing you want when relaxing at your kitchen island is to constantly knock your knees against protruding handles!
Regardless of the colours and style you choose for your kitchen, a handleless kitchen design is guaranteed to add a modern and elegant flair to the space. Handleless kitchens are not only safer for you and your children, but are also easy to clean and create a satisfying flow!