Top kitchen design tips for maximising light in your kitchen  
Maximising the light in your kitchen can sometimes be difficult, especially if your kitchen doesn't receive much natural light. It's important to keep your kitchen bright, as this can greatly influence its atmosphere and your mood! But not to worry, as there are plenty of tricks you can use to maximise your kitchen's lighting. From simple solutions such as adding mirrors or brightly coloured decorations, to more elaborate ideas such as taking down walls and installing glass panels, we cover them all! Below you will find the top kitchen design tips for maximising the light in your kitchen.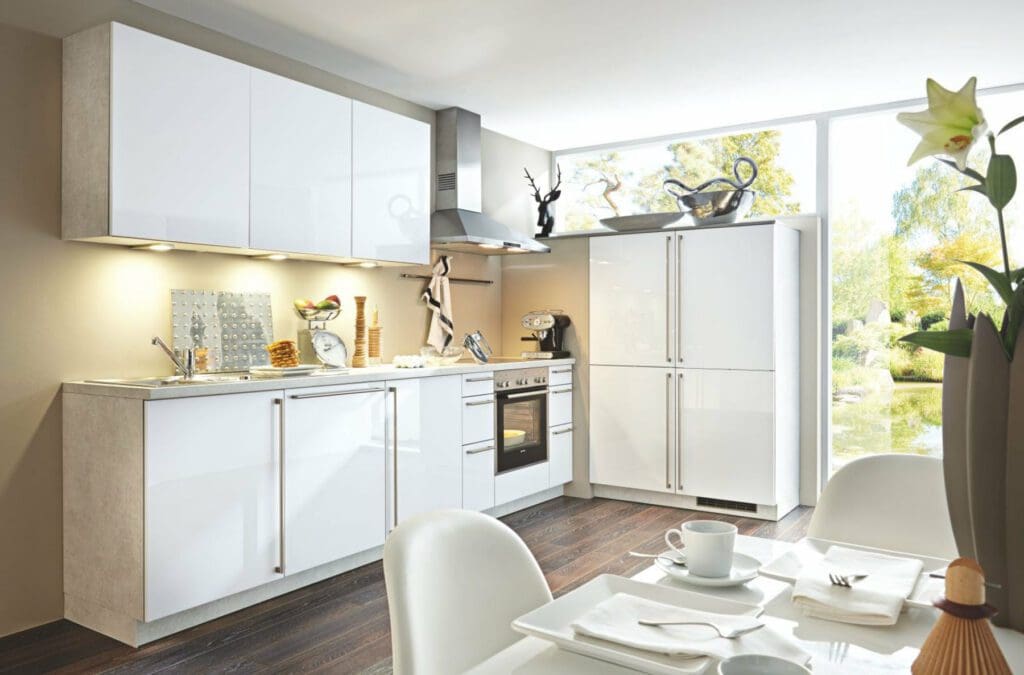 Kitchen Design Tips: Choose Light Kitchen Colours
An easy way to increase the light in your kitchen is to avoid dark colours on your walls, appliances and furniture. Darker kitchen colours will absorb more light, and in a poor design can end up looking dim and gloomy. Instead, light-toned kitchen doors with white walls or a similar light colour like cashmere are the perfect way to make the space seem brighter. You could even include a feature wall that makes use of pastels – this will add some character and variety to your kitchen design while still keeping your light-toned theme.
The light rule also applies to your kitchen appliances and decorations. Choose metallic, stainless steel or white appliances to complement your furniture and help enhance the feel of light and space. However, if pure white kitchen furniture and appliances seem too clinical for you, you can always play around with different materials, such as pale wood kitchen doors which will soften your kitchen's look.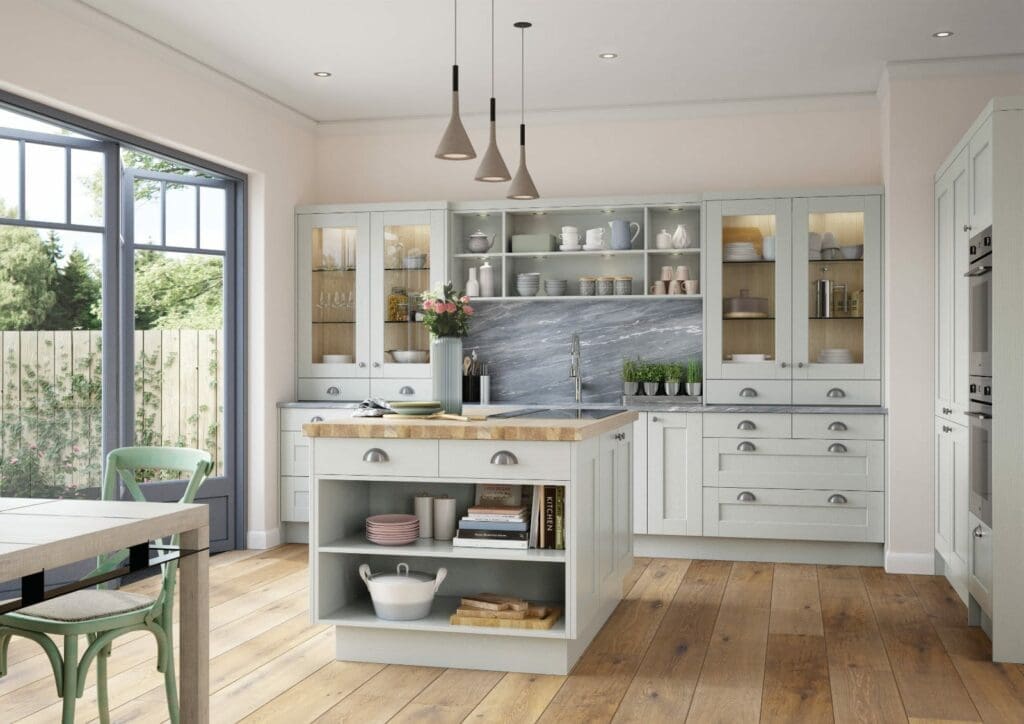 Kitchen Design Tips: Use Reflective Surfaces to Maximise Light
One simple way to increase the light in your kitchen is to incorporate bright, reflective surfaces within your design. Mirrors are ideal for this as their surface reflects light, bouncing it around a room to make a space feel larger and brighter. This is a quick, easy and inexpensive way to maximise the amount of light in your kitchen, and they're also highly decorative. You can even incorporate mirrors into more unexpected surfaces such as a mirrored splashback. It's a unique way to spruce up your kitchen and enhance the look and feel of your space.
Similarly, with worktop surfaces taking up lots of space in your kitchen, these also give scope for enhancing your aesthetic. Light colours will easily lift your kitchen's look and again a gloss surface can offer light reflective qualities, bouncing existing light around the room. This way, even if your kitchen doesn't have much natural light, shiny or glossy surfaces will create the illusion of brightness and space. Including materials like white marble or quartz work perfectly to maximise light in your kitchen.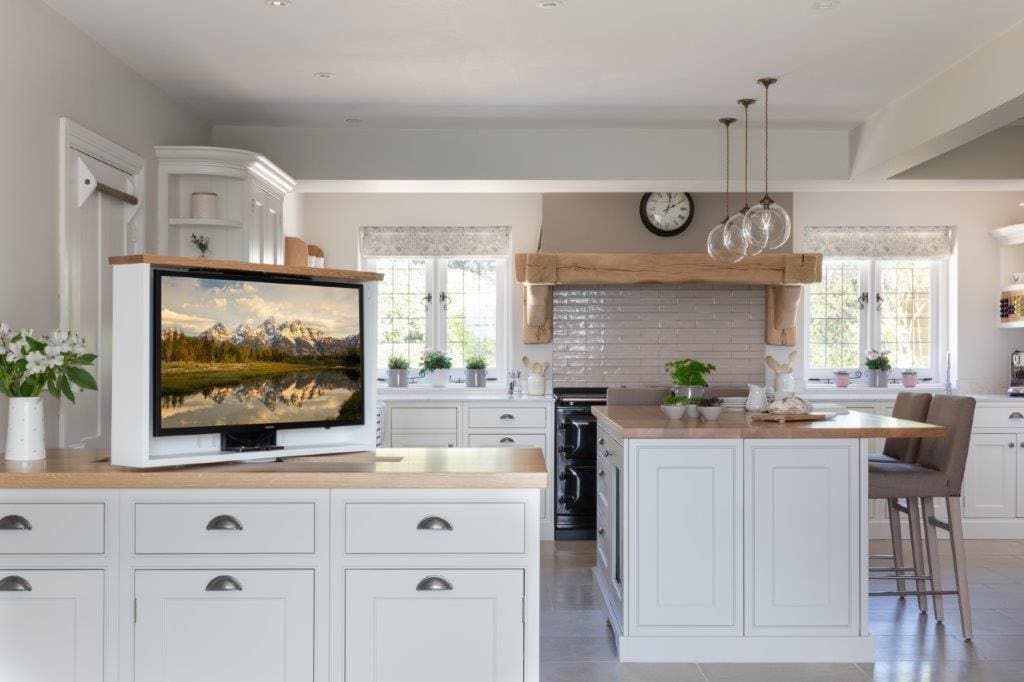 Kitchen Design Tips: Go for Glass Kitchen Accents
Along with reflective surfaces and mirrors, glass can also make a room feel especially airy, bright and elegant. Try replacing certain design elements in your kitchen with glass to bring a gleam and shine to your furniture. You could choose glass doors in your cabinets, or tiles, or else it's very easy to incorporate glass within your design and accessories.
If you have the means for it, you might also want to consider renovating your kitchen in a way that incorporates more glass. For example, installing bifold doors, a glass back door, or larger windows are great ideas for ensuring your kitchen sees as much natural light as possible. Installing a skylight is another option you might want to think about. Skylights look stylish and will make your kitchen appear lighter and more open.
If that's still not enough, you can even think about taking out one of your walls. Open-plan kitchens are extremely popular in modern kitchen design – and for good reason! An open layout will open up the space but also help your kitchen maximise its existing light due to it being a less confined space.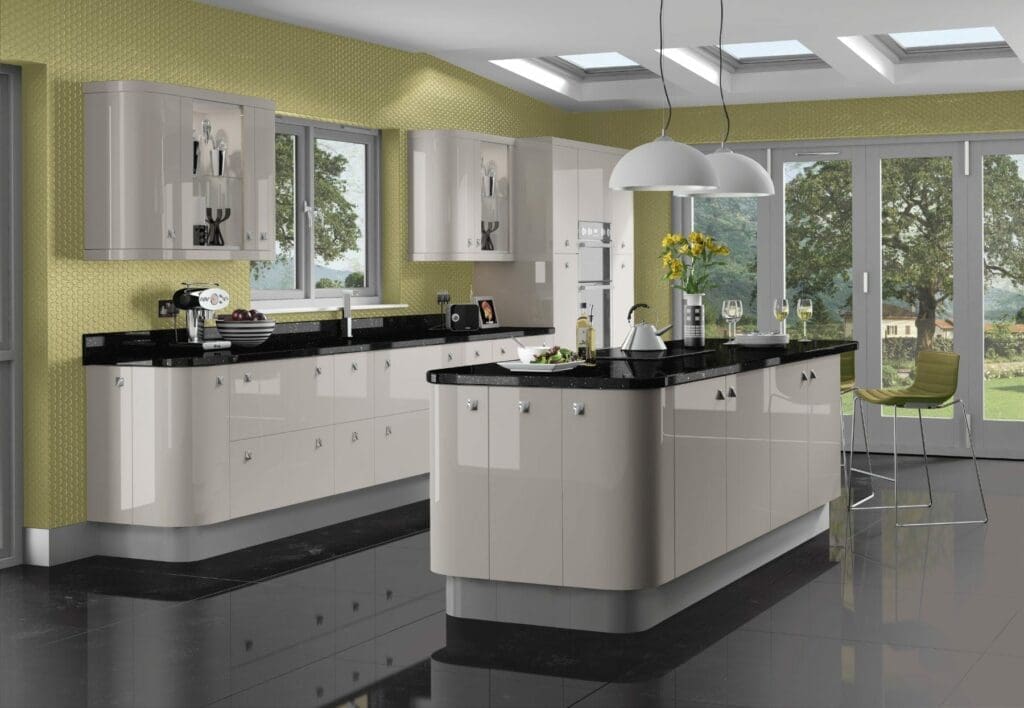 Include More Artificial Kitchen Lighting
If you still find your kitchen lacks natural light, you can always enhance your space with a careful lighting plan which includes artificial lights. Try installing multiple light sources throughout your kitchen rather than relying on one or two large overhead lights. This should include a solid blend of task lighting, ambient lighting and accent lighting. Modern LED lights will also allow you to influence your kitchen's lighting with a choice of Warm, Cool or Daylight bulb options.
Don't Underestimate Your Kitchen Flooring
It can be easy for kitchen flooring to take a backseat when planning your new kitchen but this is also important in influencing your kitchen's overall look! Since it takes up so much space, choosing a light colour is a great way to ensure your kitchen feels light. White marble tiles are perfect for this. If you pair these with light walls and reflective surfaces, your kitchen will be brighter in no time. Similarly, neutral tones for your flooring will also do enough to make your kitchen feel light and spacious and prove easy to clean.
Need More Kitchen Design Tips? 
So there you have it! Now you know the top tips for maximising light within your kitchen and creating a beautiful, airy space. Want to know more?  Contact My Kitchen Specialists today!