Benefits of a Two-Tone Kitchen Scheme
A two-tone kitchen scheme represents a classic design that has enjoyed popularity for a number of years. It usually refers to a kitchen design in which the cabinetry and furniture incorporate two (or more) distinct and separate colours. This colour scheme offers variety in your kitchen and it's a great opportunity to be creative. There are countless colour combinations to explore, and you can even experiment with using two different materials or finishes for your kitchen. Below is a list of the amazing benefits two-tone kitchen schemes have to offer!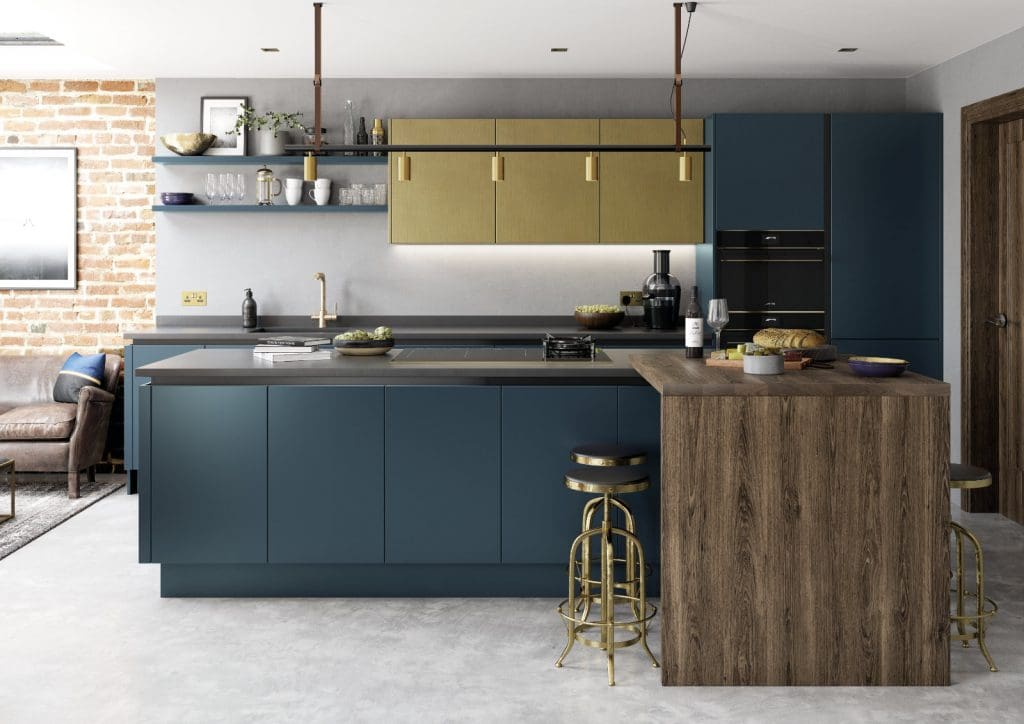 Aesthetic Appeal of a Two-Tone Kitchen 
Two-tone kitchen benefits include significantly increasing the aesthetic appeal of your kitchen. Whilst many people opt for a monochromatic kitchen design, a two-tone kitchen adds a unique edge and is sure to make your kitchen stand out. Picking two distinct colours easily creates an elegant overall look without it being too simplistic.  
With cool or neutral colours, a two-tone kitchen can help create a sophisticated and luxurious atmosphere. Alternatively, if you're fond of bright colours, this scheme is a perfect way to bring style, fun and personality into your kitchen. If you want the colours to stand out more, you can even pair a neutral tone with a bright or pastel colour. This will allow you to add the variation you're looking for without the bright colour being too overpowering.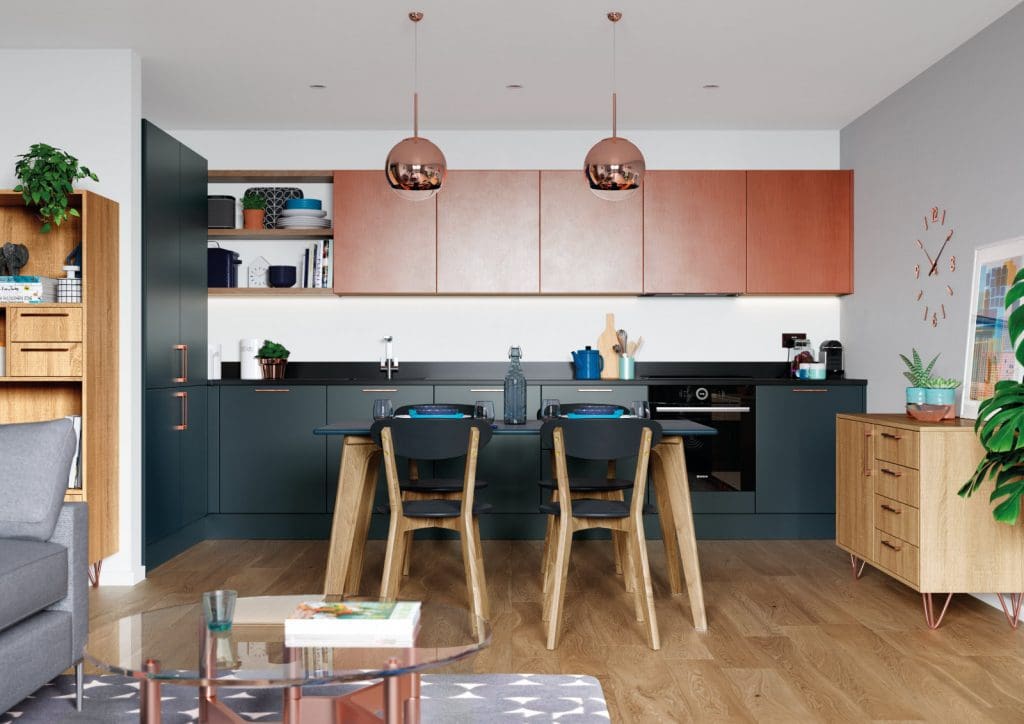 Island Two-Tone Kitchens 
If you have a larger kitchen with a kitchen island, two-tone kitchens benefit because they offer a simple and easy means for drawing focus towards your island. Making the cabinets on your island considerably lighter or darker than the rest of your kitchen will create an interesting visual focal point that will pull the entire design together.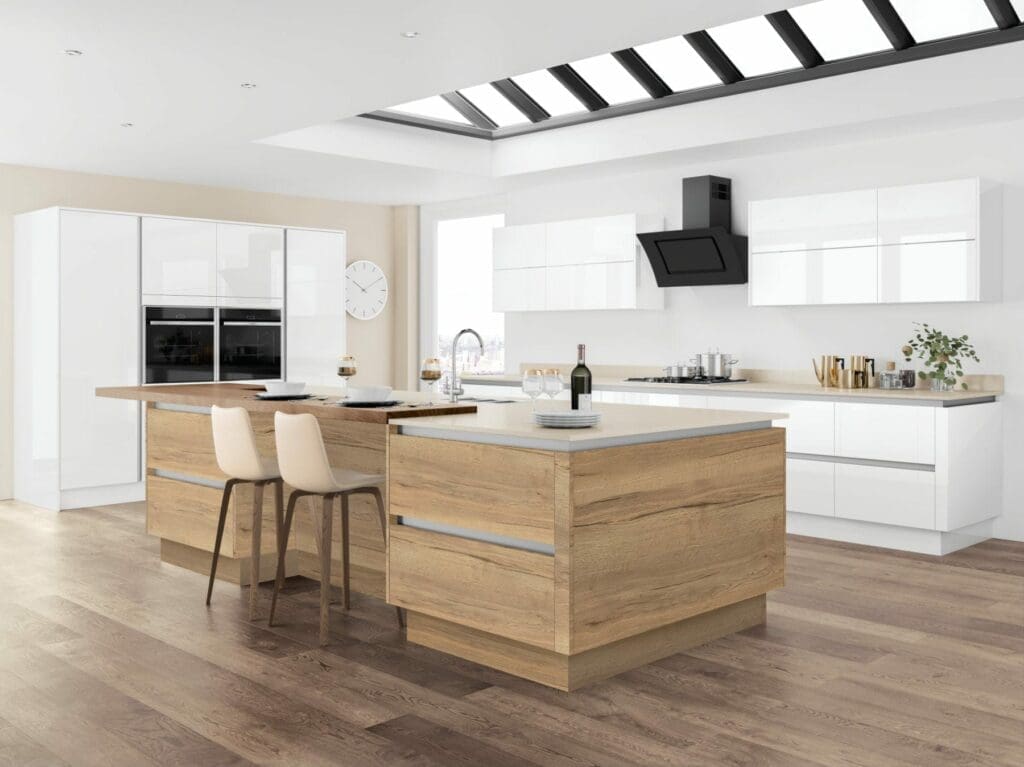 Play With Different Styles and Materials 
A great benefit of multi-tone kitchen schemes is that they allow you to mix and match different styles or materials in your kitchen. You could either experiment with different shades of one material, such as two different shades of stained wood for your cabinets, or else make use of two different materials entirely.  

Two-tone kitchens make it possible to have one half of your cabinets painted a shiny white, and the other half made out of rich, natural wood. This combination is a great way to add a touch of warmth to a pristine and clinical kitchen. The white cabinets can also help modernise a more traditional or rustic-style kitchen! In line with this, one half of your cabinetry could even have an entirely different style if it complements the colour you have chosen for those pieces of furniture.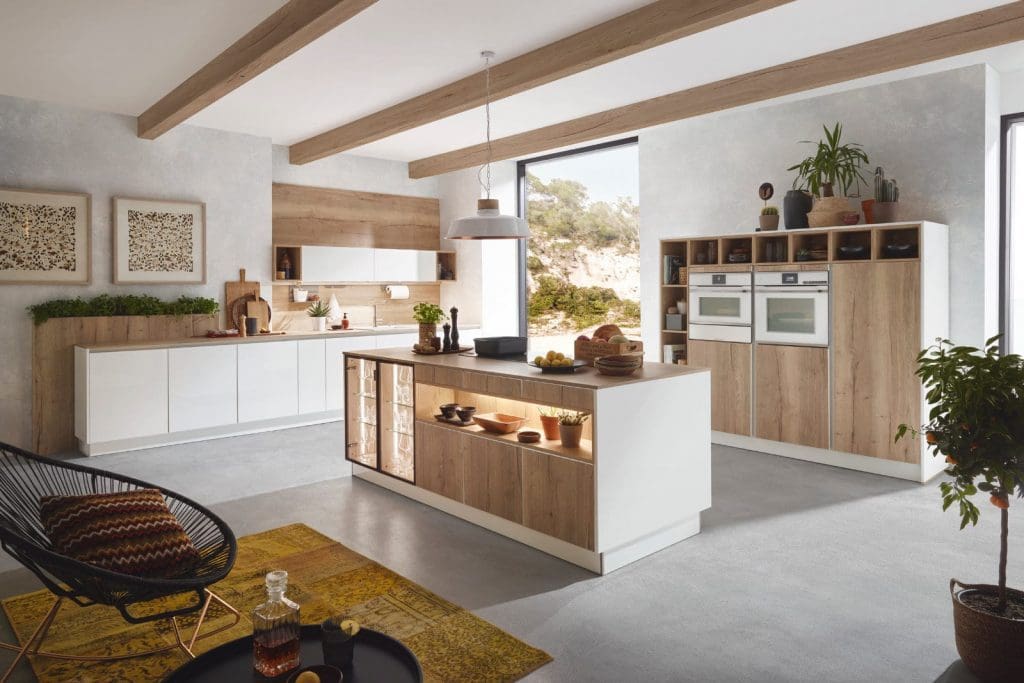 Two-Tone Kitchen Schemes Enlarge the Space 
 If you're working with a smaller kitchen, two-tone kitchen schemes are a great way to create the illusion of space and depth. Monochromatic kitchens have great aesthetic appeal, but can sometimes appear flat due to the lack of variation. With a multi-tone kitchen design, there is just enough variation for the eye to be drawn to different parts of your kitchen, creating the illusion that it is more spacious.
For example, two-tone kitchens help make darker tones work in small kitchen spaces.  With darker cabinetry on the bottom and lighter cabinetry higher up, this helps draw the eye upwards and make your two-tone kitchen appear larger. Using two different shades of the same colour can also bring some much-needed dimension to your kitchen.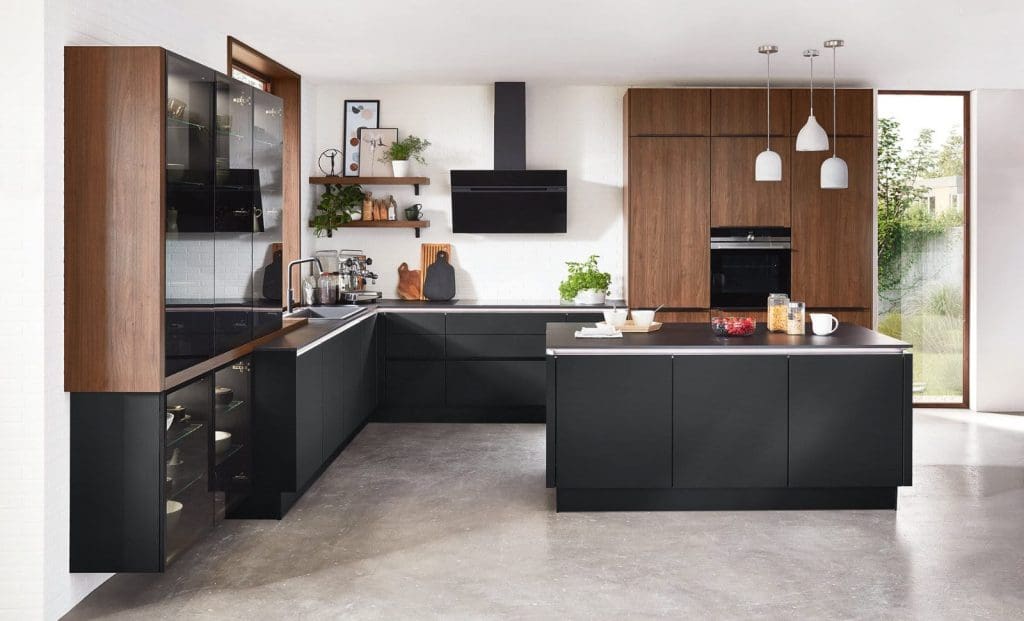 Increase Your Resale Value 
Since two-tone kitchens are a lasting trend, this kitchen style may actually help increase your home's resale value. The kitchen is the most important room for adding value and prospective buyers will typically spend the most time inspecting this, which means an aesthetically pleasing kitchen that doesn't need renovating is a great way to attract potential buyers. Especially if you follow current kitchen colour trends, or else a neutral scheme that's not over-personalised, your multi-tone kitchen could easily become a must-have for eager future homeowners.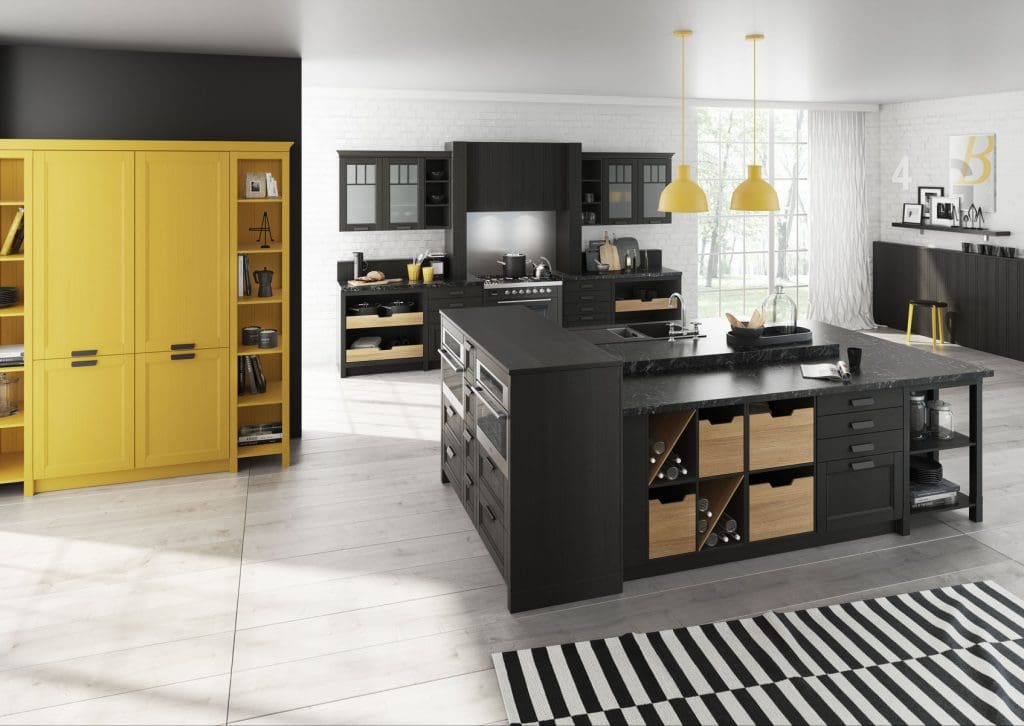 Two-Tone Kitchens Encourage Creativity With Colour 
Another benefit of two-tone kitchen schemes is they are perfect for adding pops of colour or intricate designs to your kitchen. Homeowners might be hesitant when it comes to adding bright colours, worried their kitchen may look brash or chaotic. But stay within the confines of your two chosen colours and you can get very creative without offsetting your design.
For example, you can always add ornate details or patterns in a darker tone, with a lighter colour as a background. This will create an interesting visual that is unique enough to draw attention, but not so jarring that it will distract from your overall aesthetic. Experimenting with patterns is great for keeping your kitchen colourful yet elegant.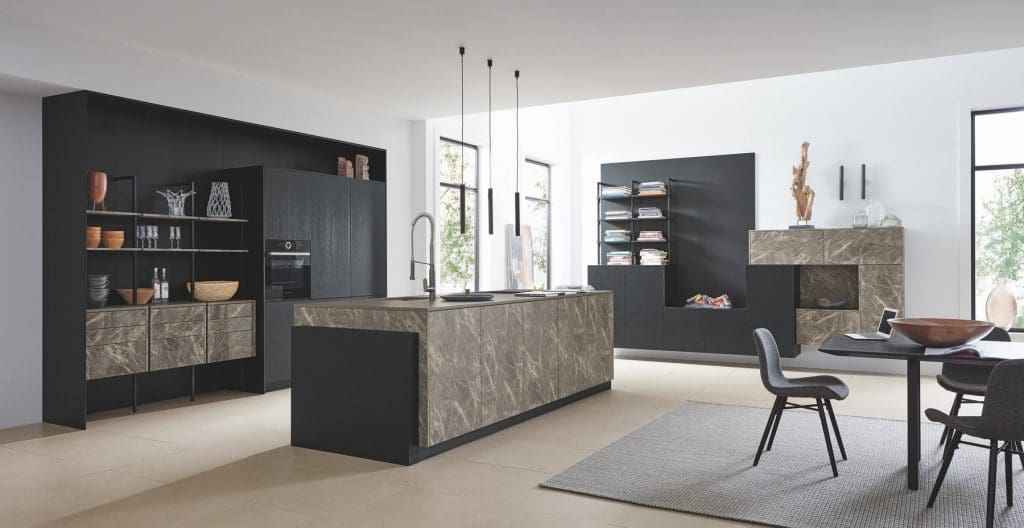 Versatile Two-Tone Kitchen Schemes  
Another two tone kitchen benefit is that this style is easily adaptable to the space you're working with. As discussed above, multi-tone kitchens can make a smaller space appear larger, but this scheme can also add warmth to a vast blank canvas. Customisable for sleek, modern designs or more traditional or Shaker designs, a two-tone kitchen scheme will enhance any kitchen and achieve your desired effect.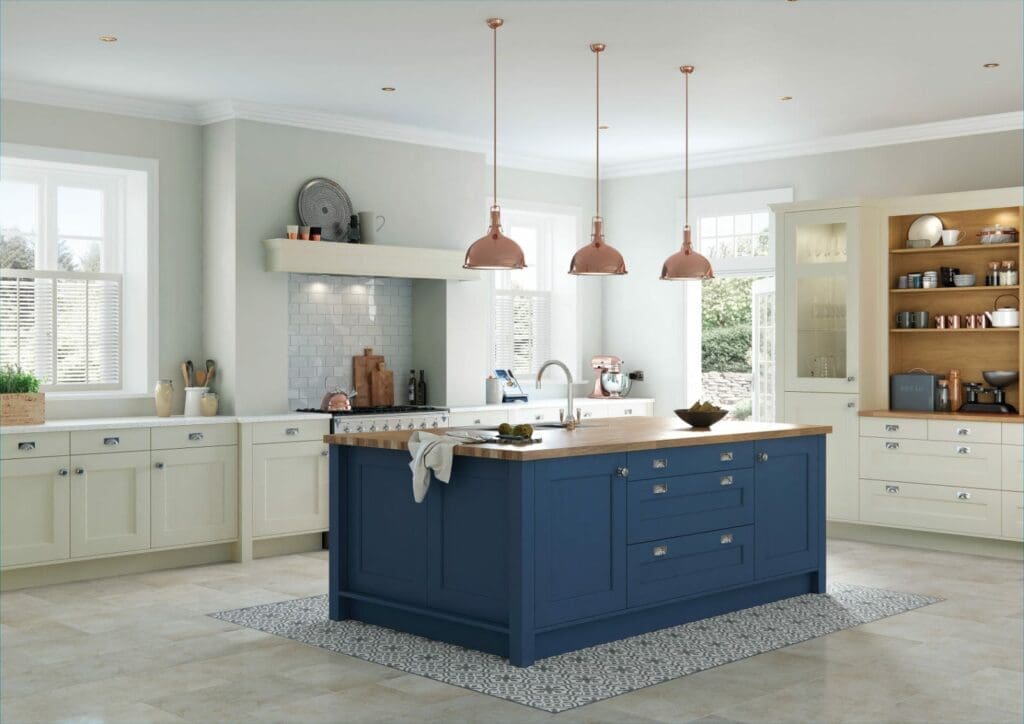 Find Your Perfect Two-Tone Kitchen Look   
With unlimited possibilities, it's clear that two-tone kitchen schemes have many useful benefits; Aesthetically pleasing, interesting, effective in creating the illusion of space and even increasing your home's resale value. They allow you to creatively experiment with different colours and do so without overwhelming your space. Whether your desired design is ultra-modern or charmingly traditional, two-tone kitchen schemes will certainly add a unique and elegant atmosphere to your kitchen! 
For help in creating your perfect two-tone kitchen design talk to your nearest My Kitchen Specialist today.