The Best UK Kitchen Design Trends for Timeless Style and Lasting Staying Power 
As the heart of the home, the kitchen has always been a focal point for interior design, but as a working space, it must also be functional and practical in nature. In recent years, UK kitchen design trends have increasingly shifted towards spaces that combine functionality, comfort, and timeless style. So, if you're looking to create an on-trend kitchen with lasting staying power, these top kitchen design trends are sure to inspire you.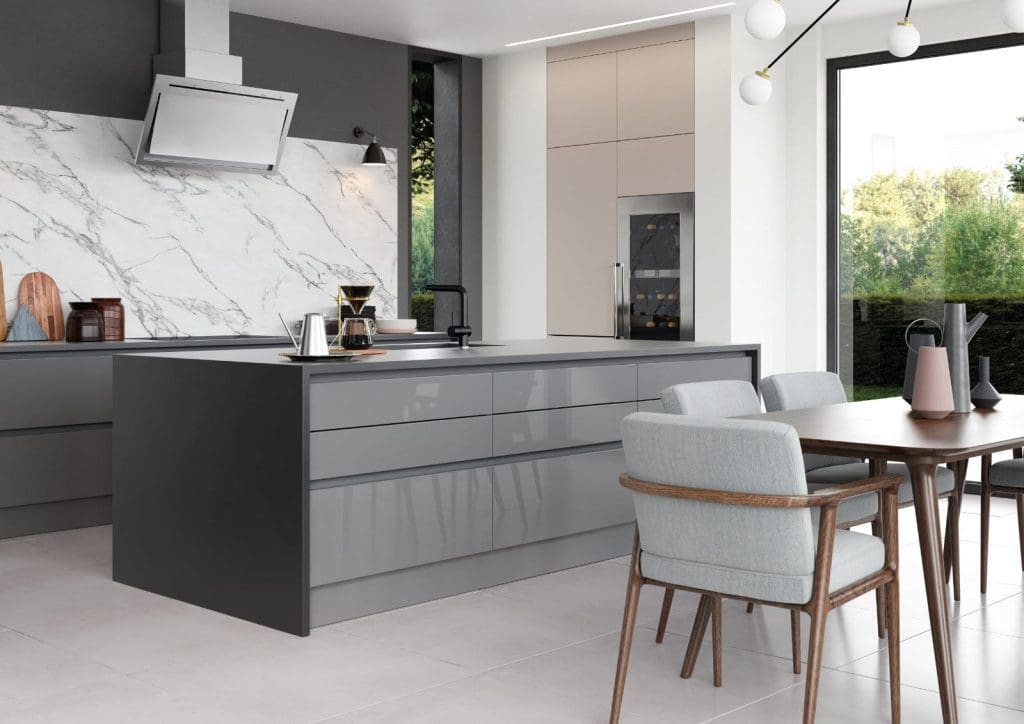 Handleless Kitchen Cabinets
For a sleek and minimalist kitchen look, handleless kitchen cabinets have become increasingly popular in UK kitchens. Leading the way in UK kitchen design trends, these cabinets are designed with either a hidden groove or a push-to-open mechanism, resulting in a seamless, elegant appearance. Handleless kitchen doors lend a modern, streamlined feel to the space, while also making the kitchen easier to clean and maintain.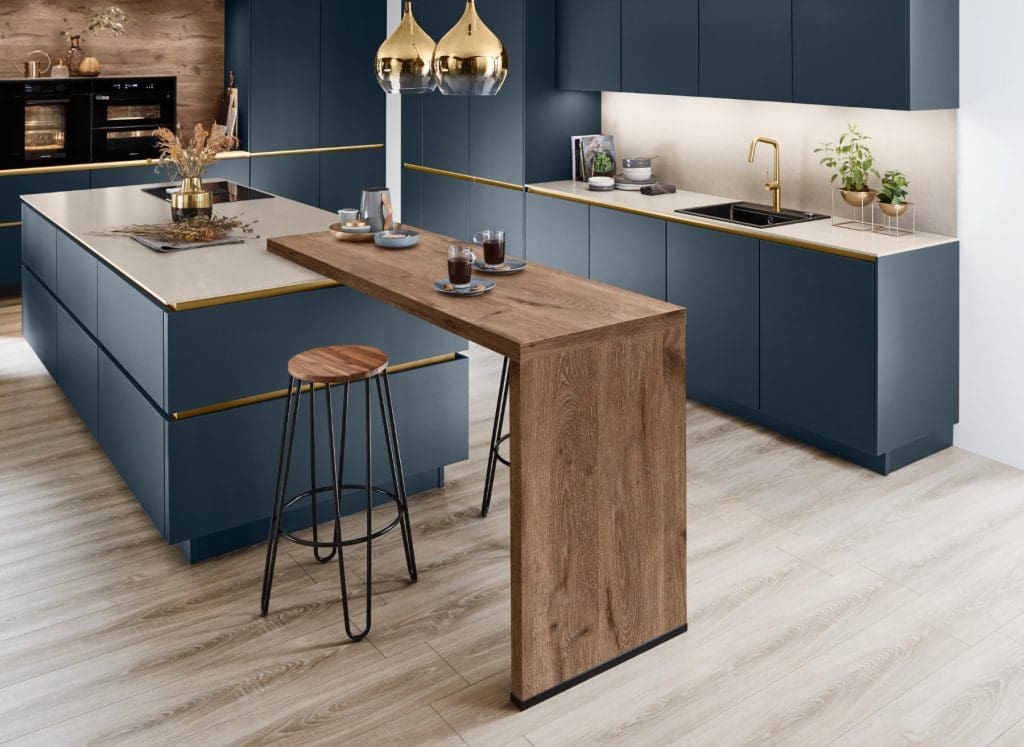 Dark Kitchen Colour Palettes
While light and neutral kitchen colours have long been favoured in kitchen design trends, darker colour palettes have started to make their mark in recent years. Rich, moody hues like navy, black, and deep green add a sense of sophistication and luxury to the space. When paired with metallic accents or lighter worktops, these darker colours create a striking contrast that elevates the overall aesthetic of the kitchen.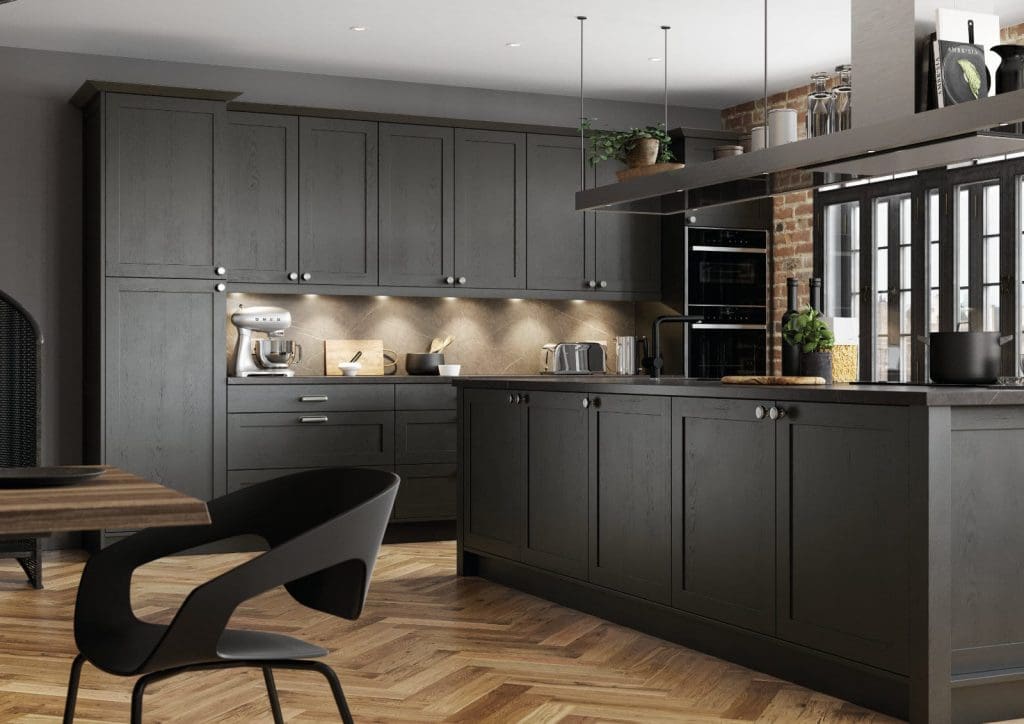 Kitchen Island Centrepieces
Kitchen islands have long become a staple in many UK homes, serving as both a functional workspace and a social hub. In recent years, kitchen designers have embraced the idea of making the island a true centrepiece, incorporating bold colours, unique materials, or statement lighting to create a focal point in the room. By choosing a distinctive kitchen island design, you can create a stunning visual anchor that adds lasting impact to your kitchen- and be sure of a kitchen design trend that's set to stay!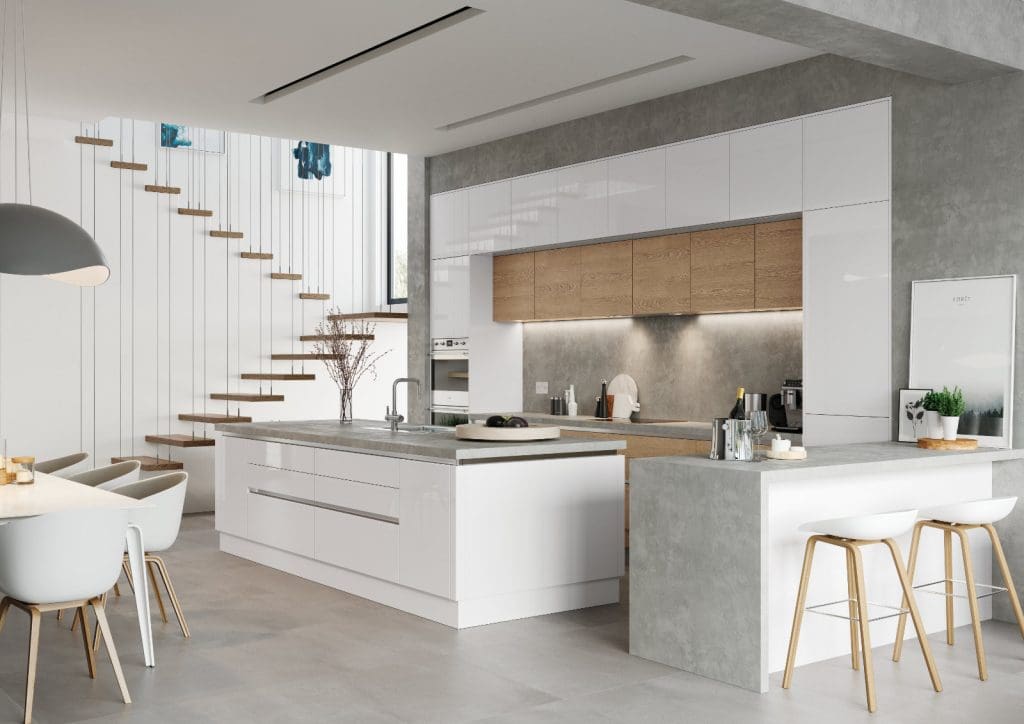 Smart Kitchens
Technology has become an essential part of our daily lives, and the kitchen is no exception. Smart kitchens, equipped with integrated appliances and cutting-edge gadgets, have become increasingly popular in recent years. From smart ovens that can be controlled remotely to voice-activated lighting, these tech-savvy kitchens offer both convenience and efficiency. Incorporating smart technology into your kitchen design ensures that your space remains functional and up-to-date for years to come.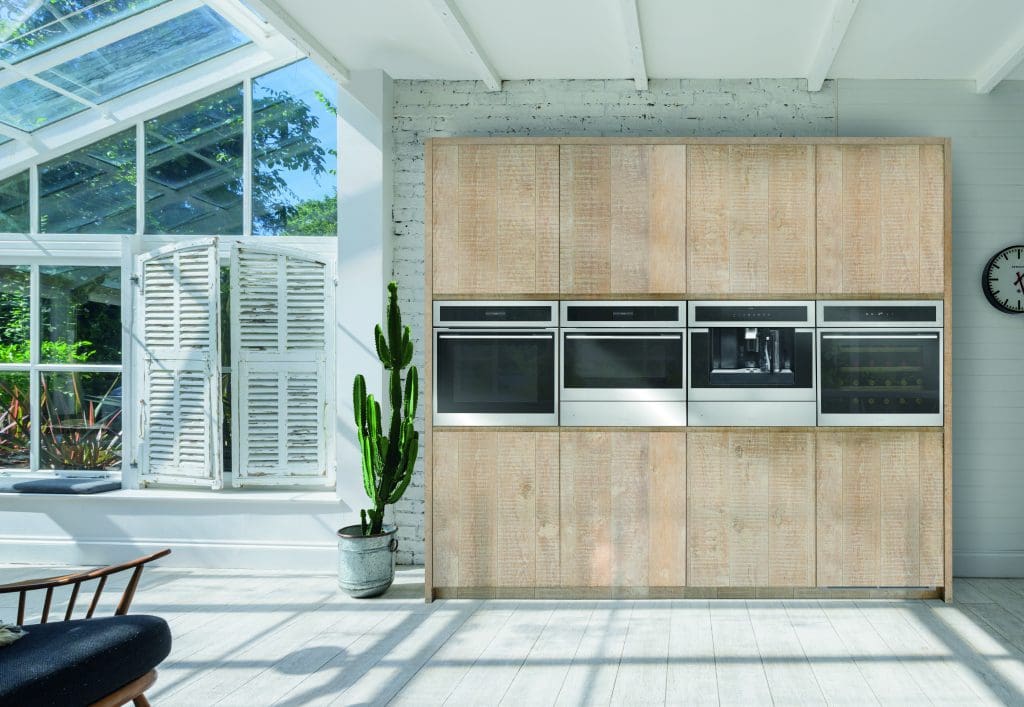 Open Shelving
One of the most popular kitchen design trends to have emerged in recent years is open shelving. Replacing traditional upper cabinets with open shelves creates a sense of spaciousness and allows homeowners to display their favourite kitchenware and accessories. This design trend adds a welcome touch of personality to your kitchen, but also helps you keep your space organised and clutter-free.
Mixed Materials
Incorporating a variety of materials into your kitchen design adds depth and interest, while also ensuring a timeless appeal. Popular combinations include wood, stone, and metal, used in various ways throughout the space. For example, you might choose a wooden worktop paired with a marble backsplash, or a combination of metal and glass accents throughout the space. Mixing materials is a popular kitchen design trend that allows you to create a unique, personalised look that reflects your individual taste.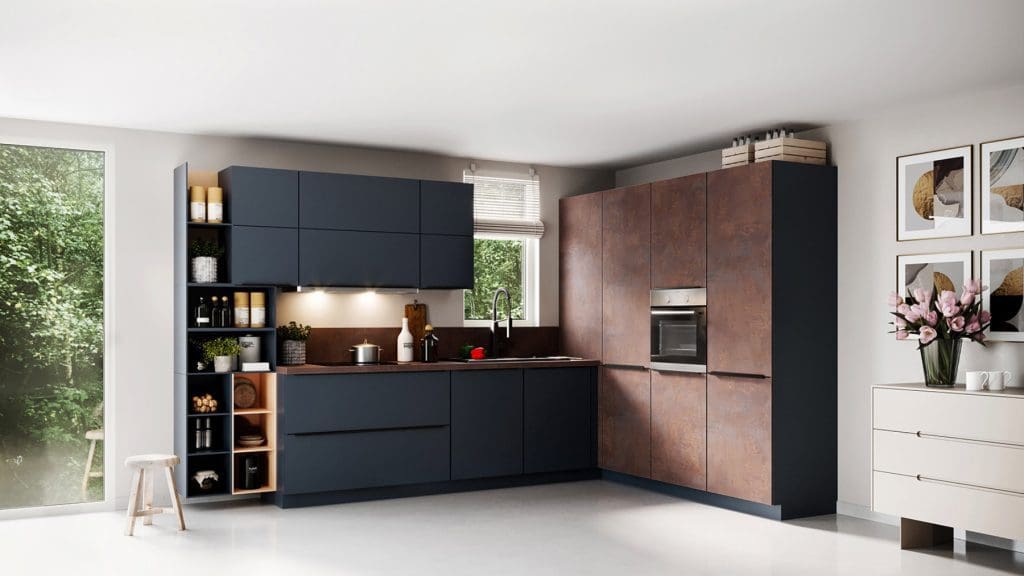 Biophilic Design
As homeowners become more environmentally conscious, biophilic design – which aims to incorporate elements of nature into interior spaces – has gained traction in UK kitchens. This kitchen design trend involves using natural materials like wood and stone, as well as incorporating indoor plants and herb gardens. By bringing elements of the outdoors inside, the biophilic design creates a sense of harmony and well-being in your kitchen, while also contributing to a more sustainable lifestyle.
Flexible Kitchen Layouts and Multi-Functional Spaces
The way we use our kitchens has evolved over time, with modern families requiring spaces that can adapt to a variety of needs. Flexible layouts have therefore become a key within UK kitchen design trends, incorporating features like movable islands, fold-away workstations, and sliding doors. By designing a kitchen with a flexible layout, you can ensure that your space remains functional and versatile, catering to the changing needs of your household for years to come. 
Similarly, as open-plan living continues to dominate UK home design, kitchens have become much more than just a place to cook. Modern kitchens often serve as dining areas, home offices, and even living spaces, making multifunctionality essential within kitchen design trends. To create a truly multifunctional kitchen, consider incorporating adaptable furniture, such as extendable dining tables or built-in desks, as well as clever storage solutions to keep the space clutter-free and organised.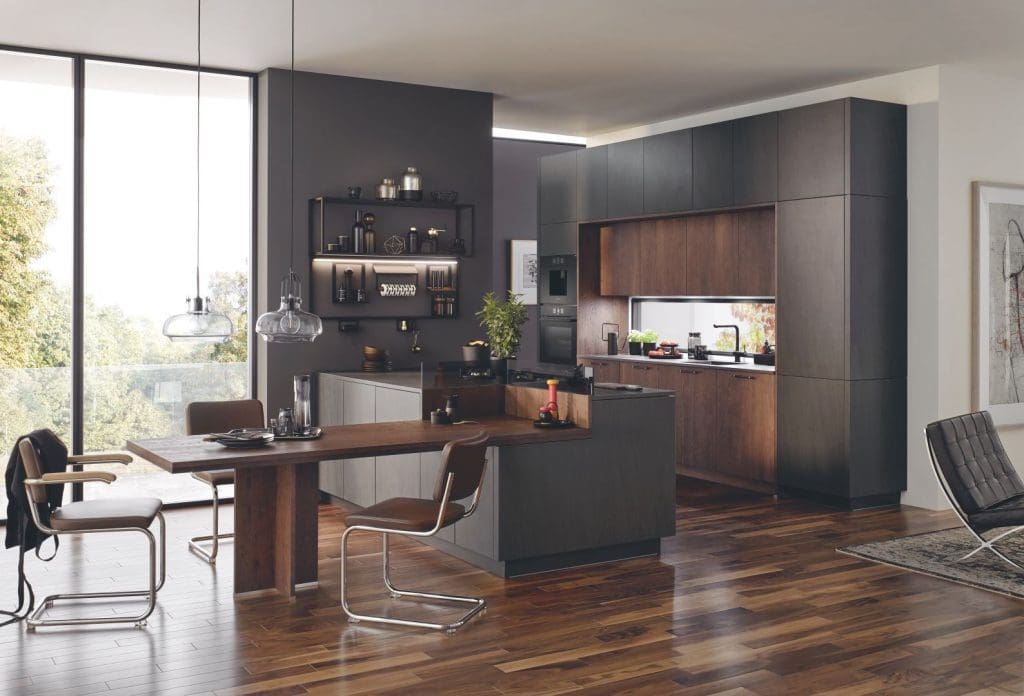 Textured Kitchen Surfaces and Vintage-Inspired Elements
Adding texture to your kitchen design can create visual interest and depth, as well as a sense of warmth and comfort. Textured surfaces might include rough-hewn wood, hammered metal, or patterned tiles. By incorporating a variety of textures into your space, you can achieve a layered, inviting look that will stand the test of time. 

Alternatively, in recent years, there has been a resurgence of interest in vintage-inspired elements within kitchen design. These features might include retro appliances, antique lighting fixtures, or reclaimed wood accents. By blending modern convenience with nostalgic charm, these vintage-inspired kitchens strike a balance between old-world character and contemporary functionality. Incorporating such elements into your kitchen design will create a sense of warmth and history that will never go out of style.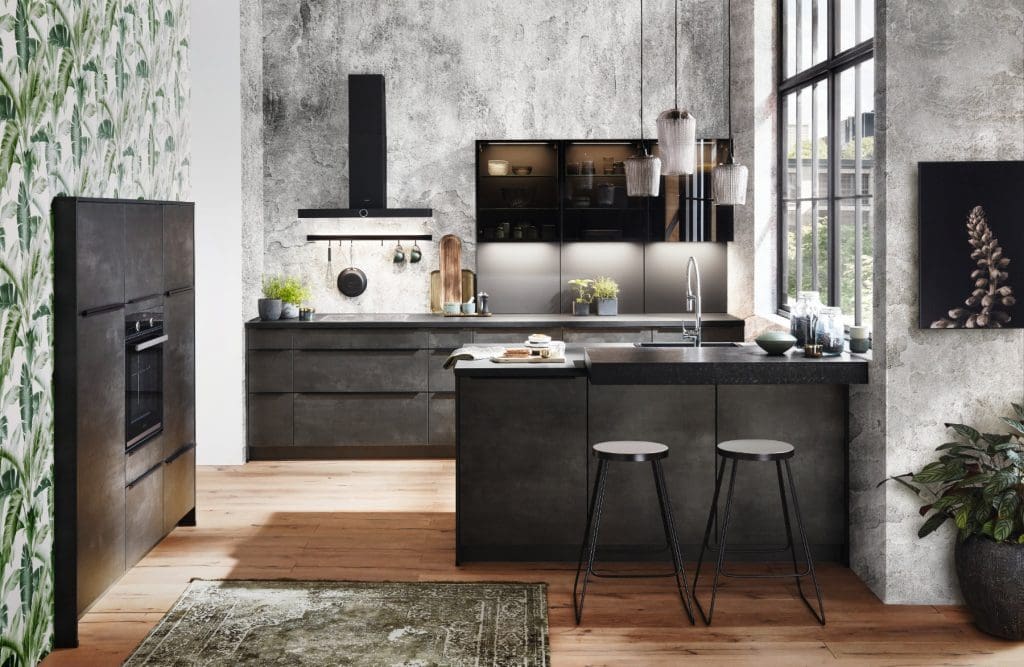 Sustainable Kitchen Design and Materials
Sustainability has become a top priority for many homeowners, and this is reflected in the growing popularity of eco-friendly kitchen design. Choosing sustainable materials, such as bamboo, recycled glass, or reclaimed wood, not only contributes to a greener planet but also adds a unique, natural aesthetic to your space. Additionally, energy-efficient appliances, LED lighting, and water-saving fixtures can all help to reduce your environmental impact, whilst also saving you money in the long run.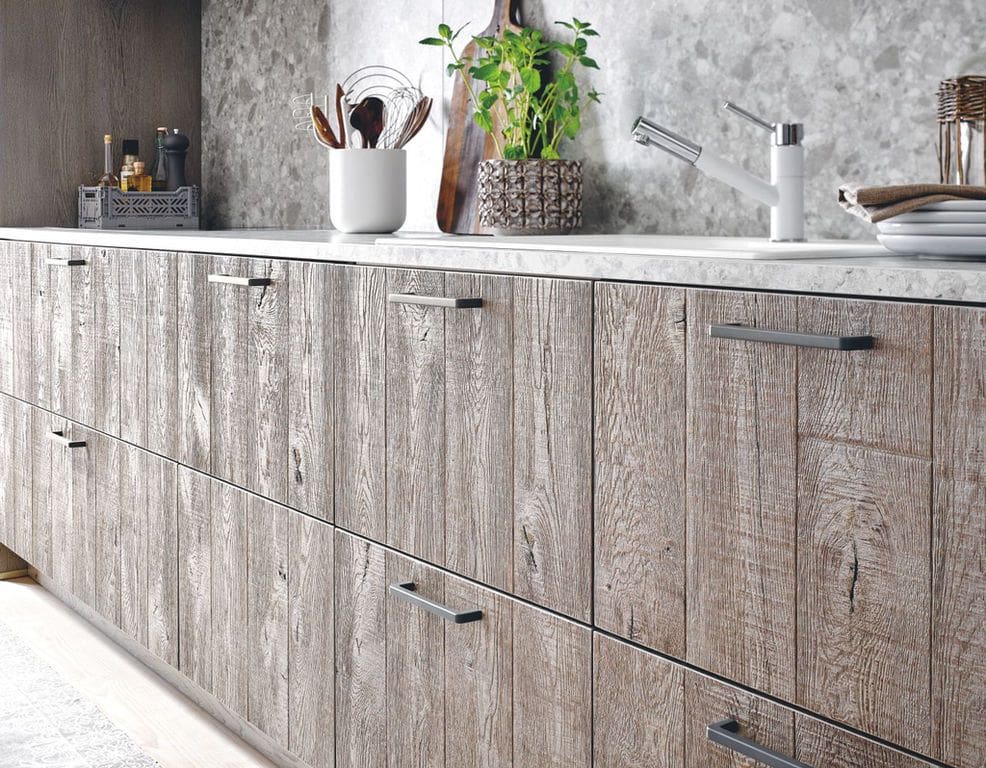 Achieve a Timeless, Lasting Kitchen Look with your local Kitchen Specialists
In conclusion, the best UK kitchen design trends for lasting staying power combine functionality, comfort, and timeless style. By embracing open shelving, handleless cabinets, mixed materials, and darker colour palettes, as well as incorporating smart technology, biophilic design, and flexible layouts, you can create a kitchen that meets your needs today and for years to come. Contact your local kitchen specialist who can advise on a great kitchen look and layout in line with your taste and space requirements, and you can be sure of a kitchen that will remain a beautiful, inviting space you'll love spending time in.
For help in creating your perfect kitchen look in a style that speaks to you, talk to your nearest My Kitchen Specialist today.