Discover The Advantages of a U-Shaped Kitchen Layout
In the world of kitchen layouts, the U-shaped kitchen stands as a testament to functional design, blending beautiful aesthetics and practicality for an efficient kitchen workflow. This classic design ensures that every aspect of your kitchen is utilised to its fullest potential, transforming your everyday cooking routine into an experience you'll enjoy on a daily basis! Below, we'll delve into everything you need to know about U-shaped kitchens, exploring their many benefits and how they can enhance your kitchen space.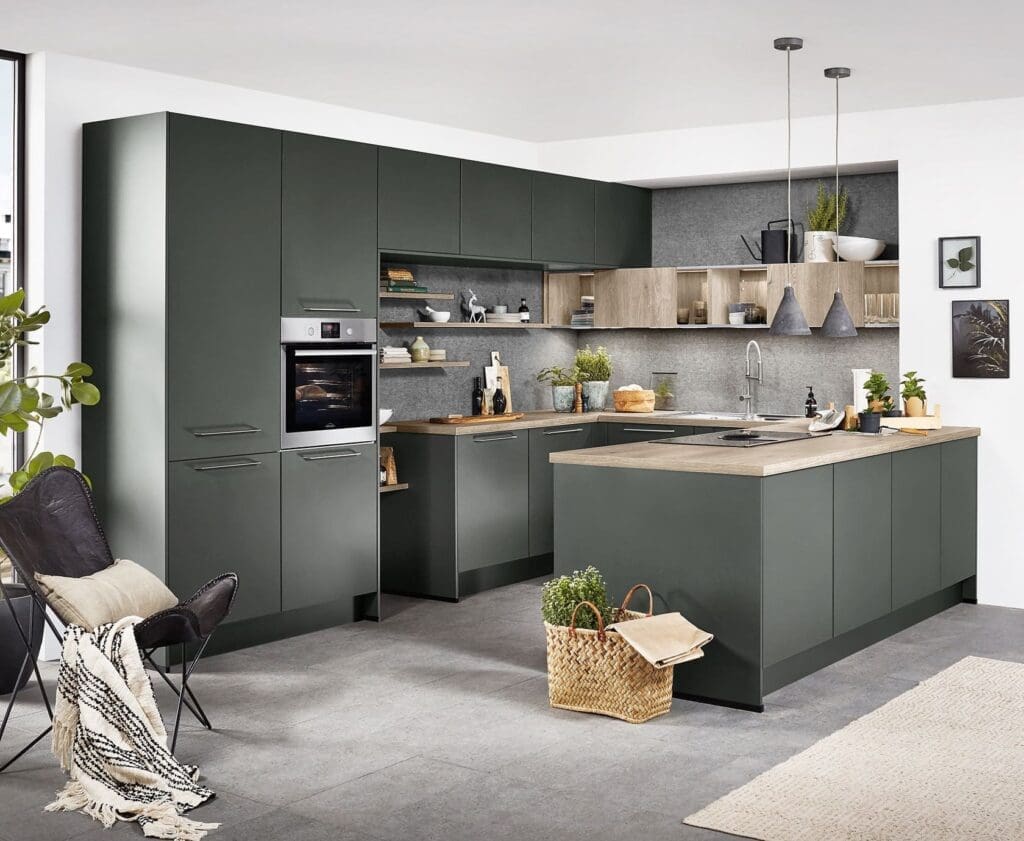 What is a U-Shaped Kitchen Layout?
The traditional U-shaped kitchen design is characterised by its unique layout, with three adjoining walls coming together to form a 'U' or 'C' shape, as the name indicates. This practical layout can be found in a host of different kitchen sizes, from smaller flats to spacious, open-plan homes. It's renowned for its optimal use of space, offering lots of worktop space as well as opportunities for creative storage solutions. The layout is ideal for multitasking, making it a popular choice among professional chefs and entertainers alike, with a range of benefits that could improve your daily kitchen activities.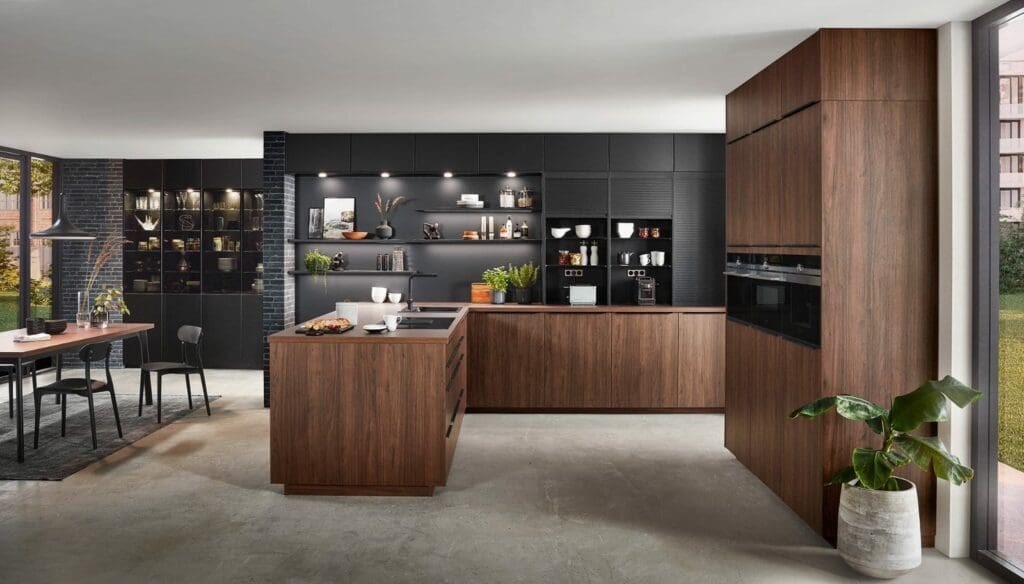 The U-Shaped Kitchen's Ideal Space Utilisation
The genius behind a U-shaped kitchen lies in its efficient use of available space. This layout and its three sides ensure whoever is using the kitchen is surrounded by cabinets, appliances, and worktops on all sides. Generous storage space ensures that your kitchen will look pristine, but also be more practical overall.
When preparing meals or washing up, everything you need is conveniently within reach, saving valuable time and reducing unnecessary back and forth. This also leads to less spills and breakages, making your kitchen a safer space for you and your loved ones. Whether you're preparing a quick snack or a gourmet meal, this layout allows you to navigate your kitchen effortlessly.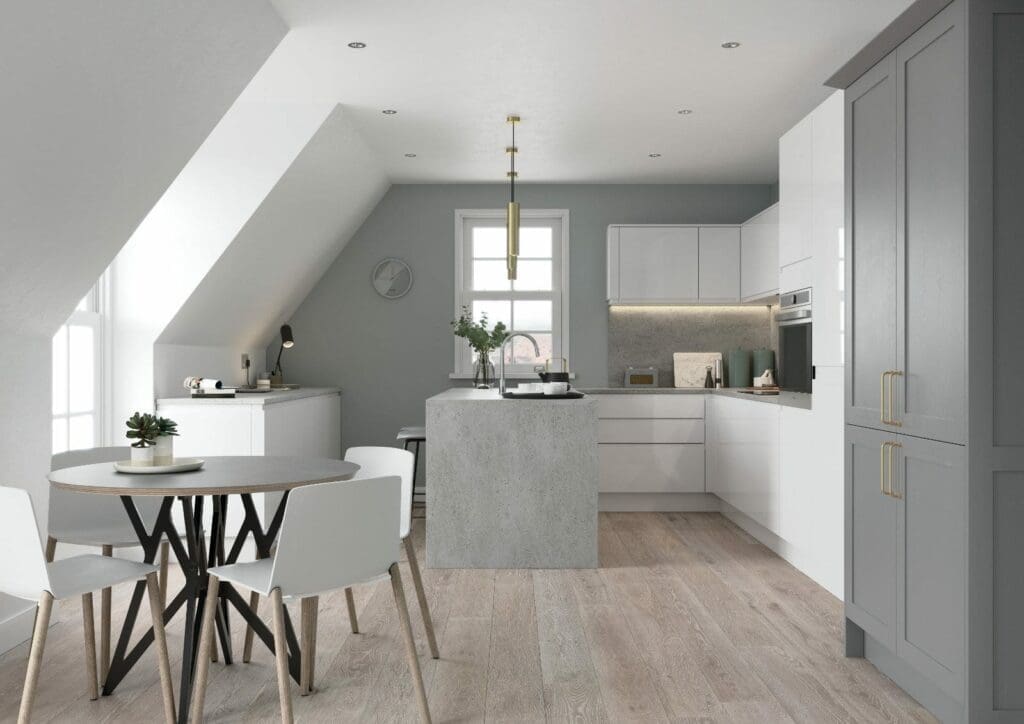 Optimised Storage Options
If you often find yourself wishing you had more storage, a U-shaped kitchen layout might be perfect for you! Its three-wall design inherently provides increased space for cabinets and drawers, allowing you to easily sort every item in your kitchen. This effectively reduces clutter and helps maintain a clean, minimalist look. There's also room for innovative storage solutions, including corner cupboards, pull-out pantry systems, and overhead cabinets. Features like these maximise storage space without sacrificing your kitchen's visual appeal, ensuring that every utensil, dish, and kitchen gadget has its own dedicated space.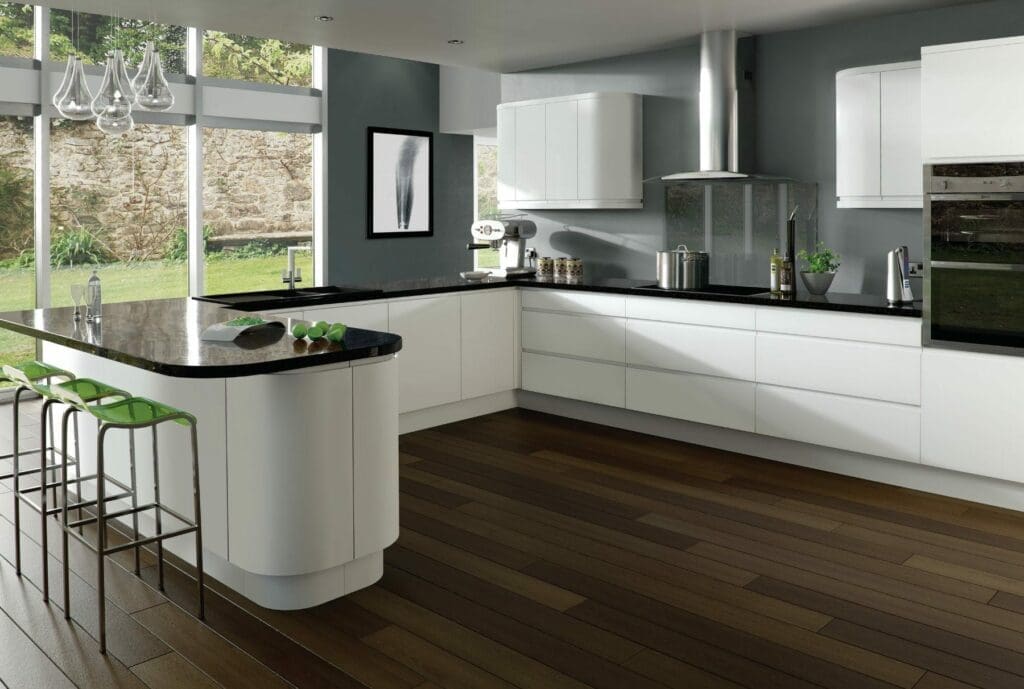 U-Shaped Kitchens Create a Streamlined Workflow
Due to its layout, the U-shaped kitchen improves workflow by naturally conforming to the working triangle principle. This ergonomic concept involves having your sink, refrigerator, and hob in a triangle formation for maximum productivity. It minimises the need for too much movement during cooking, leading to a smoother, more streamlined workflow in your kitchen. This efficiency will not only save time but also enhance your overall cooking experience, making your kitchen a joy to work in.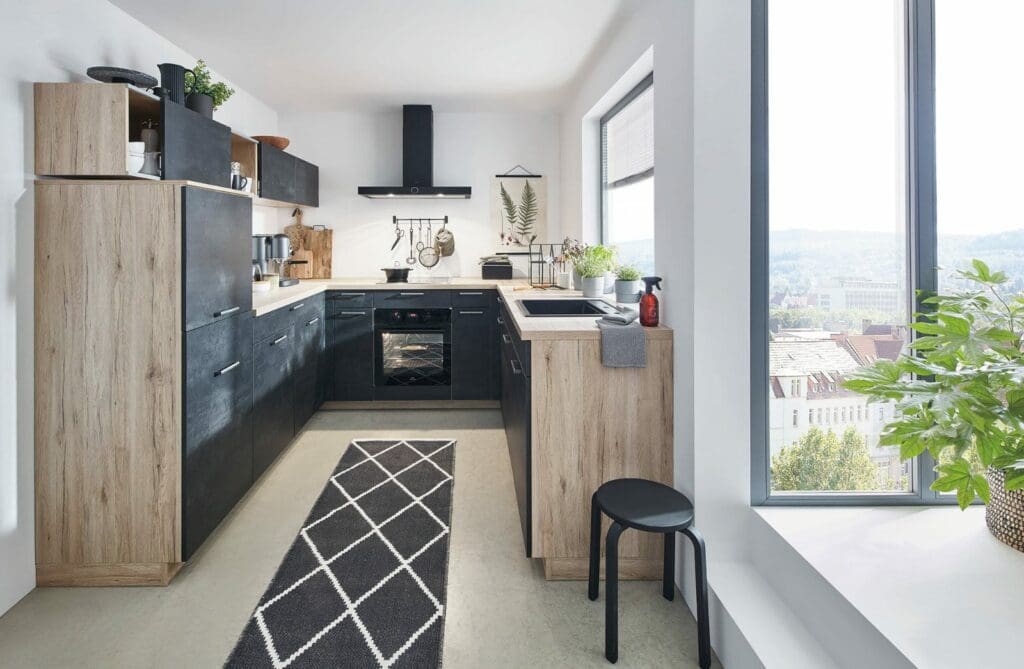 Unmatched Flexibility with a U-Shaped Kitchen
Whether you're an aspiring chef trying out new recipes or a busy parent prepping breakfast for a full household, this layout offers unmatched flexibility to accommodate different needs. It provides enough room for multiple people, allowing for joint cooking and cleaning activities without the risk of constantly bumping into someone.
If you have enough space to work with, the U-shaped kitchen also provides an opportunity for a central island or additional appliances that don't cramp the workspace. Whether you're looking to add a dishwasher, a wine cooler, or even a second oven, this particular kitchen design can often accommodate these additions seamlessly.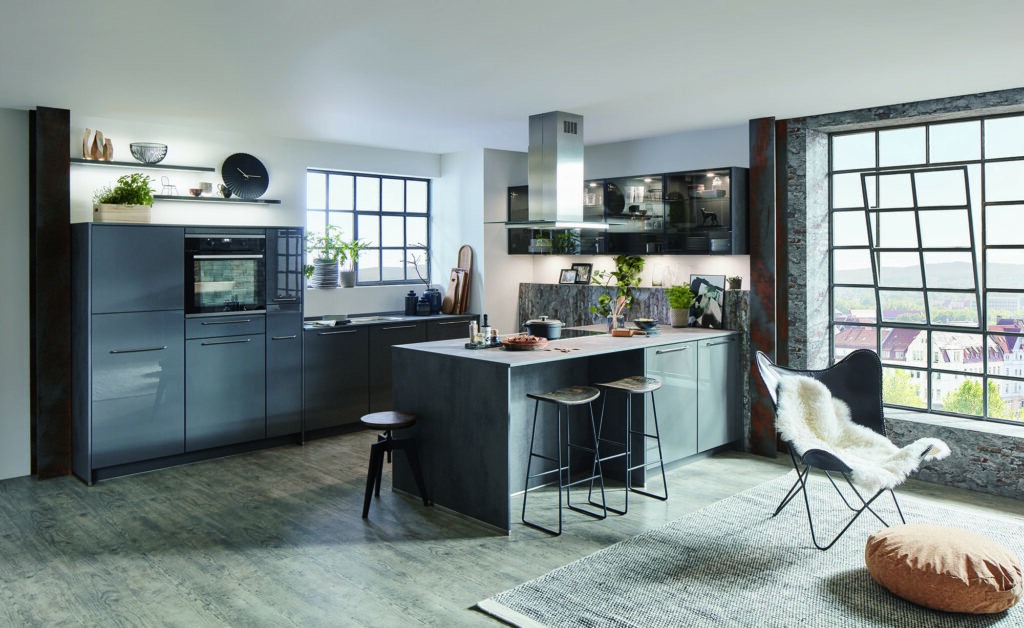 Customise Your U-Shaped Kitchen
U-shaped kitchens also offer lots of opportunities in terms of personalisation. They allow you the freedom to include an island or a breakfast bar on one side of the 'U', transforming the space into a social hub where family and friends can gather. If you're using an open-plan space, one side of the 'U' could also seamlessly blend with the living area, creating a cohesive and spacious living environment.
You can also choose to embrace a modern aesthetic with sleek finishes and state-of-the-art appliances, or if you prefer a more traditional look, you can include wooden cabinets and a farmhouse sink. The options are limitless, allowing you to transform your kitchen into a space that truly reflects your individual style and preferences.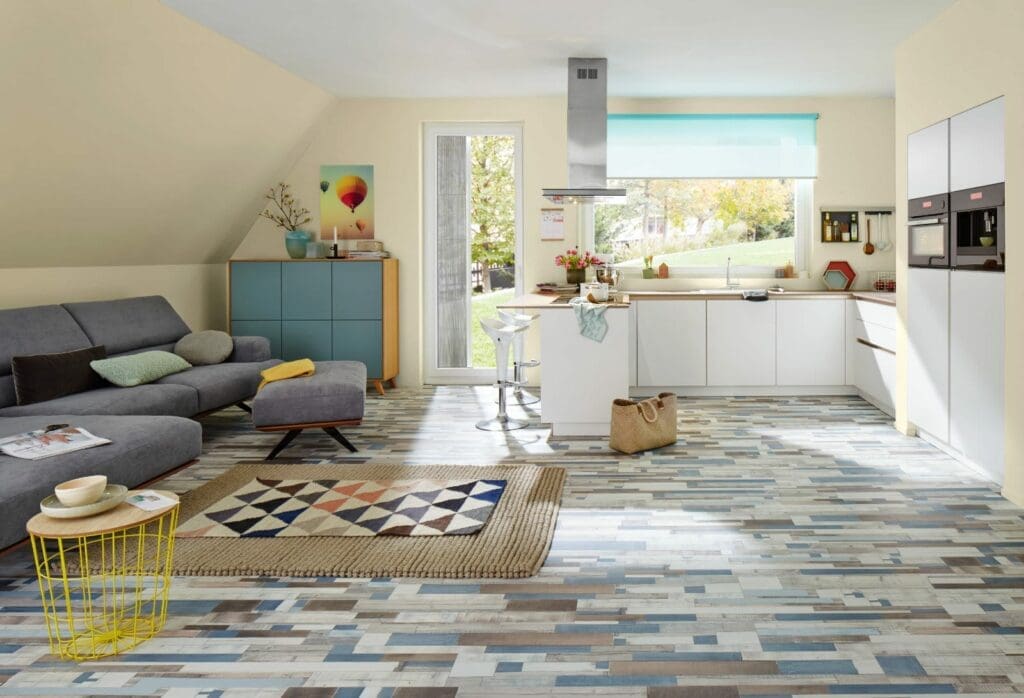 Disadvantages of a U-Shaped Kitchen Layout
Now that you know the benefits of this kitchen layout, it's also important to take the potential drawbacks into account. One of its main disadvantages is that a poorly planned U-shaped kitchen can easily feel cramped, particularly in smaller homes or flats with limited space. With its three enclosed sides, the layout could hinder free movement and feel restrictive, and if it's not correctly designed, the working triangle will become distorted, leading to an inefficient workflow.
Lastly, installing a U-shaped kitchen can be more expensive due to the increased number of cabinets and worktops required, potentially stretching your budget. If you're considering implementing this layout, thoughtful planning and design are crucial to eliminate these potential challenges.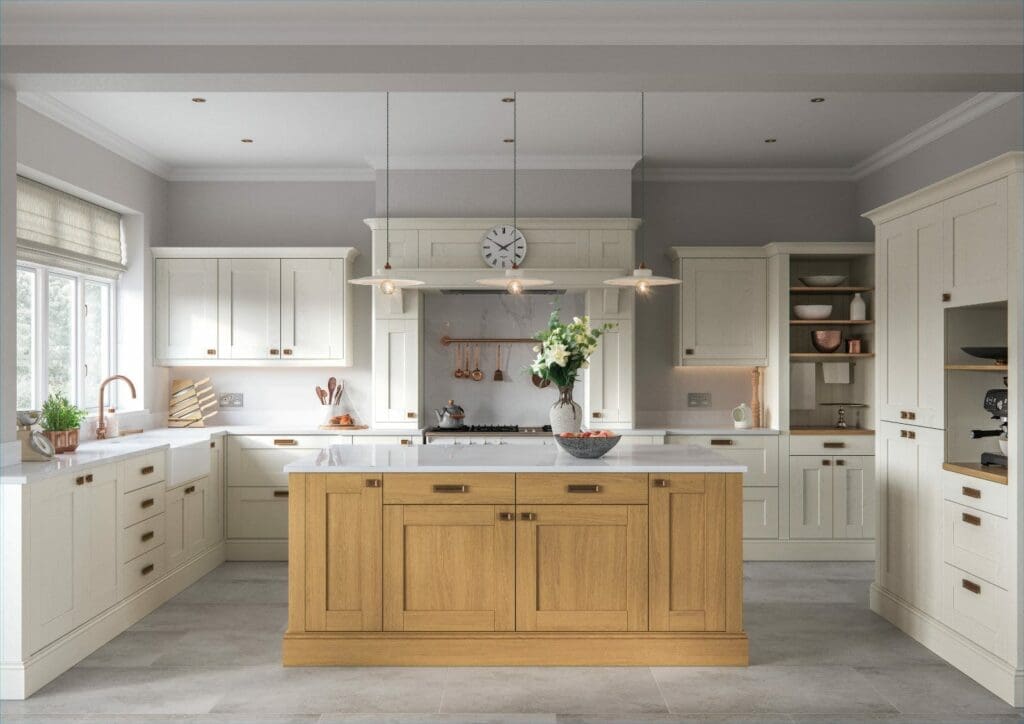 Achieving the Perfect U-Shaped Kitchen Design
Creating the perfect U-shaped kitchen can be tricky, so it's important to thoroughly plan the space and consider if your kitchen can accommodate this layout. You'll want to ensure that the space between the two parallel units is big enough to comfortably move around in, also taking into account the ideal placement of the working triangle.
If you want to make the most of this layout, try maximising your storage with clever solutions like corner cabinets and pull-out systems. In terms of design, you could opt for light colours to make the area appear larger and more inviting. It's a good idea to personalise your space with your preferred finishes and appliances for a layout that meets all your needs.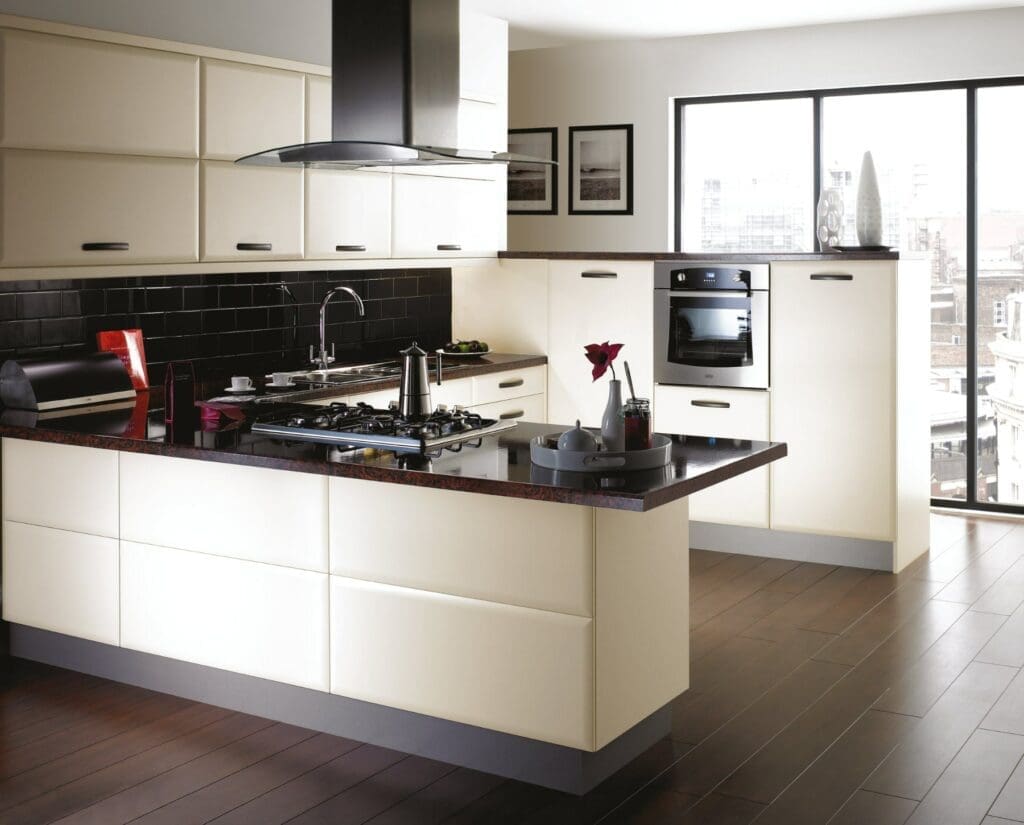 Find Your Perfect U-Shaped Kitchen Today
The U-shaped kitchen is more than just a layout; it's a clever design strategy that could help improve the functionality, storage, and aesthetic appeal of your kitchen. Whether you're an experienced chef or a busy parent, this layout offers benefits that cater to many different culinary needs and lifestyles. From maximised space utilisation to a range of customisation options, it reflects efficient, stylish, and practical design, ensuring your kitchen is a space you truly enjoy spending time in.
Contact your nearest Kitchen Specialist today to find your ideal U-shaped kitchen!