The Advantages of an L-Shaped Kitchen Layout
When it comes to kitchen design, the layout is as important, if not more so, than the style, the appliances, or even the colour scheme. The layout determines not just how your kitchen looks but how it functions, dictating the ease with which you can cook, eat and entertain. One of the most popular and efficient layouts is the L-shaped kitchen. But exactly what is it that makes an L-shaped work so well, and which makes it so beloved by homeowners and designers alike?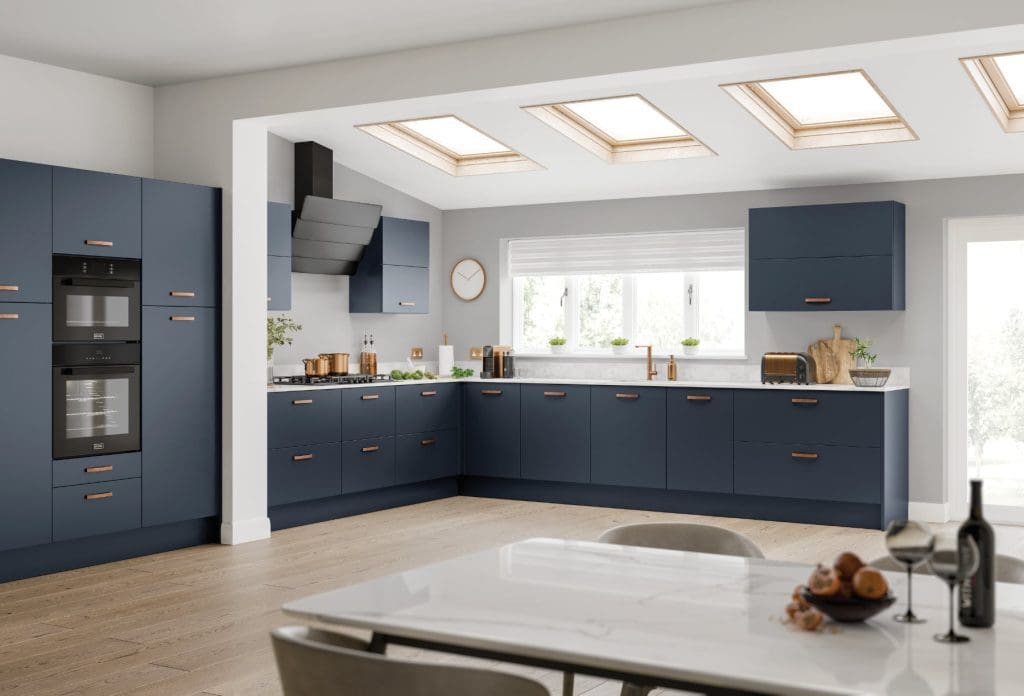 A Deep Dive into the L-Shaped Kitchen Layout
Before we delve into the advantages of this layout, let's briefly explain what an L-shaped kitchen is. As the name suggests, an L-shaped kitchen comprises workspaces and cabinets arranged along two adjacent walls to create a layout that looks like the letter 'L'. This design creates a corner, allowing for a great deal of flexibility and efficiency in kitchen operations.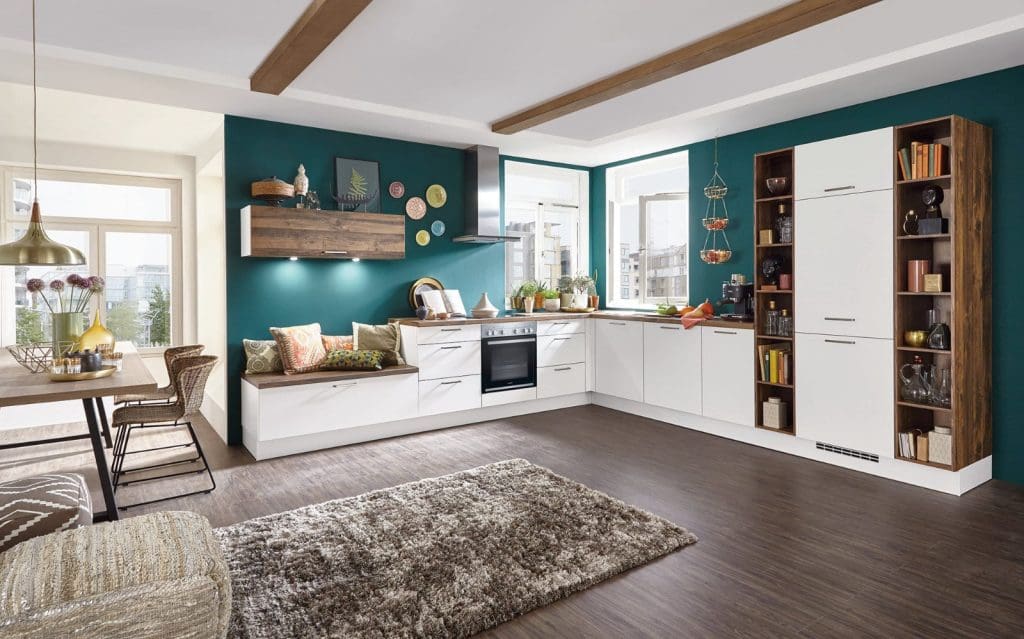 The Flexibility and Efficiency of the L-Shaped Kitchen
One of the primary benefits of the L-shaped kitchen layout is its flexibility. This design works well in both small and large kitchen spaces, making it a versatile option for a wide range of homes. It also allows for the incorporation of a dining area, which can be a major benefit in homes where space is at a premium. 
When it comes to efficiency, the L-shaped kitchen layout excels, especially when applying the time-honoured kitchen triangle concept. This principle, which aims to position the sink, refrigerator, and cooker in a triangle layout for optimum efficiency, is easily achievable in an L-shaped kitchen.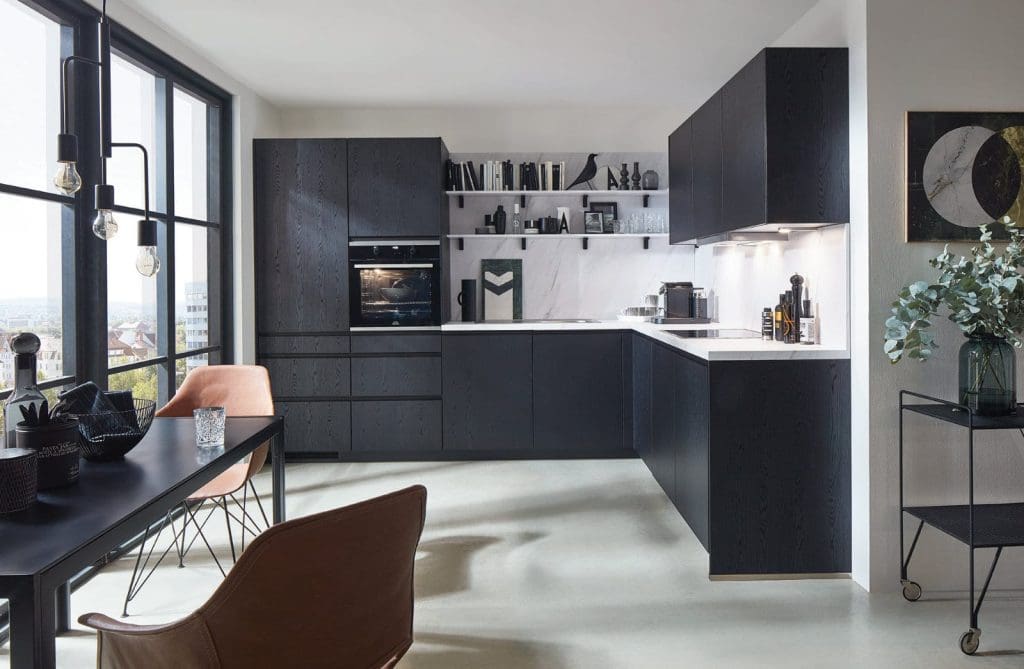 The Magic of Open-Plan Living
The rise in popularity of open-plan living has seen an increased demand for L-shaped kitchens. This layout lends itself well to open-plan spaces as it can effectively delineate the kitchen area from the rest of the living space, without the need for walls or partitions.
Furthermore, by thoughtfully locating kitchen appliances and workspaces along two walls, the rest of the space opens up, creating an inviting area for family and friends to gather, socialise, and enjoy meals. This ensures the kitchen remains the heart of the home, a place where memories are made and shared.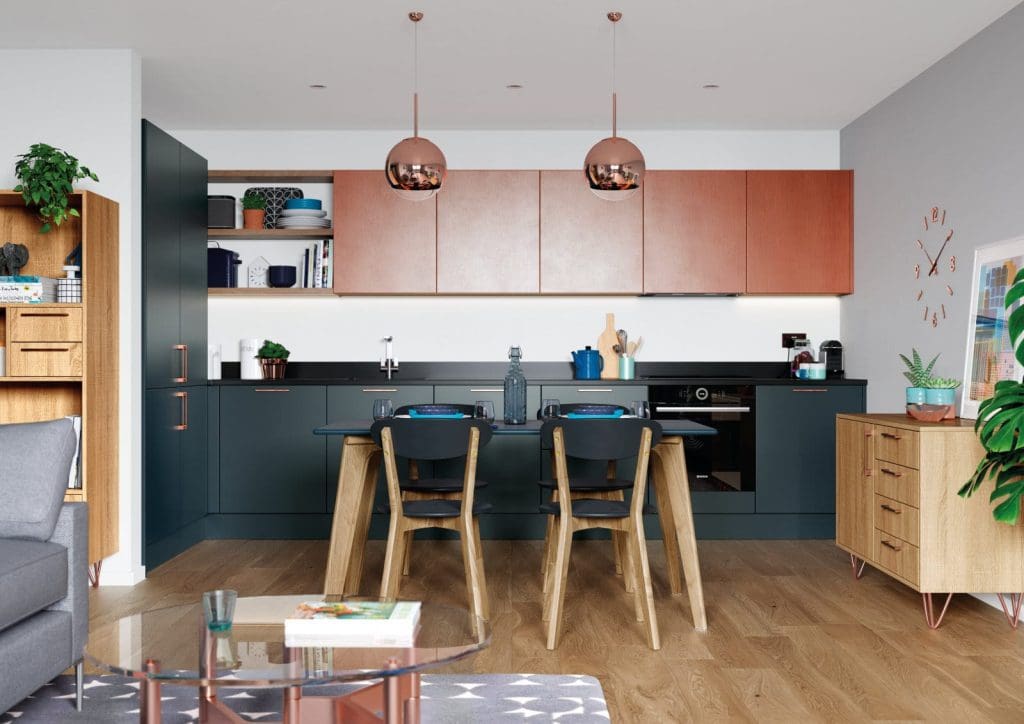 L-Shaped Kitchens With An Island
When it comes to incorporating a kitchen island, the L-shaped kitchen layout truly shines. The open space in the centre of the layout naturally welcomes an island, making it an ideal choice for homeowners seeking this popular kitchen feature. 
A well-placed island in an L-shaped kitchen provides additional workspace but also offers extra storage and a casual dining or socialising area. Furthermore, the kitchen island can house appliances or the kitchen sink, potentially enhancing the efficiency of the kitchen triangle.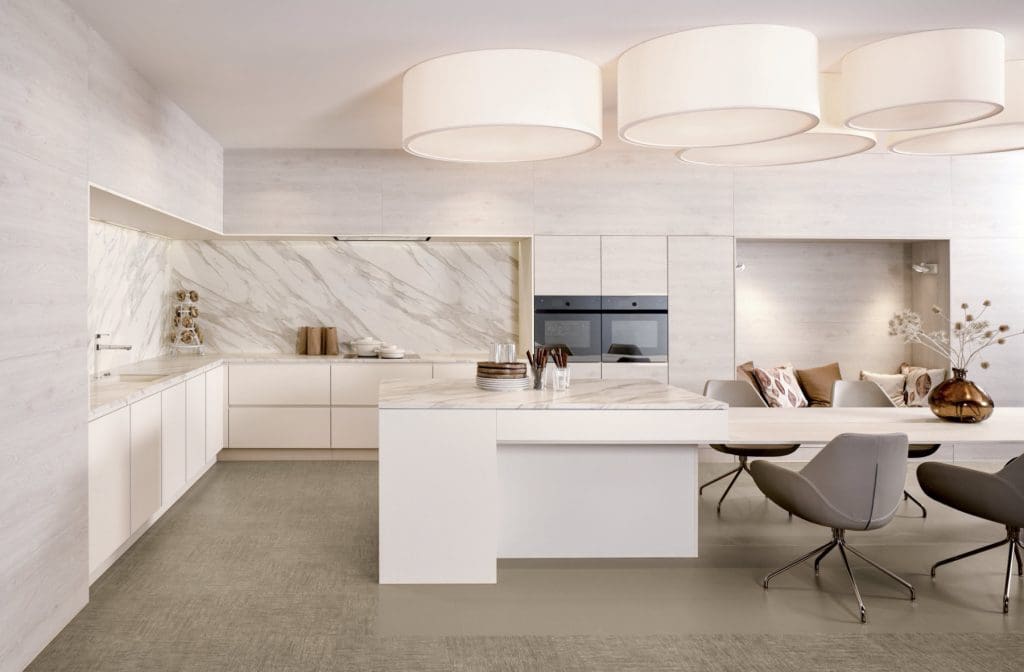 The Benefits of L-Shaped Kitchens in Small Spaces 
The L-shaped kitchen layout stands out as a superb solution for small kitchen spaces where every cm counts. The genius of the L-shaped layout lies in its capacity to house all essential kitchen elements in a condensed area, thereby reducing the potential for a cluttered or congested atmosphere. By placing cabinets and appliances along two adjacent walls, the layout liberates the rest of the room and provides a unique balance of compact functionality without compromising the sense of spaciousness.
Even in small kitchens, the L-shaped layout ensures a harmonious blend of efficiency and comfort, proving that size does not always dictate capability or style. This layout, despite its compact nature, opens up a world of possibilities for kitchen design in smaller homes, making the most of the available space whilst ensuring functionality and a pleasing aesthetic.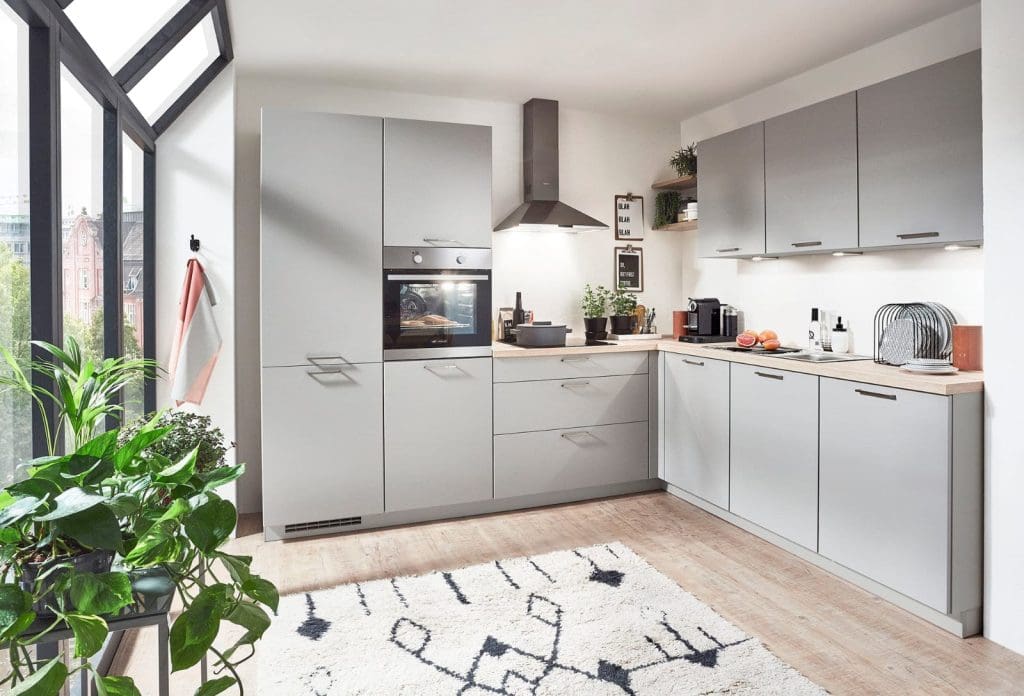 Addressing the Potential Drawbacks
No kitchen layout is without its potential drawbacks, and the L-shaped kitchen is no exception. The corner in an L-shaped kitchen can pose a challenge, especially when it comes to storage. The key to overcoming this is clever corner solutions like carousels or Le Mans units, which ensure every inch of space is utilised to maximise storage. 
Additionally, while the L-shaped layout works wonderfully for single-occupancy cooking, it can be a little tight when multiple people are preparing meals simultaneously. Again, adding an island can alleviate this issue by offering another workspace.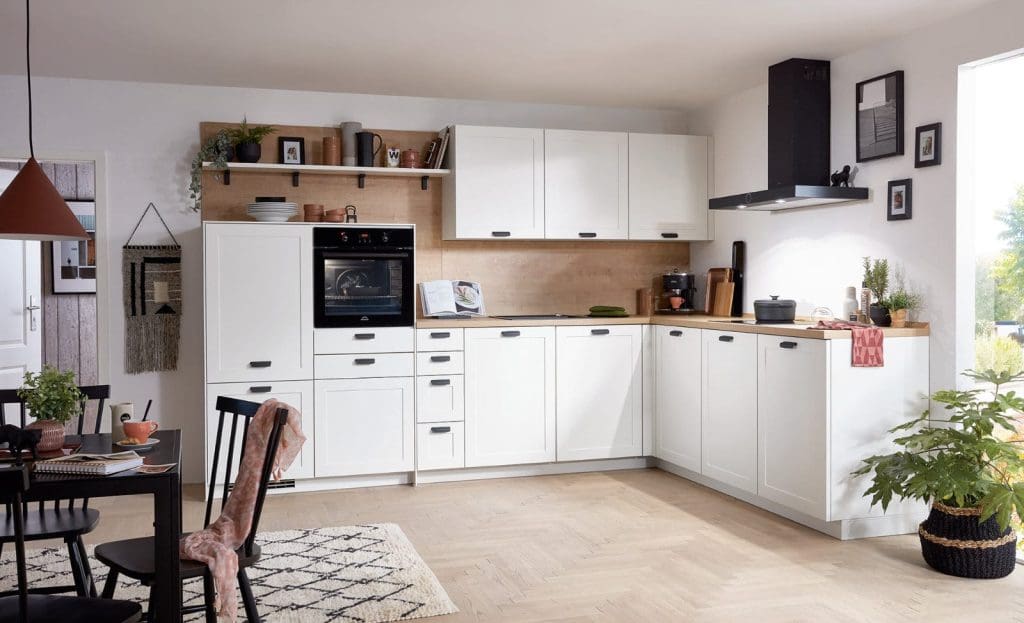 Perfecting Your L-Shaped Kitchen
When designing your L-shaped kitchen, consider the positioning of your appliances and how you use your kitchen. For instance, if you're an avid cook, having your hob in a central location will be advantageous.
And don't forget to think about your storage needs. Remember, wall cabinets can offer a great deal of storage without encroaching on floor space. Also, consider the addition of open shelves or glass-fronted cabinets for displaying your favourite pieces.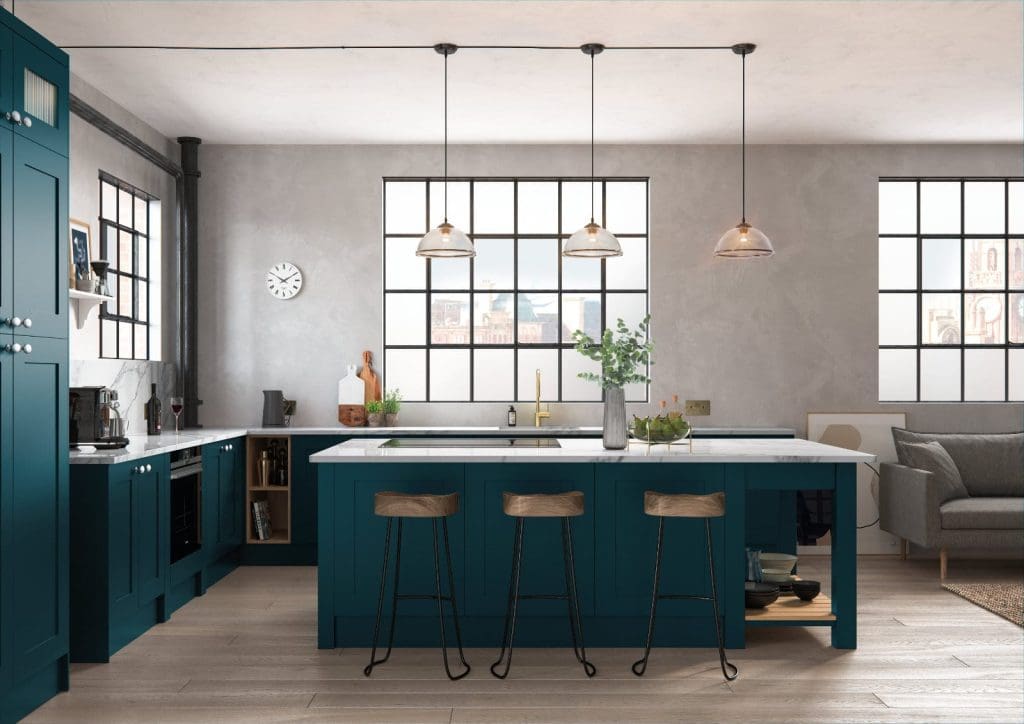 Conclusion
In conclusion, the L-shaped kitchen offers numerous benefits, from flexibility and efficiency to suitability for open-plan living and the incorporation of an island. Its potential drawbacks, such as the difficulty in accessing corner space, or sufficient space for multiple cooks, can be mitigated with thoughtful design and the use of modern storage solutions.
Whether you have a small apartment or a large family home, the L-shaped kitchen layout could be the ideal solution for you, combining style, efficiency, and sociability. Remember, a well-designed kitchen isn't just about the look – it's about creating a space that makes everyday life easier, more enjoyable, and more delicious.
For help in creating your perfect L shaped kitchen look and layout, talk to your nearest My Kitchen Specialist today.