Modern Wood Kitchens
Modern Wood Kitchens – A Lasting Trend!
We believe that the kitchen is the most important area in your home. Why? Because the kitchen combines the joys of cooking, entertaining and bonding with the people you love, which is why you should spend time thinking of how the design of your kitchen can showcase your style, needs and wants.
One way you can combine functionality with style is through a modern wood kitchen design, which will add an inviting feel to your home. We want to highlight all the reasons why a modern wood kitchen might be the choice for you. From different styles to a long list of benefits, read on to discover why a wood kitchen might be the perfect design option for you and your home.
What are Modern Wood Kitchens?
A modern wood kitchen is exactly what it says on the tin; it is a modern kitchen with stunning wooden elements. You can decide which wood is right for your kitchen, and you can have the same or different types of wood for your flooring, cabinets and worktops. Oak, for example, is a popular choice, as are cherry, maple, pine and hickory.
Many homeowners select a wood kitchen as wood is a natural and warm material, and those features will be reflected in your home. Plus, a wood kitchen is made to last, which means you can enjoy this timeless design for years to come.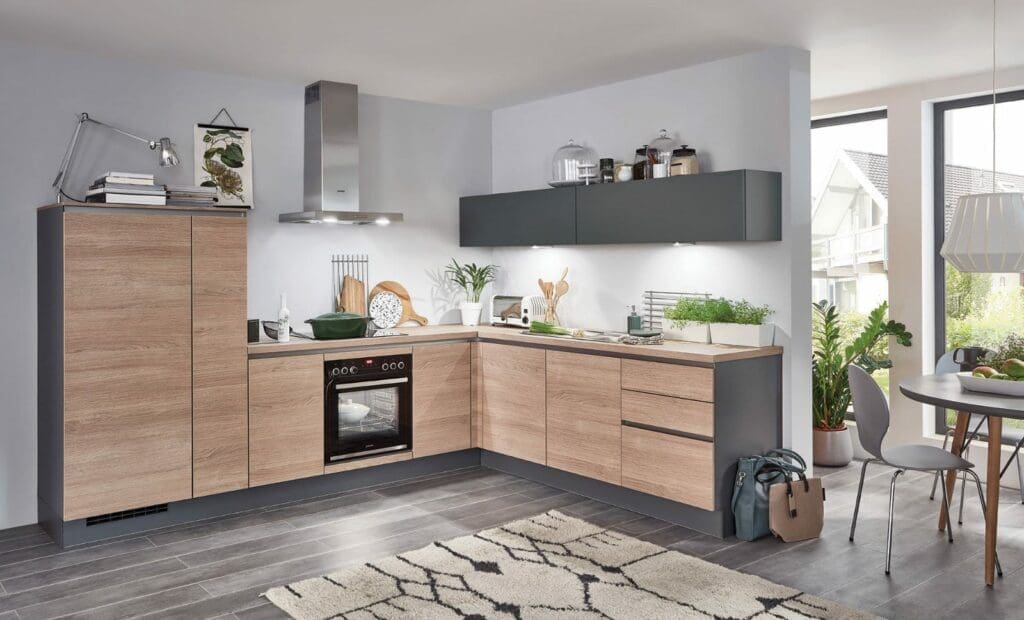 Are Modern Wood Kitchens on Trend?
If you love this style, you will be happy to hear that modern wood kitchens are making a comeback, especially wooden kitchen cabinets. Natural wood cabinets are on the rise, and homeowners are falling in love with the rustic-industrial look all over again. Can you see yourself in a kitchen with warm, wooden features?
The best part about this trend is that with the rise of more eco-conscious individuals, raw wood will become a staple piece in many homes, meaning this style will only become more popular over time.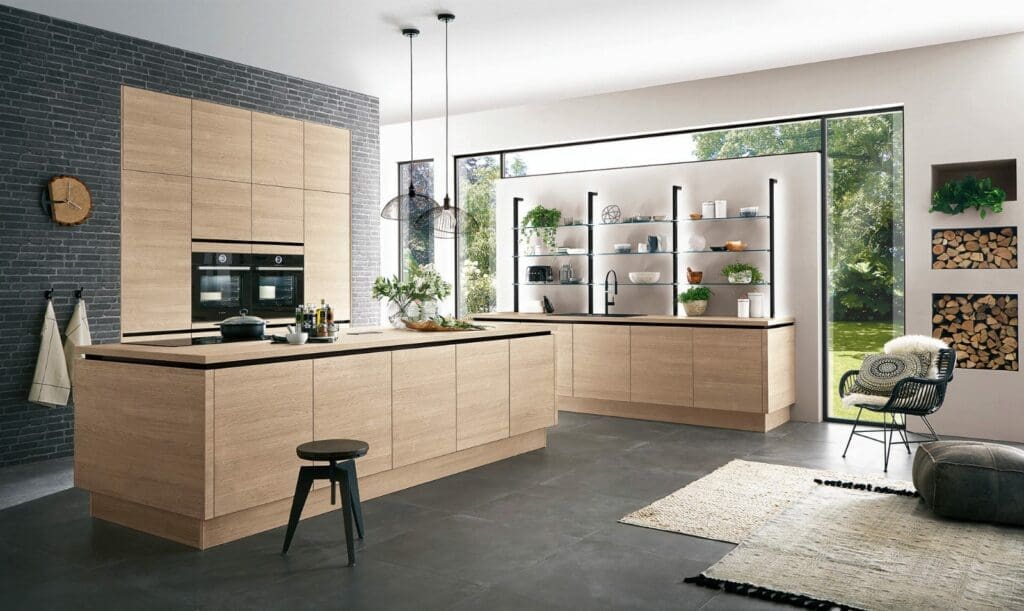 What goes with modern wood kitchen doors?
An exciting feature of this kitchen design is that there are a lot of complementary colours that work well with modern wood kitchen doors and other wooden elements. You can essentially have free reign over the colour combination you pick, as many will look good!
Some colours that go well with modern wood kitchen doors and cabinets include:
Teal
Turquoise
Light blue
Grey-green
Soft grey
Neutral tones
White
You should be using colours on the opposite ends of the colour wheel for your wood kitchen doors and cabinets, as this will open up your space and make it look brighter. For example, white with wood cabinets and doors create a classic serene atmosphere that complements many décor styles, such as modern, rustic and minimalist.
You have to look at your space and wonder what colour would look good against your wood doors and cabinets.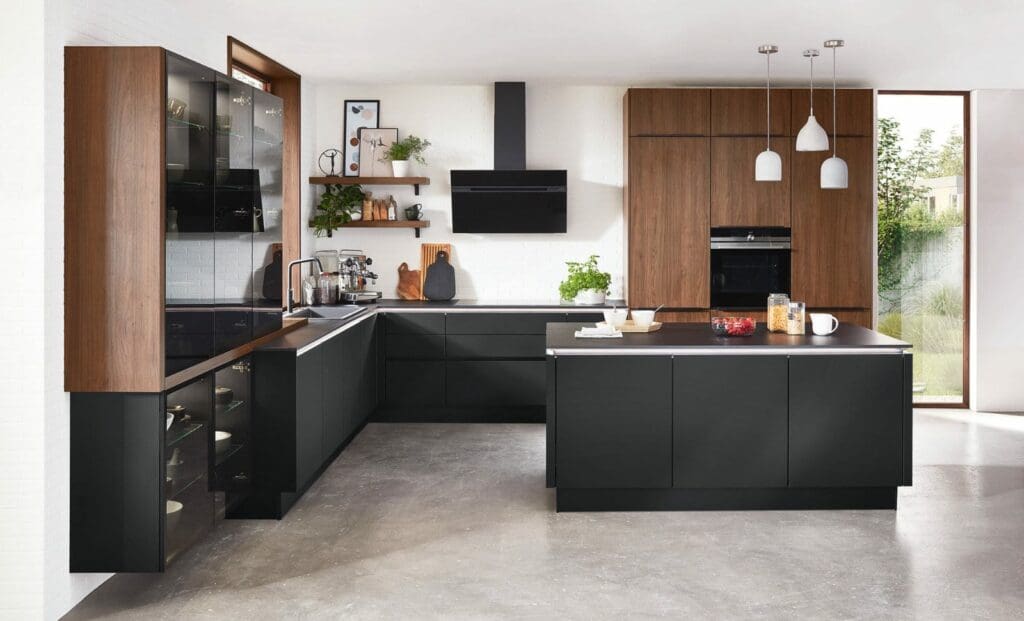 Modern Wood Kitchen Ideas
We have talked about what colours work well with wood and how to make wood kitchens look modern, but how do those influence design ideas? Well, we are about to help with that, too, by sharing some modern wood kitchen ideas with you.
Solid walnut kitchen
We wanted to start our list of modern wood kitchen ideas with a creative and popular design choice. A solid walnut kitchen is not only hardwearing; it is also stylish and inviting. If you are searching for a kitchen style that would be perfect for entertaining guests, solid walnut cabinets complemented by a lighter stone countertop will create the ideal environment that everyone can enjoy.
There is something about a solid walnut kitchen that feels warm and inviting, which is exactly what you should feel when walking into your kitchen.
Open shelving
Another idea for your wood kitchen is to introduce open shelving into your space. Don't hide away your colourful plates and kitchen must-haves; instead, display them on a wooden shelf to create a decorative but practical feature. Just think about how easy it will be to grab a glass or plate from your open shelving while cooking.
Complete wall
If you love the wood kitchen style and want to create a cosy vibe, one popular kitchen idea is installing floor-to-ceiling cabinets. This kitchen idea is especially beneficial if you need extra storage space for all your snacks and dishes. This design can make your kitchen feel taller, as you are making the most out of your ceiling height.
Oak kitchen
An extremely popular, versatile, and timeless wood kitchen idea is the oak kitchen style. If you want a sophisticated kitchen style with durable material, oak is the wood to choose. You can pair oak with contrasting countertops to create a striking yet welcoming kitchen environment.
Paint
Finally, one modern wood kitchen idea might be a bold move, but it can look striking in the end. Painting your wood cabinets will provide your kitchen with a fresh new look with minimal effort. You can then pair your newly painted oak cabinets with appliances and features such as a unique backsplash that will complete the new look.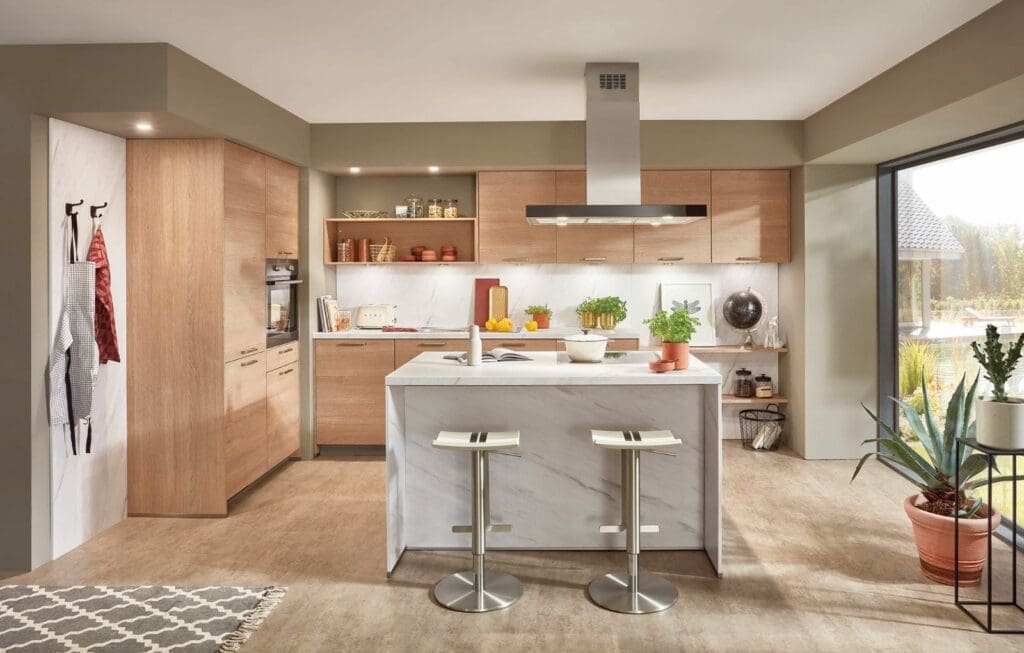 How Do You Make a Wood Kitchen Look Modern?
Timber doesn't have to mean traditional, as you can combine the two to create a timeless modern wood kitchen. Here are some ways you can keep your wood kitchen looking fresh and modern.
Dramatic Backsplash
You might be surprised at how a dramatic backsplash can add a focal point to your wood kitchen. Patterned tiles will contrast beautifully with oak or walnut cabinets to create an eye-catching design. This modern style will add intrigue to your kitchen and could even be a talking point if you use distinctive or memorable tiles.
Mix wood tones
There is no rule saying you have to have the same wood tone throughout your kitchen, which is why you can modernise it by combining two different types of wood. The contrasting wood types can create a rustic vibe in your home, as you can pick pieces that highlight the wood grain.
Accessorise
Incorporating decorative pieces is an easy way to make your wood kitchen look more modern. For example, place decorative plates on opening shelving or even use a ceramic planter on your kitchen island if you have one. Think about the appliances you have in your kitchen as well, such as your toaster, microwave and utensils, as they should complement your wood kitchen. You can always upgrade your appliances to add a more modern appeal.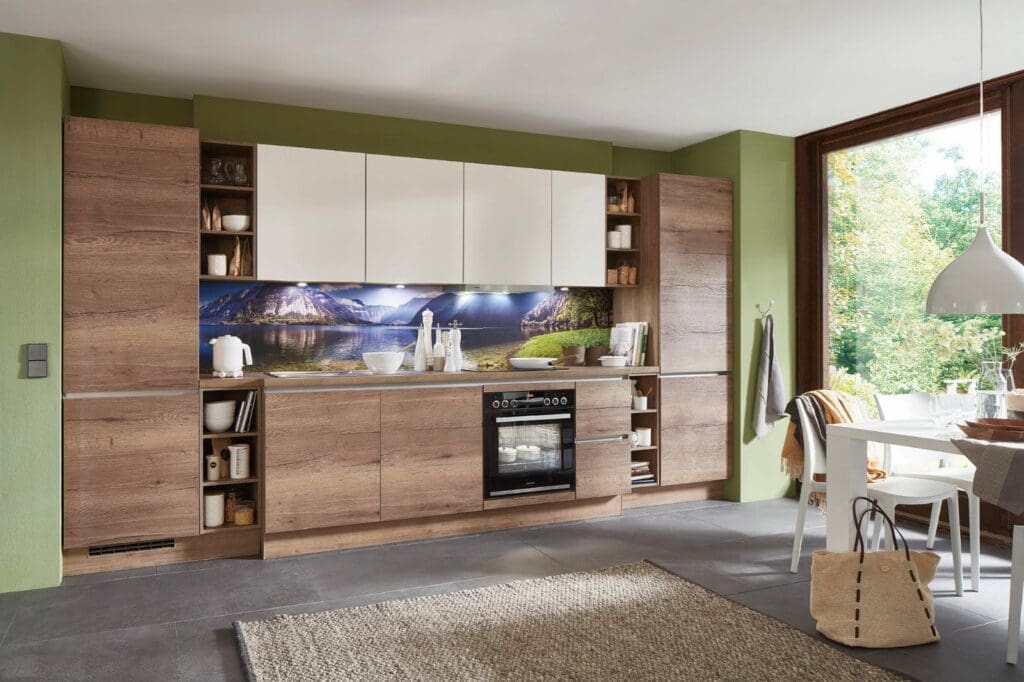 Modern Wood Kitchen Benefits
Wood kitchens don't only look good, as they also have a long list of benefits as to why you should pick this style for your home.
Durability
If you have a hectic household, you will understand how much natural wear and tear a kitchen goes through. From hyper kids to social events with friends, kitchens generally have a lot of traffic, which is why so many people love this first benefit. Wood kitchens are naturally more durable, and the solid wood will stay strong in busy households, which means your kitchen will remain standing for years to come.
Welcome home
If you like having guests over to your home, a wood kitchen offers a benefit that could help with this. By nature, wood is a warm material that feels inviting, which is ideal if you love to entertain.
Easy to clean
This next benefit ties in with the first two benefits because if you have a busy household and like entertaining guests, it means you will spend a lot of time cleaning. Luckily, wood has a great benefit that every busy individual will adore – it is easy to clean. In some cases, all you have to do is wipe down the surface using a cloth, and the dirt will be gone.
Variety of styles
One of the most beautiful benefits of wood for your kitchen is that it is available in various types and styles, allowing you to select the one you like the most. Some of the most popular wood for kitchen cabinets include:
Oak – lightweight and easy to clean
Walnut – premium quality with a beautiful texture
Cherry wood – high end and extremely durable
Pinewood – nature friendly
Summary
Modern wood kitchens will always have a place in our hearts, as the welcoming atmosphere they create will be a beneficial feature for every family home. We have shared our wood kitchen ideas, benefits and suggestions; now, the choice is entirely up to you. Only you know how you, your family and friends utilise your kitchen and what design would make you happy to see each morning when you wake up for your breakfast.
A modern wood kitchen could last a lifetime and be the perfect style for any home.
Subscribe to our blog for regular kitchen inspiration