My Kitchen Specialist
The Uk's Leading Network Of Independent Kitchen Specialists
Who Is
My Kitchen
Specialist?
The My Kitchen Specialist website has been created by a group of independent kitchen retailers from across the UK who each have many years of kitchen industry experience. They understand that some kitchen customers have a disappointing experience, so they have created this website that will share with you some top tips and advice on how to make sure that your new kitchen project runs smoothly, on time and importantly on budget and that you do not make the same mistakes as so many people.
Buying a new kitchen should be an enjoyable and exciting experience, but if you have never purchased a new kitchen before, it can also be daunting. It will inevitably involve a big investment in money, time, and emotion. There are so many different styles, colours, and materials to choose from and decisions to make. Make the wrong one, and you could be out of pocket and with a disaster on your hands. My Kitchen Specialist aims to help you avoid some of the common mistakes and pitfalls, it will tell you what to consider and what questions to ask. Look out for our 'Top Tips' as these will help you make the right choices.
Some of the first decisions you will need to make is where are you going to buy your new kitchen from and what type and style of kitchen are you looking for to suit your current and future needs? What are some of the key product choices, such as door material etc? Finally, some idea of the costs.
Why You Should Choose A Kitchen Specialist
When it comes to renovating your kitchen, there are many different routes you can take. However, for the best possible look and functionality for your kitchen, only a specialist kitchen designer can truly deliver. Typically, through years of experience, they have specialist knowledge of products, spatial awareness, and what it takes to achieve a personalised design based on your individual wants and needs. Similarly, they have sound technical knowledge, so they know what works – and equally important, what doesn't. Making the renovation process easier, a Kitchen Specialist can advise on materials, and trends, and often surprising to people, they can deliver stunning designs at very competitive prices. Want to know more? …Read on to discover why there's simply no substitute for a Specialist designer!
HAND ON HEART
To help you make the right choice, we have created a network of approved My Kitchen Specialist retailers. These experienced independent kitchen retailers promise to give you the very best buying experience, hand on heart. Please look out for the red oven glove logo in their showrooms.
This is confirmation of their promise to you.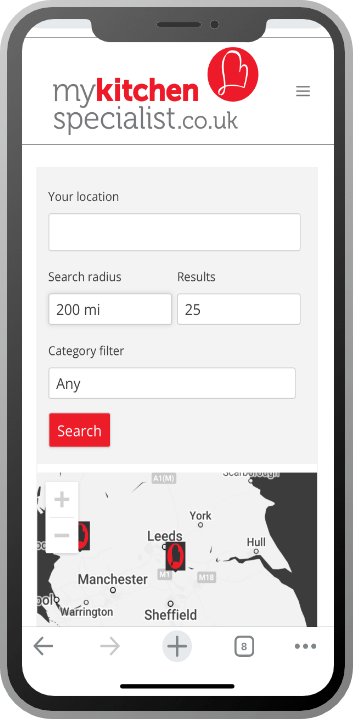 How much does a kitchen cost?
There are so many choices, and all will try to convince you that their product, price, and service is the best. But beware, choose wisely, because if you pick the wrong supplier, you may regret it later when you are already committed, and it is too late.
If a low price is important to you, then national kitchen retail chains, DIY superstores or buying online may be a good route for you. These offer an easy, no-hassle way of buying a kitchen, but with a limited or no design service and they do not score well for after-sales support. Using a builders merchant or trade supplier is often recommended to you by a tradesperson if you are using a builder. Like the DIY stores, they offer a limited, basic range ideally suited to the building trade, where speed of supply and a low price is usually more important than overall quality and after sales support.
My Kitchen Specialist Top Tip
Customer satisfaction surveys show time after time that if you are looking for the best customer experience, value for money and a wide section of kitchen ranges then choose a local independent kitchen specialist. They will look after your project from beginning to end and will spend time with you explaining all the options available to you as well as giving you valuable advice based on their own knowledge and experience.
It is often thought that buying from a local independent kitchen retailer will mean paying a much higher price than the national retail chains. This is simply not the case, particularly if you need the retailer to install the kitchen for you. The final total price from a national retail chain may well be very comparable to what an independent retailer will charge. Even if you do end up paying slightly more to buy from an independent, the benefits from doing so, and importantly the finished result will far outweigh any additional cost.
Featured Kitchen Specialist Project
Dark Matt Handleless Kitchen
by Coalville Kitchens
The long six-meter island became such a feature that we decided to make this more interesting by having a drop-down seating breakfast area at the end of the island so the clients could enjoy the views from the vast double height windows. This can give the kitchen a different feel and certainly looks like a multifunctional space that has a very modular contemporary feel.
Subscribe To Our Blog
Use the form below to subscribe to our kitchen blog for expert tips and buying guides direct to your inbox.